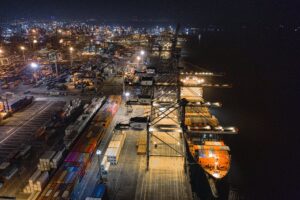 The shipping anticipates eagerly 2020 for the switch to a low-sulphur fuel. A lot of preparations have been ongoing, and the main problem and more discussed issue of the first quarter must be a fuel quality issue. No doubt, geopolitical problems will keep happening. Firstly in the Middle East. As well as trade wars between the United States and China, the European Union and its neighbours will take part in trade talks as well. Of course, 2020 will continue to unite world's greatest minds in facing the CO2 problem.
December 5, Lloyd's List held a second webinar "2020 – a year of challenge and change". The experts of the maritime sphere – Chief Executive Officer of Wallem Group Capt Frank Coles, Director General & CEO of Danish Shipping Anne Hedensted Steffensen, Deputy Director of North P&I Club Tiejha Smyth and Senior Reporter of Lloyd's List Michelle Wiese Bockmann – were invited to share their opinions on this issue. All guests agreed that 2020 would become the most significant year for the past decade.
Answering the question "What trends have you seen building during 2019 that will have a significant impact on shipping in 2020?" Anne Hedensted Steffensen, Director General & CEO of Danish Shipping, noted: "In my prospective, the question of the climate challenge will be the thorniest issue in 2020. Because, we have some very important requirements of IMO of how we are going to decarbonize our industry. I think in 2020 we won't only discuss what measures are necessary. We also will see many different projects, testing, making demonstrations around the world in order to find new fuels. I'm not talking about low-sulphur fuel, I mean completely decarbonized technologies."
She mentioned that the industry would face many discussions of how we can separate the challenge between deep-sea operations and domestic shipping. Deep-sea shipping needs not only fuel solution, but also finding new supply-chain and partners to cooperate with.
Deputy Director of North P&I Club Tiejha Smyth added, that fuel will be the biggest challenge of the next year, not only because of sulphur content, but also because of quality issues.
The trends of 2020 largely center around fuel. No doubt, that fuel problem will be the most discussed issue in 2020. However, no more than that, because of engine manufactures of today. They are still pumping diesel fuel. Right now, the only fuel every ship owners are talking about is LNG. This is the best way to decarbonize the maritime industry – this is how Capt Frank Coles commented on this situation. He mentioned, ship owners don't want to talk about low-sulphur situation. Beside of this question, drugs, piracy and cyber security are also very urgent issues.
"Let's look at the world situation in 2019 and before then, there are a lot of political impact, which infect shipping, particularly sanctions. I think this impact will go on, and we see more trade wars in 2020," Tiejha Smyth said. "What about climate challenge, now we have seen increasing extreme weather events. They also directly impact on shipping. I mean physical damage and loss of lives unfortunately."
All speakers agreed that shipping should prepare to face the big changes and challenges awaiting all of us next year.