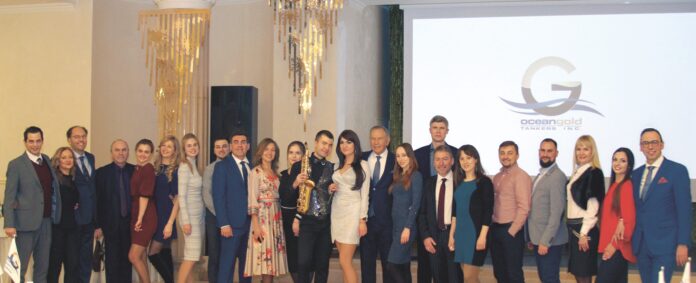 Quality means doing it right when no one is looking ~ Henry Ford
Goldenport Odessa & Oceangold Odessa held their annual event celebrating 21st anniversary since established in Odessa. Many partners, freight forwarders, representatives of Universities, Training Centers as well as the Greek Consul and of course seamen visited and congratulated on their success.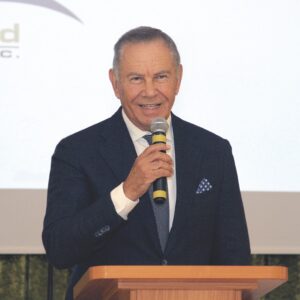 Founder & Chairman of Goldenport Group Cpt Paris Dragnis traditionally attended the Odessa event. He knows the importance of meetings and listening to the partners and seafarers face to face and building teamwork within the company. As he said, you will achieve good results if you try and work hard.
Goldenport Odessa began to employ the first seamen in 1998, when the company was established in this city. After 18 years, in 2016, Oceangold Odessa joined as Odessa branch, complementing bulk and container ships with tankers. Today, many ambitious seafarers join both companies every year. And this is the result of great overall effort and teamwork.
The event was opened by Director & Owner's Representative Mr Dimitrios Karamaunas. He welcomed the guests and wished everyone a Happy New Year 2020.
"Previous year was a difficult one for shipping industry and especially for the dry sector." He noted. "We also faced difficulties with human factor, however, we all, Goldenport Shipmanagement Ltd., Oceangold Tankers, the crew members and the local offices managed to overcome those difficulties. Our combined efforts have led to satisfactory results. We look with great optimism towards 2020. The company is investing not only in Hull & Machinery, but also in seafarers, the most important factor of every vessel."
Crew Manager of Goldenport Shipmanagement Mr. Nicholas Kokkinos followed. Mr Kokkinos was very happy and emotional to see so many familiar faces known to him as youngsters now being matured officers onboard the company's vessels. One bright example, 2nd Officer Konstiantyn Halahan, who joined company back in 2014 as Ordinary Seaman and through his hard work, professionalism and loyalty to the company is now a respected officer and soon to become Master. Mr Halahan was invited to the stand and shared this experienced with all the guests.
"I am very proud of being working here with Cpt Paris Dragnis and with his sons John and Vassilios. This is the second generation actually, that is working in Goldenport Group. And I will be lucky to work with the third generation within Goldenport Group in the future." DPA manager of Goldenport Shipmanagement Ltd. Cpt Alexandros Papagiannopoulos stated.
He gave a speech on quality in shipping and noted that quality refers to reliability, efficiency and good performance. Goldenport Odessa & Oceangold Odessa always focused on seeking and reaching of all stakeholders' satisfaction.
According to him, the Company's Quality Management System aims:
– understanding customer requirements;
– appropriate training regarding quality requirements;
– bookkeeping, accounting, record keeping;
– performance measurement;
– continuous performance improvement.
Goldenport Odessa & Oceangold Odessa have no rest in the road to achieving their goals and always seek to increase their effectiveness and productivity, create new opportunities for improvement.
Training crew members, Goldenport Group creates all necessary conditions, including training on board, ashore thanks to modern technology and teamwork.
Cpt Papagiannopoulos stated that the company will initiate cadets debriefing program, which will run in parallel with the Masters' and senior officers' ones.
Goldenport Odessa & Oceangold Odessa have been holding a cadet program for several years. All this time they are cooperating with Odessa Maritime Academy. Rector Mykhaylo Miyusov is a regular guest at Goldenport Group's annual events, as well as company's representatives often attend a lot of events within the Maritime Academy. This friendship has been going on for many years. Cpt Paris Dragnis thanked Mr Miyusov, who was present at the celebration, and they shook theirs hands. As he said, Goldenyachts would like to employ graduates of the Academy on captain positions. Yachting business is a new interesting sector for many Odessa young seamen.
"For many years our cadets have a possibility to start their careers on board of the fleets of Goldenport Odessa & Oceangold Odessa and maybe in the future on board of mega-yachts. I am very pleased with our cooperation." Rector of Odessa Maritime Academy Mykhaylo Miyusov responded.
Many wishes of prosperity from partners and seafarers were sounded in the hall. All the present noted the significant growth and high standards of Goldenport Odessa & Oceangold Odessa.
"I am very proud to work at Oceangold Odessa." Crew Manager of Oceangold Odessa Cpt Andriy Podoprygora stated. "Today, we have 14 vessels, six of them are newbuildings. For the previous year our family was increased by about 100 seafarers. Its means that we have 400 members in our family Oceangold Odessa in all. And second, we found new generated seafarers, including 32-35 years old captains, they are well-trained and know many foreign languages. We found many chief engineers, which are good at working with electronic engines." He noted.
2020 will be a quite difficult for all shipping sector. However, supported by reliable partners, office staff and Ukrainian seafarers, Goldenport Odessa & Oceangold Odessa can meet any challenges. The companies believe teamwork is the key to success of any business.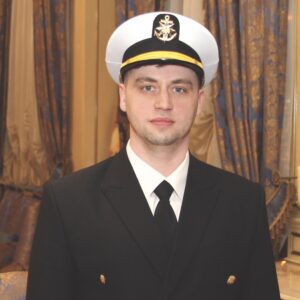 Maksimov Sergey

2nd Officer on MT CLEAROCEAN AJAX

I came to Odessa about four years ago from Murmansk, where I had worked as 2nd Officer. I considered all options from different crew and shipping companies. Then I got a call from Oceangold Odessa, they offered me a job and explained all about requirements, prospects and company policy. I liked this approach and could not think of any reason why not.
My first contract was on MT ALPINE PENELOPE. It should be noted that the company responsibly reviews the conditions of its fleet. All vessels are not old and have very good maintenance. For example, last year I participated at new building MT CLEAROCEAN AJAX delivering in South Korea. The company really splurged on navigation equipment and other up-to-date technologies. After delivering, there was no breakdown, that says a great deal about the vessel. In February 2020, I returned to this ship.
Every vessel of Oceangold Odessa meets all world-wide requirements and conventions. Nice to work on a ship which is being care for. As well as crew members. The company care can be seen even in the details as equipping with a uniform and safety shoes or crew changing and salary payment on time. This is appreciated by all seafarers and their family!
Within four years I have been working here and living in Odessa, many changes have taken place in my life. I found a beautiful wife and very recently, our daughter Vera has come into the world. Now I am thinking of offering Alexander, the Crew Operator at Oceangold Odessa, to become Vera's godparent. Maybe, you can hear that Goldenport Group is a family company, so, for me it really is!