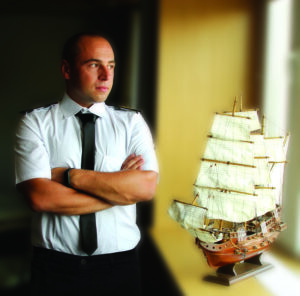 Not every seafarer, going on his first voyage, can be sure that he will work in a certain fleet for the rest of his life. Moreover, while a person plans something, the destiny has its own plan. Sergey Taturevich would never think that his seaman's book would be riddled with contracts on oil tankers. Although now, being a Chief Officer, he is just glad that fate brought him on that exact type of the vessel of this shipowner.
Sergey Taturevich managed to get into the company only in position of a Second Officer, though he looked for work on Norwegian vessels still being a cadet. Having graduated from Maritime College named after A.I.Marinesko, he heard from his acquaintance, that in the maritime agency Alpha Navigation the representatives of a Norwegian company conducted interview with Ukrainian cadets. He got prepared, in perfectly ironed uniform went to the office, successfully passed interview…but "was thrown overboard". It turned out that foreign guests preferred to give a chance to the candidates from ONMA. Sergey was sure in his knowledge and despite such a twist of fate he didn't regret entering the maritime college, because it provided him with such a solid basis for a future career. Even of this misfortune he didn't give up an idea to get employment on a Norwegian vessel and continued keeping a close eye on Alpha Navigation and gave himself a promise to try his luck there one more time.
Time passed, and in 2012, being already a Second Officer, Sergey, either yielded to an impact or intuition, dropped in a familiar place again and got employment! It means to come at the right place and time. A crewing-manager of a company offered him immediately an urgent vacancy of a Second Officer on the tanker Solviken in the company with Norwegian roots Wallem. It was just what he needed! He only had to prove his worth, what he actually did.
Captains Ramasami Senthilnathan and Krishnan Senthil Kumar, with whom Sergey worked, expected him to become a Chief Officer. They were even surprised, seeing a familiar name Taturevich opposite the position of a Second Officer in the crew list. Sergey felt that he was ready to move on a career ladder further and he also knew that the company would only be glad to promote him. The stumbling stock was the absence of the ill-fated diploma of ONMA, without which you cannot get a position in the command staff. Unfortunately, there are no advanced courses in Ukraine for those who graduated from Maritime College. So he had to study on extramural basis in Odessa Maritime Academy to reach this goal.
"Thus I stayed in the position of a Second Officer for long, – Sergey smiles, – but I can even see some advantages. I learnt thoroughly the base of knowledge and skills on which I would firmly stand on my feet in the role of a Captain".
As soon as Sergey graduated from ONMA, he went on his next voyage in a new position.
Strange as it may seem, the tanker fleet is not what Taturevich dreamed of, while still cadet thinking about his future. Having heard a lot about the dangers of fuel transportation and harmful working conditions, he did not see himself among the tanker officers at all. Container lines are totally different thing! However, destiny had other plan for him and the first voyage practice brought him on a tanker-bunker. Thus, the necessary experience in obtaining the certificate of Oil Tanker Familirization was in Sergey's pocket. Thus it happened that the oil-tanker fleet became ingrained in the life of a Chief Officer.
Now, at the beginning of September, in the position of a Chief Officer, Sergey takes over his next completely new vessel Eikeviken (ice class, 115,000 dwt) in Cairo. The line will pass through the northern latitudes: the Baltic and the North Sea. The new type Aframax is equipped with the latest scrabbers for the purification of marine diesel exhaust, meeting the latest innovations of IMO and proving the title of Wallem as one of the most environmentally friendly companies.
"Currently I'm working in Wallem according to a back-to-back system together with a relieve officer three by four months, three of which are mine, – Sergey Taturevich says. – It's great that the company allows such a convenient schedule. I see a lot of advantages in this system: stable employment (I know when I'm going to board a ship) and, what is more important, I know this ship. Moreover, this is a great opportunity to work as a Chief Officer for my own pleasure before I get a promotion, and I will be three times as much snowed under the paperwork".
Yes, the profession of a seafarer is gradually turning into a white-collar occupation. Though, it cannot be said about a sea element which will never give in for inattention and negligence. Despite everything, the marine profession does not suffer from a lack of the willing ones to devote themselves to it. "My father / grandfather / uncle are seafarers" – there are many reasons to go to sea, and to continue the family tradition is one of them. And what induces those who are not connected with the sea by any generation?
All members in a family of Sergey Taturevich are the military and served in the land forces. His parents returned to their native Odessa from the Baltics, when the USSR collapsed. They bought a flat in a panel nine-storey building – then quite a new house on Dobrovolsky Avenue. Moving to a house of Black Sea Shipping Company, the Taturevich family did not pay special importance at first to who their future neighbors. And later they saw a black-and-white uniform with shoulder straps, and caps with golden cockades, what to say about expensive cars and foreign goods. And this was in the toughest 90's! About three quarters of the house's tenants turned out to be seafarers of long-distance voyage with their unique color and lifestyle.
All his childhood, little Sergey spent among naval officers and the ranks. Their way of life inspired him to enroll in the Flotilla of young seafarers – a club in the Customs Square, which now, alas, is closed. There, children studied seamanship, learnt to knit knots, sailed in summer. Their teachers were the captains of the old school – the real sea wolves.
After the 11th grade, when it was time to decide on the future profession and submit documents to a higher educational institution, Sergey had already decided everything for himself: he would become a naval officer! And now, having reached a position of a Chief Officer, he regrets nothing. If he could live his life again, he would still choose the sea. According to Sergey, in order not to lose heart during a months-long contract on the ship, you should like the profession, no matter how difficult it may be.
The navy in our time is experiencing interesting changes. And we are talking not only about the dominance of the Filipinos or automation of the mechanisms. "I like an emerging tendency to keep a healthy lifestyle, which modern navigation encourages, – Sergey says. – I notice that seafarers smoke during the voyage less and less. I gave up this addiction myself, and I do not regret it. Nowadays there is a trend among the seafarers to do sports, and Wallem actively helps us with it. On our ships there are gyms, ping pong, basketball baskets and so on".
Wallem's seafarer can freely spend his free time in the Internet, connecting to a free unlimited wi-fi during two hours a day. Sergey can call his family via Skype or write in Viber easily, without waiting for the next port of call.
In addition, as a Chief Officer admits, he quite often meets familiar faces at Wallem.
"It never fails to amaze me how many of my friends and even a classmateswork for this company together with me! I often meet them on corporate forums or recognize them in photographs. I can say all roads lead to Wallem! This is really so, and my colleague – a Second Engineer Mikhail, who made one contract in another company and returned – is a good example. Neither am I looking for better fortune with another shipowner. I like Wallem and the conditions that the company provides me with".
When asked who you see yourself in 10 years, Sergey shrugs his shoulders: he has ceased to make plans for the future and all because most of his plans do not come true the way he plans. Nevertheless, he still has one more peak, which he will conquer in the near future – the position of a Captain. The position is incredibly difficult and responsible, but Sergey Taturevich is just glad: work is more fun if you have unconquered goals ahead of you.