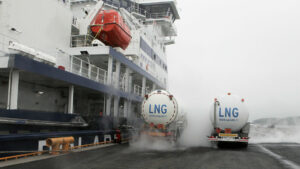 Government of China has made a strategy of using LNG as marine fuel priority of its economy. It is scheduled that LNG will become the main element of bunkering infrastructure by 2025. Much attention will be given to vessels which sail along the river coasts.
Initial network for distribution of LNG bunkering is planned to be developed by 2020. By 2025, 15 percent of new vessels owned by government and 10 percent of all ships sailing on the largest inland waterways are planned to be bunkered with LNG.
According to predictions, by 2023 LNG consumption for bunkering purposes can exceed 65 million tonnes. Part of this volume can be produced even without exploiting local liquefaction terminals.
LNG trucking market will take part in the process of bunkering at the inland terminals in China. It is especially advantageous for the areas with no access to pipelines.
Chinese oil company CNPC may suspend its cooperation with the USA which has been delivering LNG in the country due to 25 percent levied tariffs. Instead, they are going to cooperate with other buyers in the region, or dealing with non-USA sources.
PetroChina division of CNPC has a supply contract with the USA producer Cheniere for 25 years which is partially is going to come into force already this year.
PetroChina is negotiating with LNG supplier Quatargas for cargo supply under a four-year agreement with a possibility of extension the term. They haven't decided upon prices yet but the volume is expected to make up for several million tonnes a year.