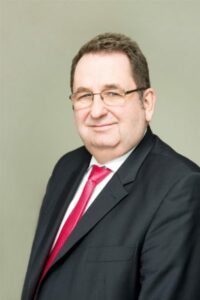 Danica Crewing Services Ltd  will celebrate their 5-year anniversary on the 10th of April 2018.  This occasion is a wonderful chance to tell the company's story: the decision to create; its first steps, its achievements, what makes it different from others and an opportunity to thank clients, our seafarers and employees who've helped Danica reach this milestone.
Danica Crewing Services Ltd provides highly qualified seafarers for the first-class shipowners and managers all over the world. Every day Danica's offices in Ukraine, Russia and Lithuania help seafarers to connect and deploy to all types of vessels. Danica also offers value-adding services like training.
Danica accords with the highest industry standards to act as an honest link between the shipowners and seafarers.
The Maritime Telegraph was pleased to talk to Henrik Jensen, Founder of the Danica Group and Managing Director (Danica Maritime Services, Germany).
Running a company is no easy thing. You have to be extremely smart, flexible, communicative, courageous, tenacious, and patient, the combination of humility and presence, being steadfast and responsible. Just like Henrik Jensen, the man who has been at the helm of the company for 5 years now and is responsible for its all-round success.
Mr. Jensen founded Danica Maritime Services and Danica Crewing Services and has since developed the company into a leading crew provider. He is a regular guest on international forums and  conferences, which shows that the maritime community would like to know his professional opinion in different areas.
We tried to get to know more about the company, its achievements and what principles Mr. Jensen follows in order to maintain the success.
Read on and get inspired!
MT: You have a background as a captain and more than 25 years of the high-quality experience in the shipping industry on shore.  So why did you decide to devote your life to the maritime profession? Do you perhaps come from a maritime family or was it your childhood dream to become a seafarer?
-Yes, I've been in the industry for more than 25 years now. I chose it because I am from a family of seamen. It's a little bit like in Odessa. All my uncles are seamen, captains, pilots or engineers, so that's why I became a seaman too. It wasn't my father's decision; it was my own decision to work at sea. My grandfather was a fisherman and my uncle was a pilot and actually, when I was a boy I went out with my uncle while piloting in Danish waters. I even remember eating Ukrainian Borsch on some of the Soviet Union vessel where Uncle was pilot. By the way I am the last seafarer in my family, I have only daughters and I don't think they go to the sea.
MT: You obtained nautical education and qualified as a Master Mariner. What were your expectations as a student of Fanoe Navigationsskole?
-When I was a student my intention was to become a captain, of course. I think when you start studying navigation you want to be a captain.
MT: Do you remember your first contract? What were your first impressions? Did you face any extreme situations?
-I started as a messman. I knew about vessels because I had spent my holidays with my uncle actually. It was long time ago but I think my family was more nervous for me because I went to West Africa.
MT: On what types of the vessel did you sail? Which types of vessels do you like the most for sailing?
-I was a captain on offshore vessels. I also sailed on containers, bulkers and ferries. Ferries were the most interesting because there is a huge crew board and the contact to passengers. I also liked that operations are very intensive. Offshore vessels were also interesting with up to 60 crewmembers and there were only 20 crew members and the others were some technicians to support the vessel.
MT: You left your career at sea and came ashore in 1990. Why did you make such decision?
-I didn't do it myself actually. I worked for an offshore company, Bech in Denmark, and in 1990 they had Danish and Americans on board and then Polish officers came on the market, so in about one year they changed the crew for Polish. They kept a few Danish captains and when the company started to make newbuildings I was sent for the delivery of those vessels. After that I've never been at sea again.
MT: What are the main advantages and disadvantages of seaman profession per your opinion?
-Of course it is an interesting job but the main disadvantage that you are at sea away from home and there can be very long working hours. After 4 or 5 months you are missing a long vacation. Yes, this profession has some disadvantages but when you are at home nobody calls you at night because of something important.
MT: You joined the Bernhard Schulte Group in 2000  as a Managing Director, then was promoted to Senior Managing Director for Bernhard Schulte Shipmanagement (Deutschland) and left it in position of Group Managing Director of Human Resources. Why did you leave this company?
-It was the time to move further in my career. I had an opportunity together with two partners to start Nordic Hamburg Shipmanagement in 2008.
 MT: In 2008 you were a co-founder of Nordic Hamburg Shipmanagement, built up the organization and a manning agency in Odessa. Why Odessa was chosen as the city for the manning agency?
-Because we had some relations here already and because Odessa is a seafarer city. So the strategy was to have an office here, so we could control the recruitment process and make seminars and training easily.
MT: Why did you decide to found Danica Maritime Services and Danica Crewing Services in 2012?
-I saw that many shipping companies were struggling with their crewing partners in Ukraine and Russia and I thought that there was a need high-quality and trustworthy manning agency. Danica success shows that my thinking was right. Danica Today there are 33 people in our team. You don't need any special education to be a member of our team except good English and being service minded both towards our clients but equally important also towards our seafarers. We prefer to develop and educate our office team staff members inside the company. We also have offices in Saint Petersburg, Vladivostok, Nakhodka and in Klaipeda.
MT: What kind of leadership do you use in your team?
-Of course we need leaders here who can build and maintain motivated team, but also we need somebody who understands that the money we earn comes from the clients. So we have to pay attention to the clients and give them an outstanding service.
MT: What do you appreciate most in the people you work with (your staff, partners, and seafarers)?
-I appreciate when people are honest and open; who can say that here we have a problem in order not to repeat it again. And of course hardworking.
MT: Where is the head office for you in Hamburg or in Odessa?
-The head office is in Hamburg but the main office, the biggest office, is here in Odessa.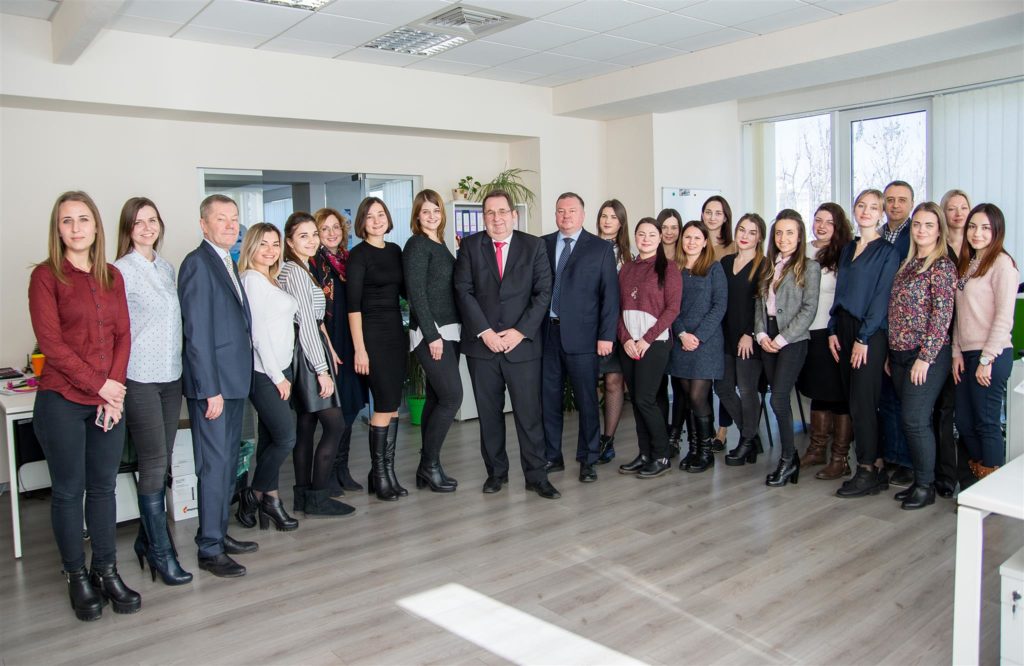 MT: You have built and developed Danica into a leading crew provider. What are the main working principles of your good company which differentiate it from the others?
-They are trust, reliability and quality. We connect demanding shipping companies and highly competent seafarers. To do this we need good clients with high standards. Our clients appreciate our strict screening and checking of seafarers new to us. We always do an in-depth screening in the interest of the owners. There is no seafarers who can cheat his way into getting a job. On the other hand we are also always very fair to the seafarers, we help them if they have problems, our services are fully free of charge.
MT: What nationalities do you have onboard Danica Maritime Services vessels?
-We deploy in total about 1300 seafarers. They are Ukrainians, Filipino, Russian, Latvian and Lithuanian.
MT: What is the percentage of Ukrainian seafarers working on your vessels?
-It is about 80% and about half of them are top-4 senior officers.
MT: What do you think about the professionalism of Ukrainian seafarers?
-In general they go to the sea because they want to make a career, if we're talking about officers. And this is not the case with the Asians or Filipinos, they stop before they become captains. If you go to the Odessa Maritime Academy and ask who do you want to be, they'll answer: a captain or a chief engineer. So they have a career and crew managers and owners will have a long relation with them.
MT: Does Danica Crewing Services cooperate with higher education institutions? Does the company have a cadet program?
-Yes, our company works with Odessa National Maritime Academy. We have a cadet program on several vessels. It is a big satisfaction when you know seafarers for many years and when you recruited them as a cadet and now they are chief officers and captains. In the past years we also assist ratings who has officer licenses to be promoted to junior officer.
MT: Let's talk about promotion. How many contracts should a seafarer have in your company to get a promotion?
-It depends on the rank; it is more complicated to be promoted to a chief engineer or a master rank. But there is a very easy criterion for ratings to become third officers or third engineers, for example, it is one contract, one good appraisal and a successful interview with Danica's recruitment captain and if he shows good abilities to get to a higher position, he will be promoted. If we speak about the top ranks, it is more complicated. They need to pass a special promotion program on board a vessel during the contract period; there are about 6 pages with the general topics concerning his next rank. Here at the office we are responsible for promotion any ranks except master, chief engineer, chief officer and second engineer, it is an owner decision. In general owners want a seafarer to have two contracts in rank and two good appraisals from a captain or a chief engineer to promote a seafarer.
MT: Do you hire women on your vessels? If yes, how many women are on your fleet now?
-We have some ferries and hire women as stewardess and shop assistants. Unfortunately no navigators or engineers for the moment. It is not because of the owners but women don't come. European owners are fine with female officers. We even work for an owner in Denmark who wants 50/50% female and men onboard his survey vessel (unfortunately EU-citizens can only work on that ship)
MT: Danica Crewing Services' motto is «We care about our crew and their families». Does your company have any maritime family program?
-For some seafarers we have a medical insurance which covers medical treatment for the seafarer and his family.
MT: Why did you decide to provide medical insurance for seafarers and their families? What was the main aim?
-We want the seafarers to know that they don't get only their salaries here but also things like this. It binds the seafarers closer to us.
MT: Does Danica offer training for seafarers by experienced native English speaking teachers.
-Yes, we have a native English teacher who lives here to give our seafarers an opportunity to increase their level of English at home.  We do not recruit seafarers without having a sufficient command of English as required for their rank. All our seafarers pass an interview and half of the interview is in English.
MT: Is there free Internet access on company's vessels?
-Yes, there is free Internet access on some vessels.
MT: To lead the company means to have the plenty of work. Do you have time for rest? What is the best way to rest for you? Where and how do you spend your free time?
-I like to spend my free time with my family, of course from time to time I go for vacations and I like to go to the Philippines or Cyprus. The climate is better than in Germany, I also like the beaches.
MT: What hobbies does the founder of Danica have?
-I like to build model trains as  I can do something with my hands.  I have my own space in the basement in the house with a large model train lay-out. It takes a lot of time and it will never be completed.
MT: Tell us please about your family. How do you usually like to spend time together? Does your family live in Germany?
-My family and I lives in Germany, my wife is from Ukraine. Last year the family was extended by a new baby. In total I now have 3 daughters, 19, 14 and 1 one year old.
MT: How do you think is it possible to combine a happy family life and a successful career? And how do you manage to do this?
-This is difficult; it's like a seamen's life. My wife doesn't work; she looks after the family.
MT: The way to success is not always easy. What difficulties did you face along the way to your success?
–It is always difficult to run your own company because something always happens. You know if the company isn't developing, the company is dying. So you always have to develop something. But the difficulty is hard work, I think.
MT: What do you like the most of all in your job and profession?
-There is nothing else more international than shipping. I am from Denmark, then I worked in Germany and now I have a company in Ukraine. We send seafarers from Ukraine, Russia and the Philippines to shipowners in the US, Denmark, Germany, the Netherlands, Italy, Greece, Spain, UAE and Singapore. So this industry is completely international and I like this environment.
MT: What is your recipe for success?
–My job is to do two things: the first is to continue to develop our business both with acquisition of new clients and make sure we offer the services they need. The second part is to build a team which understand our business concepts and keep them motivated.
MT: Where do you see yourself in 10 years?
–I hope Danica has grown in 10 years. We have a very good base in our company. We have a reputation for quality  I hope with this platform we can make the company bigger and more successful in the future.
MT: And about 2017 which has already passed. What was the main achievement of the company?
–We started a training center last year; also we restructured the crew managing section which is now an separate department. We also implemented an advanced software in our financial department: Now our clients do not only have online access to the crew data but they can also online follow all crew changes, flight bookings and compliance with the agreed crewing budget.
MT: And, of course, our favourite question…Let's imagine you found a bottle with a genie, what wishes would you have?
–I would wish my family to be good. As for the business I would wish owners spend more time on necessary training for the seafarers and man-management training for the senior officers.