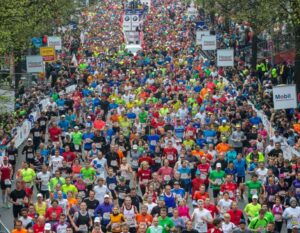 April 17, 2016, in Hamburg at the thirty-first time held the annual Haspa Marathon Hamburg, the most massive spring marathon in Germany with more than 20 000 participants. At the start will be the runners with personal records faster than 2.10. Marathon route passes through the most beautiful places of the largest German port city.
Organisers divided distance 42,195 km into several parts. Runners can act as in the individual competition and in the team. If the team involves in the Marathon, one participant passes the baton to another.
Men and women of all ages — from 18 to 80 years will be fighting for victory. The runner will receive a certificate with his results within 60 minutes after he crosses the finish line.
Marathon runners will start at 9:00 am local time. The award ceremony will be held at 11-30. Three men and women will be the winners of the competition. In the past year, each winner received 20 000 euros.
After the run, the athletes can relax and eat on the «Pasta-Party», which will take place at the restaurant located in the exhibition area.
The team of the shipping company E.R. SCHIFFAHRT GmbH & Cie. KG (Hohe Bleichen 12, D — 20354 Hamburg) is a permanent member of the Marathon.
E.R. Schiffahrt is a ship management company with activities in container and bulk segments. Currently, it controls more than 90 vessels in service.
The vessels are chartered by leading liner and bulk shipping companies. E.R. Schiffahrt aims to be one of the best ship management companies in the shipping industry. About 3,500 crew members at sea and employees ashore work as a team and are dedicated to securing safety, reliability and performance for the benefit of business partners worldwide.
The fleet of E.R. Schiffahrt consists of more than 70 container vessels in service, aggregating some 450,000 TEU.
The dry bulk division consists of 20 handymax, supramax, kamsarmax and capesize vessels, aggregating some 2.2 million dwt.
Some key principles E.R.Schiffahrt
Customer's success is top priority
Focus on long-term and strategic partnerships
Customer requirements are key
Cost cutting program
Technical reliability
Operational flexibility
Customised services to ensure excellent results
Continuous, dedicated customer care
Daily exchange with brokers and customers to identify customers' needs and create individual employment concepts
Regular customer calls for a face-to-face dialogue
Coordination of the worldwide broker network
Matching customers' needs with technical requirements regarding Dry-docking, Maintenance and Repair
Project department for specific tasks and Business Development
R. stand for efficiency & reliability
Professional and interdisciplinary fleet management teams to ensure sound operations
Support for the existing fleet teams by specialised technical and nautical teams
Special expertise in Energy Efficiency, Dry-docking, Propulsion and Vessel-IT inhouse
Focus on Fuel Efficiency
Close cooperation with liners, manufacturers and research institutes for innovative optimisation concepts to reduce fuel consumption
R. Schiffahrt fitted all vessels for optimised super slow steaming
Further savings through individual weather routing, trim optimisation and low friction painting
First shipping company to receive energy efficiency certificate by DNV GL
Optimisation Fuel Performance
Retrofitting of propellers
Bulbousbow optimization
Retrofitting of main engines
Turbocharger cut-out
Know-how available to customers
Smart people, smart solutions
Tailor-made crewing arrangements for our customers
Close link between ship and shore for an efficient cooperation and communication
Highly skilled crews
Continuous practical crew training courses and regular on-shore seminars in Hamburg, Ukraine and the Philippines
Committed to People and The Environment
Certified safety, environmental and quality management systems
RightShip ratings for all container vessels
DNV GL Excellence 5 Stars
Participation in UN Global Compact
This year E.R. Schiffahrt participates in Marathon, with the team of its reliable business partner — Ukrainian crewing company Alpha Navigation.
We wish them to win!