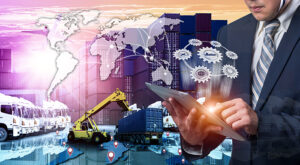 Global Ocean shipping network INTTRA has presented a report on the effects of the digitization. Since this process has a significant impact on different industries, an e-shipping platform has also decided not to stay aside.
Many organizations focus on the advantages of technological management as a source of reduction of costs and enhancement of efficiency. Thus, INTTRA suggested that such tools as Artificial Intelligence, Machine Learning, and the Internet of Things are the most disturbing technologies.
Technologies and humans: partners or competitors?
The authors of this report are concerned about possible extensive replacement of humans. However, they highlighted that despite potential disturbing consequences for the container shipping, these technologies are not a threat for existing work places. AI programs will just provide assistance since they aren't still advanced enough to work independently. They aren't able to handle critical tasks that require creative thinking and leadership qualities of a human.
INTTRA suggests that AI will allow workers to deal more with exceptions which are so challenging in container shipping.
Perspectives of chatbots' application
In order to make communication between humans more effective INTTRA tends to enhance its cloud solutions with chatbots.
INTTRA supposes that chatbots will become extremely popular in the near future. According to a research, in a few years more than a half of businesses will be spending more money not on mobile apps but on chatbots developments.
AI can also be used to facilitate a booking process for the customers of organizations by predicting automatically their further preferences on the basis of the previous orders.
Moreover, INTTRA suggested that AI could also be useful in Harmonized System codes. Since frequent errors in this system lead to serious delays and extra expenses, an automation process will help to correct them in advance. It will allow humans to focus more on important tasks and to get involved in the HS codes system only on critical occasions.
Smart containers
AI and IoT can also be applied, for example, to monitor and handle reefers remotely, changing temperature and other factors in response to relevant conditions. Humans will be involved only in exceptional cases.
INTTRA repeated that advantages of digitalization will make them extremely important in the near future, and industry workers must be prepared. It is necessary to understand whether people have enough competence, skills and knowledge to handle AI projects considering efficiency and cost-effectiveness of the operations.
INTTRA's platform is widely used in the ocean container shipping industry. More than 800, 000 container orders are handled every week by more than 60 carriers, proving its position of the largest digital transaction network. Over 25% of all container orders worldwide are currently managed by INTTRA. Furthermore, this figure can increase up to 40% in the perspective.