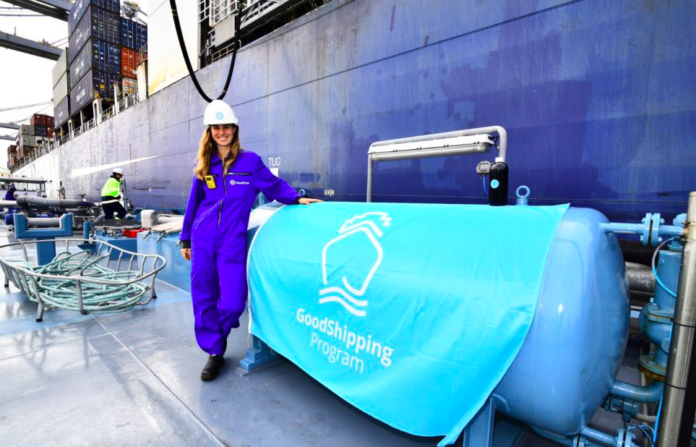 Biofuel program has been successfully tested this year on CMA CGM ships in cooperation with IKEA Transport and Logistics Services and the GoodShipping Program.
First positive trials of biofuel replacing heavy fuel were carried out at the beginning of autumn 2019.
In March 2019, a CMA CGM containership was refueled in Rotterdam for the first time with sustainable biofuel, resulting in the subsequent development work.
According to the testing several types of fuel were used in combination, with BFO among them. In each case, usage of BFO had good performances and it proved that marine biofuels are compatible in a technical aspect.
Such developments show that modern types of biofuel can correspond to the existing and future ecological standards and targets regarding the reduction of CO2, providing for such a shipping industry that will be able to sustain any situations.
CMA CGM Group is aimed at conservation of environment and transition to energy resources. Such meaningful testing lets the maritime sector to feel an opportunity of usage of sustainable BFO, and that it complies with technical standards.
GoodFuels Company supplied two CMA CGM vessels with BFO, which is thought as the first analog of HFO. Ecologically clean types of marine fuel of GoodFuels have almost no SOx and provide CO2 emissions reduction by 85% in comparison with its fossil analogs.
Due to the ability of BFO to adapt to increased demands, it meets the requirements of future for operators and shipowners and it will comply with the regulations for CO2 reduction in 10 and 30 years.
Cooperation between all the participants of this process – owners of the cargo, operators and other – makes it possible to obtain real changes quite rapidly.
A variety of solutions is required in order to reach ambitious targets for CO2 reduction, and marine biofuel is a vital component in this complex process for the shipping industry.
Such a program is effective, provided that all CO2 emissions in the shipping industry can be found in the same atmosphere, the ways of reducing them are efficient to the same extent, no matter what type of fuel is used on the vessels: biofuel, conventional fuel for bunkering, a mixture of fuels, inasmuch as it makes up for the CO2 expenses of transportation of consignors' cargo.
This approach is quite flexible and it gives more opportunities for immediate influence, at the same time providing the same clean effect in preventing the impact of climate change.
The success of this trial program of CMA CGM in cooperation with IKEA and the GoodShipping Program is one more proof of a vital role that biofuel oil will play in marine fuel mixture. It also shows that there are already strategies on the market for owners of cargo for realization of their goals to level carbon inputs.