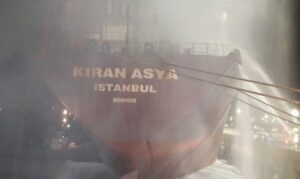 Fire erupted in engine room of bulk carrier KIRAN ASYA, berthed at Isdemir, Iskenderun, Turkey.
It happened on September 9. Several fire engine were deployed, fire was said to be quickly taken under control and extinguished, no injures reported. Extent of damages unknown.
It is known, that the vessel arrived at Iskenderun with cargo of wheat loaded in Novorossiysk, Russia.