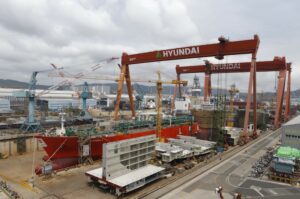 The union of two South Korean companies and two Chinese corporations will create two giants which will control nearly half of the world market among the best shipyards. These four yards will face new types of ships, price of which will probably grow up.
Shipbuilding business is recovering after a 10-year downturn in the world trade which caused decrease in orders, while operators in maritime sectors had to cut down capacity.
It is expected that such a process will rocket in a few years, being favored by big tendencies at energy markets and new stricter rules as to pollution from fuel, which will come into force the following year and will lead to the building of ships of new generation with state-of-art constructions of hull and engines.
Building of new ships plays a key role among Asian industries giving job to many people and providing opportunities for export. Besides prevailing market share, these new combined groups have frequently got strong financial support from creditors and large orders from shipowners form state businesses which compensate deficit from other customers.
The two groups are facing harsh competition for highly-profitable ships, such as LNG carriers. This makes their less developed counterparts fight for their business that can result in rise in prices on ships.
Some types of ships occupy a dominant niche at the market. Unfortunately, not all shipowners can be satisfied with such a situation, since they have to choose from not some many shipyards and it is difficult to compete with each other.
After the completion of the mergers, prices on newly-built ships on yards in China and South Korea are expected to soar within 5%-10% range. Due to scanty financing, such an increase of prices will be difficult to deal with. However, fewer ships are expected to be built which will allow to decrease excessive capacity. It seems that currently the Korean representative is on the winning side.
Despite the difference in the volume of orders for new ships in Chinese and Korean yards accounting for 112 vessels in favor of the first ones (428 against 326 respectively), the value of orders of South Korean shipbuilders is higher than of their major counterparts ($33 billion against $19 billion respectively).
More than half of all orders on LNG carriers belong to the Korean shipyards, while the Chinese groups can boast figures of less than 10%. However, the Korean shipbuilders don't get many orders for small dry bulk ships (15%), and their Chinese rivals are leaving them behind, keeping 31% of such orders.
Such a high appreciation of the Korean yards accounts not only for the orders they get from LNG clients, but also for their indisputable standards and quality. Thus, vessels of their construction will be more durable and valued among their customers.
Due to amalgamation in China, the number of big enterprises owned by state has decreased by 50% over the last 10 years, comprising now about 100 companies. At the same time, a lot of huge state competitors have appeared in agricultural sector, railways and others.
The merger of two Chinese companies (CSIC and CSSC) was a response to an earlier consolidation of their two Korean rivals (Hyundai Heavy and DSME) in order to retain their competitiveness at the market. It is quite obvious that being the first to unite, the Koreans will be also the first to obtain all the necessary approvals. However, they are all oriented on the same types of ships and such a consolidation facilitates their competition to a great extent.
In China the shipyards depend on their state-run sister leasing companies. For example, CSIC Leasing got an order for 24 ships worth $2 billion, thus making its fleet twice as large. What about CSSC, it obtained an order for 30 new ships to the total value of $1.5 billion from its leasing company.
Two years ago DSME got an investment of $2.6 billion for large-scale restructuring to cut down operational costs and to recover the business positions.
This year the official figures show that the orders for new ships are more than 70% lower than they were last year. Representatives of the industry assume that the shipowners expect the tariffs between China and the U.S. to fix before making orders for new ships.
CEO of Hyundai Heavy says that the government is now reluctant to make new investments. Thus, the only way for them to survive is to unite in the face of the vague future.