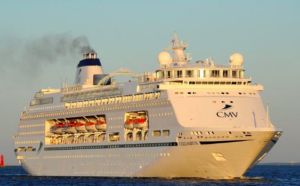 Cruise ship COLUMBUS (flag – Bahamas [BS]) hitting an unidentified submerged object while leaving Amsterdam, bound for Norwegian Fjords with tourists on board. It happened on May 30.
The vessel was inspected by Port Authorities, and understood, cleared to resume voyage. However, the ship, being well up north in North sea, reported rudder/steering problems, believed to be the result of hitting unknown object.
It is known, that the ship turned back and sailed back to Ijmuiden Netherlands.