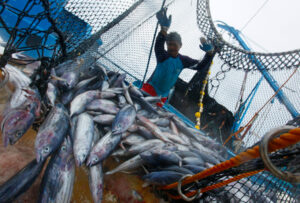 There is an active discussion of fish catch robbery from Ukrainian fishermen by Crimean border guards in social networks. It was reported that the Russian Federal Security Service (FSB) officials stated Ukrainian fishermen violate peninsula's borders. Nobody knows if it was a revenge or no, but what do we know for sure is that Ukrainian Border Service has already achieved an appropriate report. As it has been reporting earlier, two hovercrafts took out fishing nets and disappeared towards Crimea.
Ukrainian Independent Marine Trade Union shared their view on this situation:
– After occupation of Crimea peninsula fishermen from Kherson region became one of the vulnerable categories, which fishes in offshore strip of Azov sea and the gulf of Sivash. On October 10th 2017 two hovercrafts of "Mars" type stole three fishing nets with catch, which were property of workers from OOO "SK SHKIPER". It was held in the area close to Strelkovoe village in Kherson region.
This company had been being under Ukrainian Border Service jurisdiction for very long time without breaking the rules. The Russian invaders on Ukrainian fishermen's property were kept off, and the incident was documented.
Some Russian media described the situation in their own way:
– Russian Border Guards were fighting with poaching and confiscated "illegal fishing gear". This information was published by press-service of Crimean division (PS-FSB-RF). False accusations on Ukrainian fishermen are nothing more than Russian Border Guards' attempt to avoid responsibility. However, such attempts haven't supported by a legal framework that regulates fishing in Azov sea including Ukrainian-Russian pre-war agreements in this area.