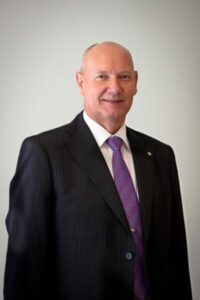 Markku Mylly is well known to maritime professionals not only as an Executive Director at EMSA (European Maritime Safety Agency), but also as a participant in the work of IMO (International Maritime Organisation), ESPO (European Seaports Organisation) and IALA (International Association of Lighthouse Authorities). He took part in several EU twinning projects assisting beneficiary countries. Mr. Mylly devoted a lion's share of his life to provide the contemporary and efficient way of administrations in the maritime industry, security and safety at the sea. No doubt, he will continue to improve and regulate the world maritime sector and his name will increasingly be mentioned in forums, conferences and headlines.
However, do we know how he lived before the success? Did he go through tremendous difficulty before he achieved his dreams?
The Maritime Telegraph was pleased to speak with Markku Mylly and find out, why did he choose the maritime profession? How did he start working in EMSA? What does he dream about? And how did he manage to be always in time everywhere and in everything? Let's learn his secrets of success together!
MT: Why did you decide to tie up your life with the maritime profession? Maybe you are from the maritime family?
My grandfather was working as tug boat master for years and maybe my career idea was related to this background. Anyhow after the high school and military service I decided to go to maritime school in 1972 and since then my career has been on maritime. I decided to sail on deck and become a master mariner. I never had so much appetite on engines and technical things but navigation was fascinating me from the very beginning of my seaman's career.
MT: Do you remember your first contract as a cadet? What were your first impressions? What did impress you most of all?
In Finland we did not and do not have a cadet system. I started as a seaman on deck and then after two years at sea I was able to go to navigation school and became third mate in 1975. It was very exciting and challenging time because I joined relatively old tanker and we were trading in North Sea area with a very dense traffic already in mid 1970's. Later I was a tanker man and I have been sailing only on tanker vessels from small coaster of 3 000 DWT to VLCC of 250 000 DWT.
MT: Did you face any extreme situations while sailing? Tell us please the most impressive. How did you solve it?
There are of course many situations during my career, but one event I remember the rest of my life which happened in St Lawrence Seaway at Escoumins pilot station. It was winter and ice conditions in early 80's and I was to take a pilot from Escoumins pilot station. The pilot cutter was unable to come out from the shoreline because of the ice and the pilot asked me to come closer to shore. When approaching the shore the current on the shoreline started to turn the vessels (30 000 DWT, fully load with crude oil) towards the shore. I managed to get the vessel out of the shore and told to the pilots that I am not going to come any closer to the shore and they have to come out to the vessel by their own means. This was a very critical close by situation which luckily ended well.
MT: You were sailing in Finnish merchants ships until 1987. In which rank did you stop your career at sea? How did you start your work in Finnish Maritime Administration?
I was the master of the vessels since 1982 and my last vessel was VLCC in which I was the chief mate. I applied the position of pilot in FMA and became a pilot in 1987 in which position I continued until 1992. After the pilot career I started to develop VTS in Finland, first in the Archipelago Sea District and from there I moved to Northern District 1993. From the North I moved to FMA HQ 1999 and held various positions until I became a Director General of FMA in 2004. In this position I served FMA until 2010 when the merger of FMA, Road Administration and Railroad Administration took place.
MT: You worked in FMA for 23 years and were its last Director General when they ceased to exist. You oversaw the work of 800 people. What kind of leadership do you use in your team?
Yes, indeed I was the 10th and last Director General of FMA and my time was full of development and changes in FMA. Firstly in 2003 we outsourced the majority of so called services from FMA and I personally was responsible to establish State owned Shipping company where ca. 600 people and 30 vessels were moved. I stayed as managing Director for this company, Finstaship for the first three months before I became a Director General of FMA in 2004.
My leadership has always been based on people and trust on people. You have to be firm but also fair towards the people and respect their opinion. I always discuss and listen to people and try to take their opinion as much as possible into account bearing in mind that the final decision as a Director General was mine.
I have been working throughout my entire working life with magnificent people. Very skillful, committed to their work and especially very nice and good maritime professionals.
MT: You were appointed as CEO and Managing Director of Finnish Port Association. What were your main duties and how did you start your work in The European Maritime Safety Agency?
I joined FPA in 2010 and my responsibilities were mainly related to support Finnish Ports in their activities towards to authorities and EU. With my practical seafarer's background and many years in the administration in FMA I could support the ports in many areas of their activities and different type of challenges.
In 2012 when I saw that the vacancy of EMSA executive director was published I asked my wife if I should apply. Her support was 100% and I decided to send my application to the Commission. I had been representing Finland in EMSA Administrative Board since 2005, so the Agency was very familiar to me and everything what Agency was responsible I knew already in beforehand extremely well.
MT: What do you like the most of all in your job and profession?
I have been working in maritime sector a good +45 years and during my time the sector has made a huge step forward in many areas. Ships have developed a lot, terminals are in many cases fully automatized, the use of digital solutions are there and many, many other developments have taken place, There are always new things happening in the sector which is very fascinating and of course the international atmosphere is very attractive. You know people all around the world and meet them in different occasions, seminars, meetings etc. and you speak with them the "same language" – maritime.
MT: Do you ever have a desire to sail again?
When I finished my career at sea 1987 it was very tough and hard time for me and I many times wanted to go back to sea. Anyhow I had a family and a small boy at the time so I decided to see how the things evolve and getting new challenges in FMA was very rewarding and gradually I forgot my anxiety to back to sea. Today I am very happy what I do and my practical seaman's career does not attract me anymore.
MT: Do you have time for rest? What is the best way of rest for you? Where and how do you spend your free time?
I need rest like every one of us and my place for resting is my summerhouse in lake Saimen area in the Eastern part of Finland. I go there whenever I have a possibility to do so and there the things and issues I do are totally different to may daily working life. I have some forest in the region and I do some forest work, meeting friends and heating up my old fashioned smoke sauna gets me fully relaxed of my daily working routines.
My hobby today is mainly the forest work, boating and moving in the nature. Finland is my favorite country for resting, absolutely. We have four clear seasons, spring, summer, autumn and winter. In all seasons you have something special and nice things to enjoy. Nature in Finland is clean and so beautiful and when moving in the nature during different season you find always something new.
MT: What kind of sport do you like?
My sports at this age are more calm than in my younger life but I like walking, some physical forest work, cross country skiing and sometimes bicycling.
MT: What kind of music do you prefer?
I listen to different type of music and during the summer season we very often go to opera in Savonlinna Castle. Every July Savonlinna Opera Festival takes place close where I have my summer house and we try to go there with friends as much as possible during the opera season.MT: What kind of music do you prefer?
MT: Tell us please about your family. How do you usually like to spend time together?
I am married since 1980 and we have a son born in 1981. The young couple was living in New York for 4 years and now they are a little bit closer living in Geneva Switzerland.
We spend a lot of our free time in the summer house and during the winter months we also go cross country skiing with my wife. We meet a lot of friends here in Portugal and naturally when we go to Finland we try to meet as much as possible our families and Finnish friends there.
MT: How do you think is it possible to combine a happy family life and a successful career? And how do you manage to do this?
It is sometimes challenging, but we have been married with my wife almost 40 years and she is my best friend and supporter. You need to respect your partner and make her life as convenient as possible in the foreign country and you also have to reserve time to be together.
MT: What is your recipe for success?
Hard work, ambition and passion to work. You also have to be enthusiastic on your work and work for your ambitions. You have to listen and respect your colleagues and work together with them. I think creating a good team is a way to success, because with the good team spirit your get the best results not only for your own work but for the whole organization.
I must say that my career has been relatively smooth and I do not have any such bad experience during my career. You must always remember that you don't create your career alone, you need your family and your colleagues to support you in challenging times.
MT: And of course, our favorite question… Let's imagine you found a bottle with a genie, what wishes would you have?
I would be very, very happy to continue to be healthy with my family and maybe some activities still in the maritime sector as long as my knowledge and expertise is valid and respected by stakeholders and colleagues.