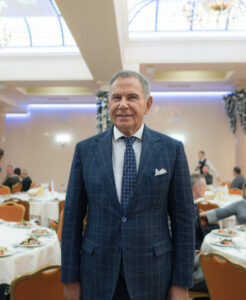 Captain Paris Dragnis retired from the Board of Goldenport in December 2015. Mr. Dragnis founded the Company and led it as Chief Executive Officer before handing it over to his son, John Dragnis, in April 2012. John has been the Executive Director and President since then. Paris and John Dragnis own more than 10 superyachts, with 2 more under construction.
Captain Dragnis started his career at sea as a cadet and achieved the rank of Master on ocean-going vessels. He has over 35 years of experience in shipping. Over the years, Mr. Dragnis has been involved in the acquisition and management of more than 250 vessels. He is a successful businessman highly involved in the commercial shipping sector.
We tried to get to know his priorities and what principles he follows in order to maintain his own well-being. Why did he decide to dedicate his life to the maritime industry? Did he face any extreme situations while sailing? What difficulties has he encountered along the way?
Let's learn his recipe for success and find out the answers to the above questions together.
MT: You hold a master mariner degree from the Greek Merchant Marine Academy and from the Maritime College in London. Then you started your career as an officer and left the sea with the rank of Master on ocean-going vessels. So why did you decide to devote your life to the sea? Was it your childhood dream to become a seafarer?
"After finishing my studies at the Greek Academy where I studied with a Government scholarship as the best student, I had proposals from the three biggest companies of those days, Onassis, Niarchos and Andreadis, to join their companies. I decided to work for a liner company called Hellenic Lines which had semi-cargo vessels with lines all over the world. My first trip included stops to 10 different Mediterranean ports and 10 ports in America."
MT: Are you from a maritime family?
"No, my family has no maritime background. The only connection that my family had with the sea was that our house had been built close to the sea."
MT: What was your first impression when you joined the vessel as a cadet? What impressed you most of all?
"I was really excited with my first trip. Even though the vessel was only 3.000 tones, in my eyes it looked like an ocean liner."
MT: You have over 35 years of experience in shipping. Did you face any extreme situations while sailing which shocked you? Tell us please the most memorable event – one you will never forget.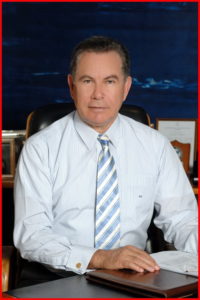 "During my 45 years experience in Shipping I remember several difficult situations. The worst of them happened when I was chief officer in an old American Ship (Liberty type) which was built during the 2nd world war. While we were passing the Azores we faced a gale of force 10 to 11. The ship had a crack on the side of the number 1 hull. Water was coming into the hull. We all thought that we wouldn't survive. After few hours we realized that the ship's pumps could control the huge quantity of incoming water which was completely unbelievable. This happened because we were carrying bales of cotton which absorbed a large quantity of water and helped the pumps to remove water. When we arrived, the N.Y. port authorities and surveyors couldn't believe that we survived. We were all talking about a miracle. Since then I strongly believe that God exists and protects us."
MT: Did you sail on bulk or container vessels? Which type of vessel do you like the most for sailing?
"I spent the most of my sea career on multipurpose ships which they called at that time, "general cargo vessels". We were carrying tractors, machinery, clothing in cartons, etc."
MT: You left your career at sea and came ashore in 1978. Why did you make that decision?
 "I decided to leave my career at sea because the company I was working for offered me the position of port captain".
MT: What are the main advantages and disadvantages of a seafaring profession in your opinion?
"The main advantage of the profession of seafarer is that you can visit the whole world, to get new ideas, meet other cultures, and mix with different civilizations. During the time I was a seaman, there was not even TV to see how people live in other countries. There were, of course, some disadvantages. We couldn't communicate for a long time with our families and friends. The only way was through letters. I will never forget the letters I was receiving from my mother worrying about the cold weather but it had already passed 4 months from the day that she wrote it and it was already summer… Loneliness during the trips is also too difficult for a seaman."
MT: Is there any difference between being a leader on board a vessel and ashore?
"I don't believe that there is a difference, as leading a vessel is too demanding. You have to take care of the safety of the crew, make people feel like they are at home and control all the difficulties on board."
MT: What kind of leadership do you use in your team?
"As I belong to the old generation I consider my team as part of my family."
MT: In 1992 you established golden Port Ship Management, Ltd. What made you decide to do that?
"I was a partner in Shipping Company for more than 15 years before establishing Golden Port Ship Management. This company was the next step in my career as I wanted to do something on my own."
MT: What do you appreciate in people you work with (your staff, partners, seafarers)?
"I appreciate their loyalty. They give themselves for the good of the company in the same way I did in the companies I used to work for at the beginning of my career They care about the company and I always stand by them and their families in difficult times. Also I would like to stress out that I love Ukraine and I consider it as my second country. I like Ukrainian people and I like to co-operate with them. "
MT: You might have a very busy schedule. But people have to rest to be healthy and active. So what is the best way of rest for you? Where and how do you spend your free time?
"From the beginning of my career until now I work hard and many hours daily. But I try to find time everyday to train myself and to swim year 'round. Usually I spend my free time with my friends discussing current events in Shipping as most of them belong to the Shipping Community."
MT: What about your childhood dreams? Have they already come true?
"I think that all my dreams have come true. Life has given me a lot of things but the best gift for me is my four grandchildren."
MT: Please tell us about your family. How do you usually like to spend time together?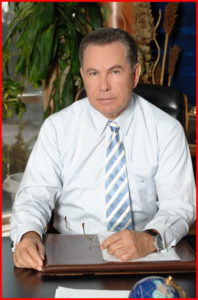 "We are a living family. Whenever we have time we all get together to enjoy the gift of having each other."
MT: Is it possible to combine a happy family and a successful career? And how do you manage to do this?
"I think this is the best combination. You have to divide your time between business and family because both are very important in our lives."
MT: You and your family hold 56% of the shares in the company. Also your son John Dragnis continues your family business. Was it his own desire or your influence on choosing his profession?
"My family is totally behind our shipping companies as the Group of our Companies is not public anymore. My sons are now running the business and they are successfully continuing their father's career."
MT: Do you like the result of their work?
"They are capable and work hard and I am very happy because they are successfully extending the family's history."
MT: The road to success is not always easy. What difficulties did you face along the way?
"My worst experience was at the age of 33. I had 17 liner ships, I was at the peak of my career and since I was young and successful I thought that I could become the new "Onassis". and suddenly during an international crisis I lost everything. I couldn't even manage to pay my employees. I restarted slowly and very conservatively. That was the biggest lesson in my life and taught me that business has its ups and downs and you have to set aside money to get you by when a crisis appears."
MT: You are a successful businessman very much involved in the commercial shipping sector. What is your recipe of success?
"In business you must be capable and a little lucky. I advise young people to try hard to teach their dreams. Through hard work they might have the opportunity to do something special and can be distinguished above the rest."