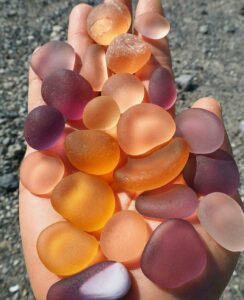 Sometimes nature brings us unexpectable surprise, turning human ugly things into the most beautiful treasures. And nobody knows where you may find next nature's masterpiece. Who thought the former garbage dump will be the lovely patch of coast for tourists?
The Glass Beach, a sight of MacKerricher State Park in California, was named owing to a lot of multicolored sea glass. Some time ago the local threw out the trash, bottles and home appliances, not caring two hoots about it. In 1967 the city authorities decided to close the beach and clean up the place. Of course, to clean the beach completely is a mission impossible, and the coastline glances by sea glass and now. All visitors can feast eyes on green, blue, yellow, red and ultramarine fragments of glass. The most beautiful of them are closer to the ocean. Getting wet, they reflect the sunbeams and the colorful coast could be seen far away.
The beach is small, it is surrounded by rocks – the natural barriers for people want to set foot on this wonderful place. The turning into beauty took 10 years and it is true that the beach is popular nowadays.