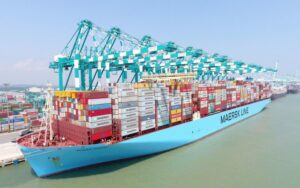 Maersk stood up united with partners Wallenius Wilhelmsen, BMW Group, H&M Group, Levi Strauss and Marks & Spencer to explore LEO fuel. This blend of ethanol and lignin might be a solution for sustainable shipping in next years. The participants have formed the LEO Coalition to find out the commercial and environmental value of LEO fuel.
"Shipping requires bespoke low-carbon fuel solutions which can make the leap from the laboratory to the global shipping fleet. Initiatives such as the LEO Coalition are an important catalyst in this process," stated Chief Operating Officer of Maersk Soren Toft.
Lignin is well-known as a plant fiber. It is used for producing steam and electricity. As CEO of Wallenius Wilhelmsen Craig Jasienski thought, LEO would be a great step forward for supply chain sustainability, and it has the potential to be a viable solution for today's fleet, and not just a future vision.
Few days ago, Maersk and Lloyds Register presented the study, called alcohol, biomethane and ammonia the best-positioned fuels for research and development into ecofuels.