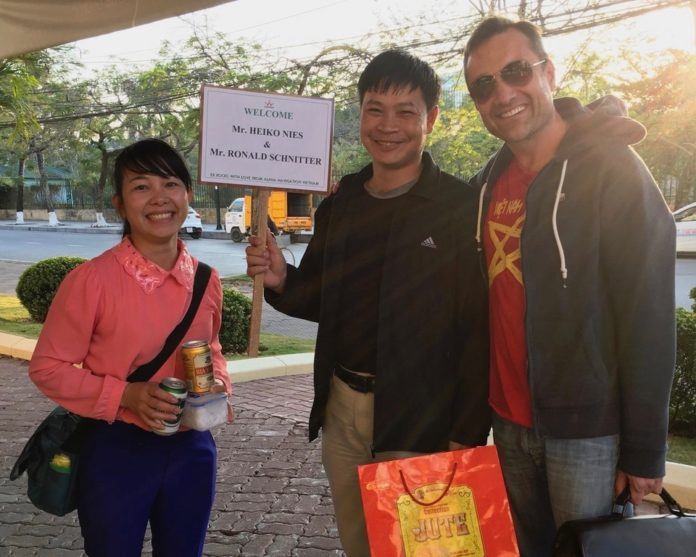 Over recent years, the market for maritime personnel has changed significantly. Just last year 112 thousand Filipinos lost their jobs in the global fleet. In a competitive climate the seamen of other Asian countries began to crowd out Philippines. Therefore, Vietnam has become one of promising maritime countries. More and more European and American shipowners direct their attention to Vietnam.
So, can we say that the Vietnamese will soon occupy a large share of the maritime labor force? Let's consider it in more detail.
For those unaware, Vietnam is the easternmost country on the Indochina Peninsula and getting there costs more than living there. Tourism is just developing in the country, so fair-skinned people are still admired by local children.
Vietnam has nearly 45,000 Vietnamese seafarers, working in the world fleet nowadays. Comparison with the country's population of more than 90 million, it is a very modest rate. However, this number will steadily increase in the year to come, given that more and more foreign shipowners have come to Vietnam in recent years to employ the Vietnamese as their cheaper alternative solution of seafarers.
One of the leading German shipowners Zeaborn Ship Management in cooperation with Alpha Navigation Crew Management set sights on employing the Vietnamese seafarers in 2016. The companies have found the Vietnam labor market is quite interesting, unexplored and, of course, promising!
There is no use dissembling, the first thing that attracts foreign shipowners – competitive wage level of labor. However, it isn't the main reason Alpha Navigation is interested in the Vietnamese seafarers. Unlike the Filipinos seamen, who have occupied a huge share of the maritime personnel market, the Vietnamese seafarers have only recently begun to integrate in the worldwide fleet. And now they are trying to prove their high skill level.
"We spent lot of time trying to discover Vietnam remotely but to make final step we decided to go there," remembered Julia Makarova, General Manager of Alpha Navigation. "Upon arrival in Vietnam, we interviewed about 150 ratings and officers. Besides relevant experience, the selection criteria was English skills."
"Looking at the Vietnamese seafarers, I remembered us, the Ukrainians, in the 90s," said Eugene Sapronov, Port Captain, Quality Manager of Alpha Navigation. "At that time, after the Soviet Union's dissolution, the Ukrainian seamen were just beginning to break ground towards flying the flag. They also had poor English skills, even though they were excellent professionals. Nevertheless, the Vietnamese seafarers' eyes were full of enthusiasm and willing to work."
After all, 20 seamen out of 150 people were selected. Those 20 seafarers could explain the duties in English properly. Only five of them could speak on free topics and communicate with foreign shipowners with no problems. You may ask, why just those five? The answer is simple. Those were the lucky ones, who had employed in European shipping companies before and worked in a mixed crew.
Here is an interesting feature of the Vietnamese. Despite English is not their first language, Vietnamese seafarers learn English very fast from other crew members. If a crew has the British or other people with good English skills, the Vietnamese will learn English very, very well during the service contract. By the way, the linguistic barrier has been overcoming for recent years.
Except language skills, previous work experience became the second selection criteria for employment.
Managing Director of Zeaborn Ship Management Heiko Nies and Senior Vice President Fleet Personnel Ronald Schnitter wanted to find experienced officers and ratings for Zeaborn fleet, including the container ships. However, almost every Vietnamese, who was interviewed that time, worked on tankers, bulk carriers or general cargo vessels. Because of some reasons, Asian shipowners have employed the Vietnamese mainly on these types of ships. It has become a kind of cliché.
Nevertheless, Zeaborn and Alpha Navigation representatives decided to break with tradition and employ them in the fleet. Now the Vietnamese seafarers are working on board of nine vessels of Zeaborn, seven of them are container ships. More important, the number of employed Vietnamese has doubled. The same trend is observed in other European shipping companies. It should be noted, nowadays the European fleet has more Vietnamese seamen than the global fleet two years ago.
"For our further cooperation, another Vietnamese advantage has been emerged," Eugene Sapronov stated. Japanese shipowners have been traditional, favorite and major employers of Vietnamese crew for the last two decades. As a result, Vietnamese seafarers have a lot of experience on board of the most upgraded vessels. Brand-new equipment, very sophisticated software or electronic engine don't surprise them.
For all the time that Alpha Navigation and Zeaborn employ the Vietnamese seamen, they have gained a reputation of diligent and hard-working professionals. The standard duration of the Vietnamese' contract is 8+/-1 months.
Perhaps the best way to find out what a seaman you deal with is exploring the country he lives. Visiting Vietnam for several weeks, Alpha Navigation team paid a call not only to the maritime training centers, but also got to know locals and their society.
"The Vietnamese people amazed me with their openness and sincerity," said Inna Stolyar, Crew Manager of Alpha Navigation. "Never faced with such a warm welcome from people who barely know me. Can say that it is really easy to make a friend there! Vietnam is a country where you can feel yourself relaxed and happy while you just sitting at the street and drinking a national cane juice. Their food also became one of my favorite ones, I have got some recipes from Vietnamese friends and still using it at home. Time which I spent in Vietnam helped to understand better the people who live there and now work in our company."
So, can Vietnam become one of the leading maritime countries on the world stage? Only time will tell how it turns out. However, the country has all the prerequisites for this. There are about 5,000 Vietnamese cadets join the world fleet every year. Many of them are looking for employment in the European or American fleet. It must be assumed, Vietnam will become known as a supplying country of qualified crew members in the near future.