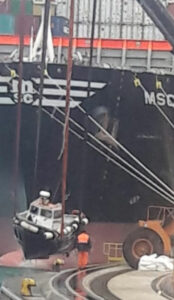 MSC container ship struck pilot boat while moving in Gioia Tauro harbor, Italy.
It happened on January 18. The pilot boat sank, after understood, being crashed between container ship bulbous bow and pier, but was quickly recovered by crane and placed on pier.
The boat luckily, was unmanned at the time of an accident. Container ship wasn't identified, and there are 3 MSC container ships at Gioia Tauro, as of evening January 18, but available information points at MSC ADELAIDE, she was in process of berthing on arrival from Genoa.