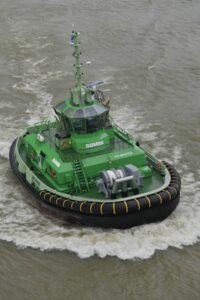 Damen company developed a new design of port tugs, their main characteristic is compactness. It should be noted, the power of a boat is not inferior to other traditional tugs. Demen Shipyards showed the novelty on June 25 ITS 2018 in Marseille – the leading convention for tugs, salvage and OSVs.
The new tug was termed a saying name – Innovation. The boat was developed for operations in narrow or restricted harbors. Improved maneuverability and combines elements of tractor tugs and universality and multifunctionality. The tugboat perfectly copes with daily port tasks.
Damen product manager tugs Dirk Degroote calls this series – the next generation of tugs. This is a kind of response to the IMO's stability regulations for adaptation in 2020.
azimuth stern drive units are among its advantages. A bollard pull of the boat is 75 tonnes ahead and 71 tonnes astern. Also a maximum speed ahead is 13 knots and 12.8 – eastern. The length of the tug is 25 m and the beam is 13 m. Based on these characteristics, the tow boat can not be called small. However, the compact modification allows to combine the basic activities of the port tug.
Innovation can perform not only ship-handling operations, but also rescue operations and shore towage, its characteristics are appropriate for it. In general, the RSD Tug 2513 is an excellent example of a flexibility and efficiency.