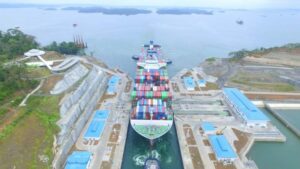 The Panama Canal Authority (ACP) has published a proposal for modifications to its current tolls structure in an attempt to attract more traffic and ensure competitiveness following approval by the ACP's Board of Directors on May 25, 2017.
Jorge L. Quijano, Panama Canal Administrator said that the proposed modifications aim to safeguard the competitiveness of the waterway providing an efficient and reliable service to the global shipping community. "These meetings with customers in Asia, Europe and North America have been extremely valuable in providing us with a deeper understanding of the industry today, the challenges faced by individual market segments, and the projected demand for the Neopanamax locks," added Mr. Quijano.
The ACP decided to offer additional incentives to the containership segment after considering the current utilisation of the Neopanamax locks and the feedback received during meetings with customers in Asia, Europe and North America.
For the containership segment, the proposal includes more attractive rates for loaded containers on the return voyage only to those Neopanamax vessels deployed on the canal's route in the head and back haul legs, provided that the northbound transit's utilisation rate is at least 70% and the time lapse between northbound and southbound transit is up to 25 days.
The proposals also includes to revise the tolls LPG and LNG ships, and to reassign container/breakbulk vessels, currently part of the 'others segment', into the 'general cargo segment'.
The date for implementation of the modifications to the tolls structure is planned for October 1, 2017.