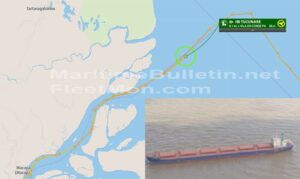 Bulk carrier HB TUCUNARE ran aground, while proceeding in Amazon estuary by Curua Canal, some 20 nm off Bailique island. It happened on October 13.
The vessel en route from Porto Trombetas to Vila do Conde Brazil, with 74000 tons of bauxite on board. As of 17:00 UTC Oct 15, vessel remains in the same position, owner and authorities looking for refloating solutions.
The hull intact, no spill. The vessel ran aground on an uncharted sandbank.