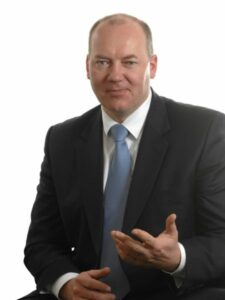 The InterManager company was founded in 1991 and its original name was ISMA (International Ship Managers' Association). Organisation aimed to improve the existing standards and make ship management industry safer, more environmental-friendly, dependable and controllable. The ISMA Code of Ship Management Standards, the basis of the Association, shows the best standards of ship management practice. Now InterManager includes 43 full members and 44 associate members, among which two companies are Ukrainian – the Ship Manager and the Crew Manager.
Captain Kuba Szymanski was accepted in the team of InterManager in 2009. Now he holds the position of Secretary General. The Maritime Telegraph tried to get to know his priorities and the main principles he follows in order to succeed. So why did he decide to tie up his life with the maritime industry? What problems and difficulties did the Association face? How does he manage to combine a career and a happy family?
Let's find out the answers to the above questions and his recipe for success.
MT: What innovations has the Association been introduced in the field of ship management for the last time?
Shipping KPIs is probably the most know in recent years. Latest completed project is our cooperation with six other partners in Martha Project (Seafarers Fatigue research). We are the custodian of Life Boat accident statistics.
MT: What the other documents besides the Code of Ship Management Standards is InterManager guided by?
Cadets Policy is a must for all potential and existing members. Obviously, we do have our Constitution – Articles of Association.
MT: What programs for the exchange of experience does the Association provide?
Many projects, where members work together. Biggest and most known is ISM code back in 1992, but since we had Shipping KPIs, and presently we are running Sustainable Manning, CYBER SECURITY, Ship's Maintenance Records, Adopt a Ship Campaign, Martha Project etc, etc.
MT: Do you cooperate with higher education institutions? What the cadet policy do you have?
Yes we do. Especially with Global Met but also with individual Universities around the world. We are open to any cooperation regarding Ship Management.
Our members actively support Cadets development – declaring to secure places on board of their ships.
MT: What international regulatory authorities do you work with? How does it go?
IMO – we are NGO and have permanent representation – Capt. Paddy McKnight.
EU – through different projects – MONALISA, Single Window.
Paris MOU – close cooperation, training their inspectors.
MT: One of InterManager functions is promote image of shipping and marine career. What actions do you take for it?
Adopt a Ship where we are cooperating with young people who adopt a ship and learn about shipping, hopefully also educating parents in the process.
We participate in many, many conferences trying to spread positive word about our lovely industry.
MT: What problems to date has the Association faced?
Lack of engagement from the owners, who seem to be more concerned about assets than people working on board of their ships. Recent 10 years provides excellent example for this problem. Shipping industry grew 100% in the allegedly most difficult of crises where seafarers' salaries are stagnant, ship managers fees are frozen but number of ships increased from 42 000 in 2008 to 80 000 in 2017.
We are trying to work with owners as we are here for long term gains not just months.
MT: You are also a captain. Are you from a maritime family?
Absolutely not. I am from… journalist family. Mom, Dad and older brother are all journalists. I was supposed to be one too, but preferred sailing and then working at sea.
MT: Why did you decide to tie up your life with the maritime industry?
As silly as it might sound – because I like being at sea. Right from the very early age I was sailing. Yachts and boats first, tall ships later and then tankers – chemical and gas.
MT: How could you used your captain experience in your work in InterManager?
By being close to my profession – seafaring. By knowing right people and by listening to people of the sea – SEAFARERS. They are the best AUDITORS and CONSULTANTS – they provide great feedback – but only if anyone wants to listen to it.
Being someone who had a command of people, either as Captain or Chief Engineer teaches you a lot and if you learn that lesson you can achieve a lot.
MT: What do you like the most about your job and profession?
Being with different people, not seating in the office all day. Being without connection – on my (our team) own. Being very dependent on team work, team you can influence, built, work with. Seeing the world as it was and not as it tries to be.
MT: Did you have a childhood dream? Did it come true?
Yes, when I was 10, I wanted to become a ship's master – Captain. Yes, it did come true – very much so.
MT: What kind of music do you prefer to listen or even to play?
Surprise, surprise, – I DON'T listen to the music. I like musicals which I see a lot, but I don't listen to the music. I prefer world "noises"
MT: Do you have a hobby?
Of course – sailing. I have my racing boat which I use every moment I can.
MT: You have a lot of work. What do your family feel about your overburdening?
I don't think so. I work from home. I always had "my home" with me. Ranita – my wife (29 years marriage this year in August) has been sailing with me and travels with me extensively. My son is a seafarer too – just entering profession as a 3rd officer. He also like being away from shore, at sea.
MT: How do you think is it possible to combine a successful career and a happy family?
By being honest and truthful – which does not necessarily mean very glamorous. Sometimes it is a burden when you have to say NO to your loved ones. But being honest right from the beginning does not create false expectations which are then very difficult to fulfil and create many bad feelings. Ranita knew very well that I am a seafarers and will always be the one who travels a lot and that means DOES NOT spent time at home. We are OK with that. We are not heroes – we are just regular people who are content with each other.
MT: What do you appreciate in the people you are working with?
Being truthful with themselves and reliable. Shipping taught me a great lesson – reliability is the KING. Respect other people and be reliable are the most life principles, what I use to create my own well-being.
MT: Whom do you see yourself in 10 years?
Retired yachtie – still working but this time as RYA instructor and racing sailor. I also have tall ship qualifications therefore would probably spent more time sailing ships which brought me into this profession.
MT: What is your recipe of success? What can you advise the young, who also wants to succeed?
Don't give up. Have your true dream and… get it. Mark the word TRUE – not the one for your parents but TRULY for you. It is not your parents who will live your life but yourself.