On May 25, in Odessa at the Il Cameron Hotel Complex, there was a conference dedicated to the topic of "Supply Chain 2.0: Blockchain and Smart Contracts in Commodity Trade and Logistics". The organizer of this fascinating event, was Alexander Varvarenko,  the owner and CEO of the shipping company VARAMAR and the founder of the first global online shipping platform, ShipNEXT.
Many speakers came from Europe and different parts of Ukraine to share their experiences and how they are developing strategies with an eye on new technologies, as well as how they are changing their businesses.
The participants of the conference came from diverse areas, having various business backgrounds. Anyone who was interested in the topic was welcome to attend and learn and perhaps in the bring changes to their own businesses in the future.
The purpose of the conference was to present Blockchain and Smart Contracts from a practical side and create an opportunity to share with others the importance of future changes that could possibly solve an array of difficulties, bring businesses to a new level and most importantly to save a large amount of capital and a great deal of administrative time.
The terms, Supply Chain, Blockchain or Smart Contracts might not mean much in the minds of many people but overall the idea of Blockchain is pretty simple; it represents a huge database that operates without centralized management. Though some might question whether they should start implementing changes to their business, most large companies work day and night in a constant search for new technologies to make their business even more efficient. Many companies today face the problem of how to manage all their assets when there are hundreds of trucks, ships, terminals, clients and so on.
To make it clear Blockchain is not only about transportation. There is blockchain in commerce, medicine, gaming and in many other industries.
It may be hard to realize and to believe that many people are already affected by such changes. A good example would be European airports, which already experience blockchain technology, just by having a person scan his passport; the system imminently identifies the person, which is made possible by the blockchain system.  Going even further, some of the terminals in Singapore airport are already operating almost without human beings.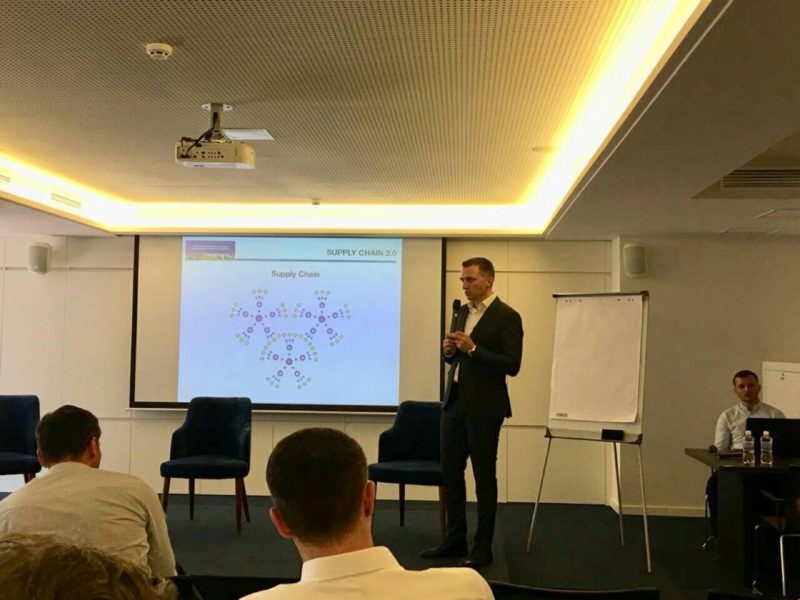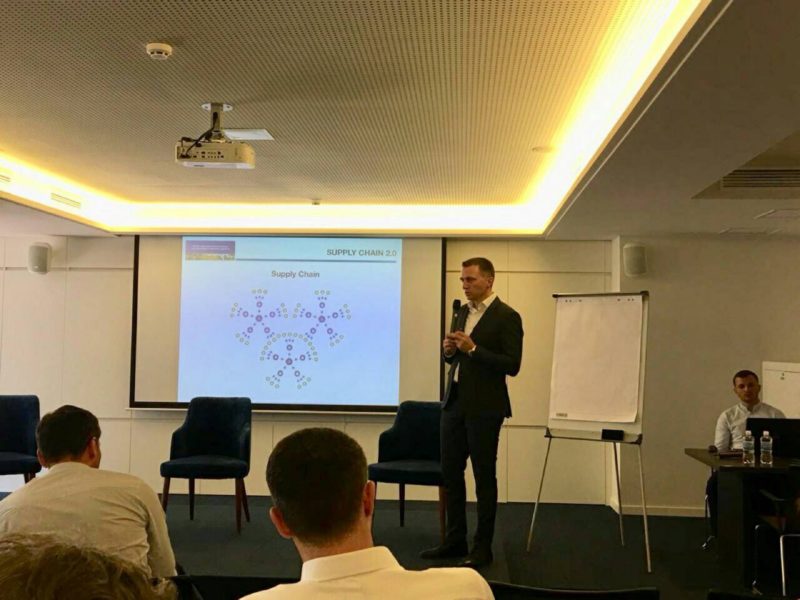 What drives Blockchain is the critical mass impact, resulting when big companies group together. As well as Safety, which becomes as transparent as possible, due to shred purpose, cooperation, development and much more. But in order for the Blockchain to work in the right way, there are different points that need to be viewed, examined, unblockchaderstood and put in practice. Some of these include:
-Managing  returns and transportation.
-Having a Smart Contract and tracing (which is an additional key to creating a blockchain) means utilizing a decentralized ledger, which will verify that the contract is fulfilled.
– Managing inventory, for large companies using an algorithm. The algorithm formula is a very important factor because it connects all parties, as well as manages the use of assets, inventory and payments.
– Monitoring suppliers, highlighting the KYC (Know Your Client). It is important to know with whom the companies partner and work with, because lack of this importation may have an impact on the company and the business, most likely not for the better.
– Giving more transparency. The understanding of transparency should really be reviewed and looked at from different sides. It is quite possible that the information that seems impossible to ever be shared, might actually already be in open access. Though, it is important to point out that consumers are ready to pay more for products that are more transparent; it is the incremental margin that everyone goes after.
Of course, there is always a chance that some businesses might suffer, but there are a lot more of those who are ready to jump into the future, invest money to become more creative, more competitive, and simplify procedures. To become more efficient and more economically stronger is what supply chain is all about.
In the supply chain, transparency is not only about pricing. Transparency, in this context, is also about the movement of assets. If one supply chain uses Smart Contracts with all their carriers, and another supply chain, in result will produce transparency of the movement of assets.
Blockchain itself is an environment with traceability of information stored everywhere in order to get more efficiency built on Smart Contracts and the inevitability of transparency of information. In other words, if there is no real-time traceability, there is no possibility of an efficient workout model.
These amazing opportunities are like a breath of grease air, making businesses work more efficiently in the nearest future.
In the Marine field, Garry Stevens, Associate Director of The London P&I Club explained that the P&I Club's main task is the protection of clients.
The International Group of clubs (13 of them in the world) operate in an international group and together they have their our own set of rules because they reinsure each other. The Club makes it clear that any agreement needs to be approved by the international group. The International Group has started to believe that this new technology might be the right way to go but there are, of course, risks and for now, none of the systems using Blockchain has yet been approved.
Presenters of Vitaliy Kovernik, Chief Innovation Officer of BKW-Group and Alexander Khyzhnyak, Head of DigitalAgriBusiness Division at KERNEL explained what the main factors that need to be changed are and that Blockchain is the right path to be taken in order to carry out those changes. These factors are: the Technological & Human factor. Ukraine, for example, is still a big problem in terms of transportation no matter where you look.
This conference was not only an informational event but also the CEO's had a chance to speak with Traders as well as other guests with a very informative discussing, sharing views and considering other opinions which might have an impact of business in future.
We appreciate the invitation to this very interesting and thought-provoking conference where no matter which field of interest each one was representing, all participants learned something new and this is what matters.