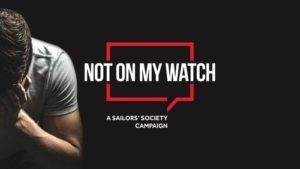 A charity organization Sailors' Society has launched a campaign to amend the MLC by creating a petition "Not on my watch". Such actions are aimed at fighting against depression and suicides on board of the vessels. 
The petition is reported to be submitted to the ILO. An aim of this campaign is to make a health-improving preparation of sailors on a voyage compulsory, whereas requirement as to such amendments should become a part of the MLC.
A director of "Humans at Sea" organization Aditya Giri has become the first person to sign the petition. She said, "Once, when I worked on the vessel, I saw the influence of depression on a personality. My colleague jumped off the vessel and died. We all were shocked as none of the crewmembers had suspected that our colleague had any problems until we found a death note in his cabin.
In Yale University the scientists from "Sailors' Society" carried out an investigation which showed that more than a quarter of all crewmembers had signs of depression.
The petition says that 1,6m seafarers carry 90% of cargo all over the world on a daily basis. Working conditions are difficult, contracts are long. The work is aggravated by stress due to load and lack of rest. All these factors negatively influence on mental health of sailors.
Sandra Welch, deputy CEO of "Sailors' Society" said, "We are launching the campaign "Not on my watch" and we ask the ILO to make a health-improving training a compulsory requirement for all sailors on board of the vessels".
She also added that a basic health-improving preparation can positively influence on mental health of sailors and reduce the number of suicides at sea.