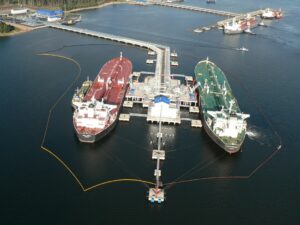 For historical reasons, shipping has never been the best friend of the environment. Foreign-going vessels work on heavy fuel – the dirtiest fuel since the beginning of the XX century, when they declined coal. Since that time shipping hasn't been surrounded by exact rules regarding environmental safety. Merchant fleet usually works in the open sea; and until recently it hasn't been bound by strict requirements as to environmental protection. This all is because the flag of vessel's registration doesn't often coincide with a country where a shipowner's head office is situated, without mentioning nationalities of crew members.  Since it was not clear against whom complaints should be made, the supervision over emissions was done in a slipshod manner. Inasmuch as a majority of vessels can't be assigned to any particular country, shipping hasn't been even included in the 2015 Paris agreement, regulating measures for CO2 reduction in the atmosphere. Shipowners all over the world, as represented by the IMO, have vaguely promised instead to reduce toxic emissions.
Currently, when the UNO and environmentalists raise the alarm, and countries, which signed the Paris agreement, fall behind the schedule of emissions reduction, the movement for "clean" vessels gains more and more strength.  Over the past 3 years it has influenced the whole industry, starting from design of new vessels and creation of new fuel to the job of agents and contractors.
– Better late, than never, – mentioned Lars Robert Pedersen, Bimco General Secretary Deputy.  – Shipping is putting in order everything, to which its activities relate.
Starting from January 1, 2020 about 60,000 vessels will be obliged to reduce sulphur dioxide emissions. Perhaps, the most optimal solution will be to switch to low-sulphur fuel. Experts in this field have calculated that this purpose will require $50 billion in the next 3-4 years to be achieved.
According to the IMO data, heavy fuel contains 3,5% of sulphur, which is more, for example, than permitted percentage in motor gasoline in the USA. These emissions make the shipping industry one of the "dirtiest" in the world – it accounts for 13% of all sulphur dioxide emissions. New marine fuel will contain 0,5% of sulphur.
Shipowners expect an increase in price by 25-40% in connection with higher production costs and organization of new distribution points. By the way, the average price of bunker fuel has made up $440 per metric ton this year.
Shipowners are certainly concerned about such financial expenses. But they are even more afraid of a possibility that demand for "clean" fuel will exceed supply, and vessels will have just to stand idle in docks and at anchorages. Besides, it is unknown how good ship engines will work on low-sulphur fuel. World operators have even appealed the IMO with a request to defer this directive. Germany was the most pro-active country, having more than 20% of the world merchant fleet. Even the White House has expressed its concern about an extent to which emissions reduction will influence oil and oil-products market, being a source for marine fuel.
Thus, care of the environment stipulates more conditions for the maritime business. It is already at a stage of design of new vessels when shipbuilders make relevant changes to a hull construction, such as hybrid power installations.
– In order to reduce the volume of hazardous emissions, shipping will require unprecedented innovations, – stated Soren Toft, Maersk Executive Vice-President, the largest operator of container transportation in the world with a 700-vessel fleet. – A modern vessel is a very capital-intensive asset and a fleet with zero-level emissions will not appear until 2030.
Maersk Company has stated that they will have had a totally carbonic-neutral fleet by 2050. Currently, French company CMA CGM has placed an order on megaships, including those which work on LNG.
As to the shippers, they already complain because it is still unknown, how the IMO requirements will affect freight conditions. Jordi Espin, a representative of the European Shippers' Council, representing 75000 shipowners in the EU, shares their concerns. 
– Due to expenses on environmental protection, the tariffs have already increased, but the whole process of price-formation lacks transparency, – he stated.
Most debates about how to meet the IMO requirements as to emissions reduction in the most optimal way is focused on scrubbers – a system for exhaust gas cleaning. Some shipowners have already equipped their fleet with scrubbers, allowing them to buy heavy marine fuel on and on.
These systems cost from $3 to 20 million. The price is quite high, but carriers reckon that it will be compensated in about two years. But still everything is so ambiguous. Critics of scrubbers state that the device just disguises sulphur dioxide emissions as non-hazardous for the environment.
– Currently, scrubbers are being discussed to the utmost. However, it is worth mentioning that about 90% of the world fleet prefers low-sulphur fuel, – commented Rolph Habben Jansen, CEO of Hapag-Lloyd (Germany), which is going to install scrubbers only on 10 out of their 227 vessels.
A step-by-step plan aimed at sulphur emissions reduction – is a long-awaited step towards more ecological future. Meanwhile, heavy industry has also agreed to reduce their greenhouse gas emissions by 2050, which will cost them much more money.