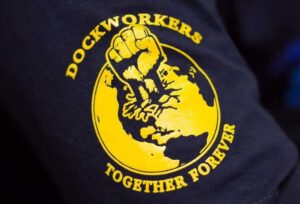 IDC Spanish dockworker unions have launched today a nation-wide strike impacting operations across the country's ports.
After months of talks between unions, companies and the Spanish government over a reform of port hiring practices, dockers held the first of several planned strikes to protest against possible job losses. Almost 100 percent of workers supported the strike.
The workers are demanding that companies keep their employees and maintain the same working-conditions after the implementation of the port-reform. Until now, the workers were hired through local stevedoring societies known as Sociedad Anonima de Gestion de Estibadores Portuarios (SAGEP). The new law would enable ports to hire non-unionized dockworkers instead of the unionized ones, potentially resulting in massive layoffs.
Five further days of industrial action have also been called for next week, raising the prospect that the shift to rival ports could have lasting consequences, especially for those handling merchandise not ultimately destined for Spain.
The country's ports could suffer considerable drop in traffic as shipping companies divert their cargo elsewhere due to strikes. Port statistics show that the port of Algeciras, the busiest in Spain, experienced a drop of 5.98 per cent in traffic so far in 2017.
Some container shipping firms such as Maersk re-routed boats destined for the southern port of Algeciras to get around the strike, during which dockers will stop working every other hour on Monday, Wednesday and Friday this week. Alternative destinations used by firms included Portugal, Morocco and Malta.