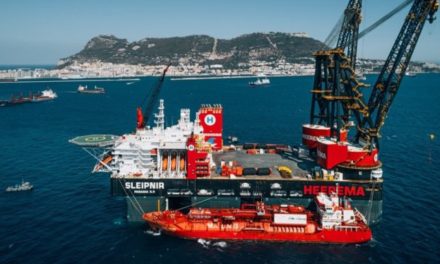 Gibraltar has witnessed the country's first-ever LNG bunkering with the arrival of the biggest dual-fuel ship called "Sleipnir".
The new semi submersible vessel of Heerema Marine Contractors' was bunkered with more than 3,000 metric tons of LNG – it has been the largest LNG bunkering in Europe  involved Titan's LNG bunkering vessel Coral Fraseri.
"We thank the Port of Gibraltar for their support… The operation was performed in the sheltered bay helping to make this a safe, efficient and smooth operation…We look forward to supplying Heerema with more LNG in the future to fulfill Titan's mission of lowering harmful emissions from the marine and industrial sector," CEO of Titan LNG Niels den Nijs said.
Being in Gibraltar, "Sleipnir" carried out several operations including LNG bunkering. Gibraltar's Minister with responsibility for the port and maritime affairs Gilbert Licudi hoped that the operation will begin more regular LNG bunkering activity within British Gibraltar Territorial Waters.