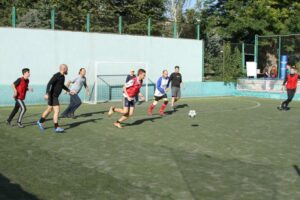 The Maritime Telegraph creates a sporting tradition. The idea to gather seafarers in football teams between voyages came to the project's creators a long time ago. On September 30 in the match of the Ukrainian Maritime Football Premier League took part experienced veterans of sea football and newcomers. The Maritime Telegraph thanks the sponsor of the event – an international trade association for the ship management industry – InterManager.
We hope the number of its fans will grow with every game of the Ukrainian Football Premier League. On last day of September, on the football field of the Park Residence complex, we completed five teams. So, for the title of the best players contested Breeze, Ukraine, M & M's, Pirates and Trident teams. The desire to win, fortunately, was not clouded by the weather, and the incentive to become the number one was the annual subscription to The Maritime Telegraph. The game was great.
It is pleasant to note that the participants of the Ukrainian Marine Football League got significant moral support from the fans. Every goal was marked by a stormy reaction, and approving applause sometimes accompanied even successful passes. The process of the game was controlled by the staff of the publication. The competition lasted two hours. As a result, Odessa learned the name of the winning team of the football league. The first place was taken by the Pirates team. Then the teams in such a way: 2nd place – M & M's, 3rd place – Breeze, 4th – Trident, 5th – Ukraine.
In addition to the annual subscription to our newspaper, the winners got a T-shirt.
The sports event was ended with a beer party in the BeerMood restaurant. Over a glass of beer, the seafarers discussed the details of the match, watching the game's photos on the screen.
Nikolai Kucherenko the second officer and a member of the Trident team shared his impressions.
– It was my first time in a match that was organized specially for seafarers. Trident had two wins, one draw, and one loss. I have the experience in playing football. For example, I used to play in one of the teams of a charitable organization. After that, there was a seven-year break. Now I came out on the field again. It was hard, of course, but the skills are still the same. In general, if I remember the old days, I was engaged in the Chernomorets junior school from six years old. I was a back in the first team. Then I entered the Odessa Maritime Academy and changed the course of life. But I still follow and even visit the Chernomorets, Dynamo, Shakhtar matches.