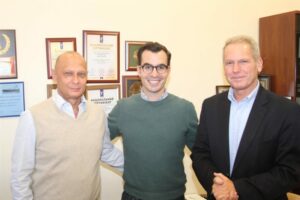 The Maritime Telegraph had a great opportunity to meet the representatives of N.G.Livanos Maritime Co. Ltd. at the office of the Epsilon Odessa crewing agency. The visit took place as part of a formal bi-annual audit by the Company's managers. It also aimed to enhance relationships with the seafaring community of Odessa and Epsilon's staff as well as inspect the facilities of Epsilon's Training Center. N.G.Livanos is a highly reputable shipping company putting quality at the forefront of its operational priorities.
The Company's consistent quest for solid quality and robust relationships has taken place despite the wider market's concerns for reducing freight rates and the resultant reductions to most shipping firms' operational costs. Instead of reducing budget for maintenance, training, or crewing, N.G. Livanos chose to go against the tide and invested in all quality aspects of four state-of-the-art Bulk Carriers. In this way, the Company showcased its ongoing drive for excellence and solidified its relationship with Charterers.
It is important to note N.G.Livanos' commitment to employ Ukrainian seafarers only. The Company has a long-standing preference for Ukrainian officers and crew, works on the basis of a concrete Cadetship program and its rotation of loyal crew has produced some of the highest retention rates in the industry.
The meeting took place in a joyful atmosphere and we had the chance to witness the ongoing satisfaction of N.G.Livanos with the ethos, skills and talent of Ukrainian seafarers and office personnel.