At the beginning of September, a Wallem Fleet Officers' Meeting was held at the Bristol Hotel in Odessa. Wallem Group is a Hong Kong-based сompany with over 110 years' of maritime experience, a good reputation for quality integrated services and a network of 49 offices around the globe. Wallem Group offers a range of services from Ship Management to Ship Agency, Commercial Management and Asset Protection, with an emphasis on safety, quality and operational efficiency. Wallem Ship Management's goal is to provide top quality ship management services through "Wallem Professional Seafarers".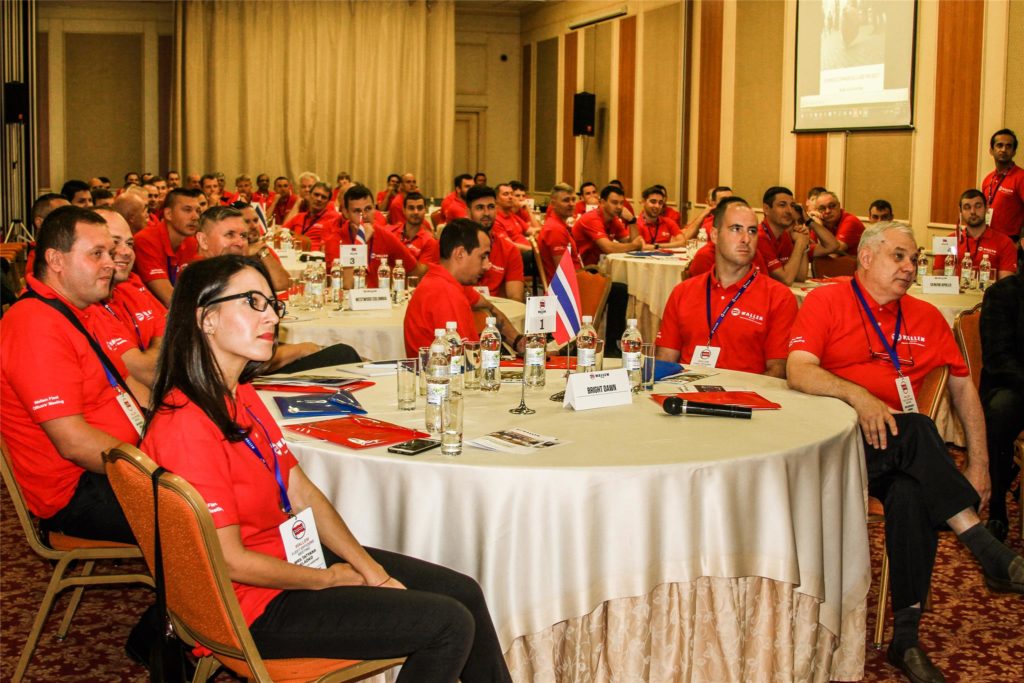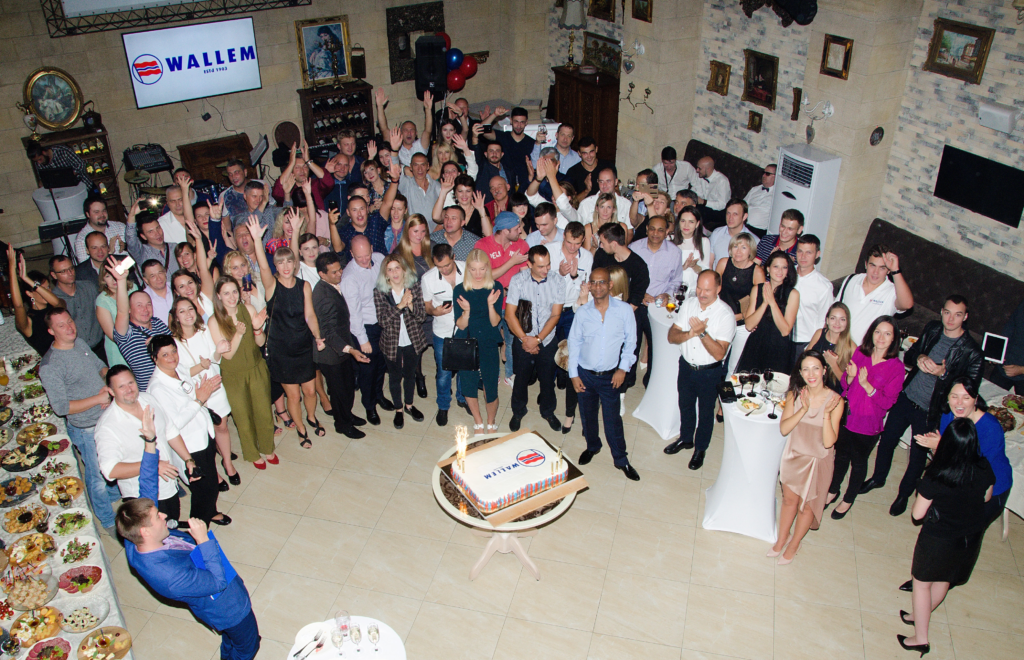 Focus on safety is the Wallem's highest priority and the Company takes pride in its industry-leading safety record and safety culture, with wellness at sea being an integral part of this safety culture. Wallem's own comprehensive Wellness@Sea programme focuses on both physical and mental health of seafarers and provides seafarers with information, guidance and wellness strategies. In addition, the company is committed to sustainable business practices and has a Green Award for ships under its management.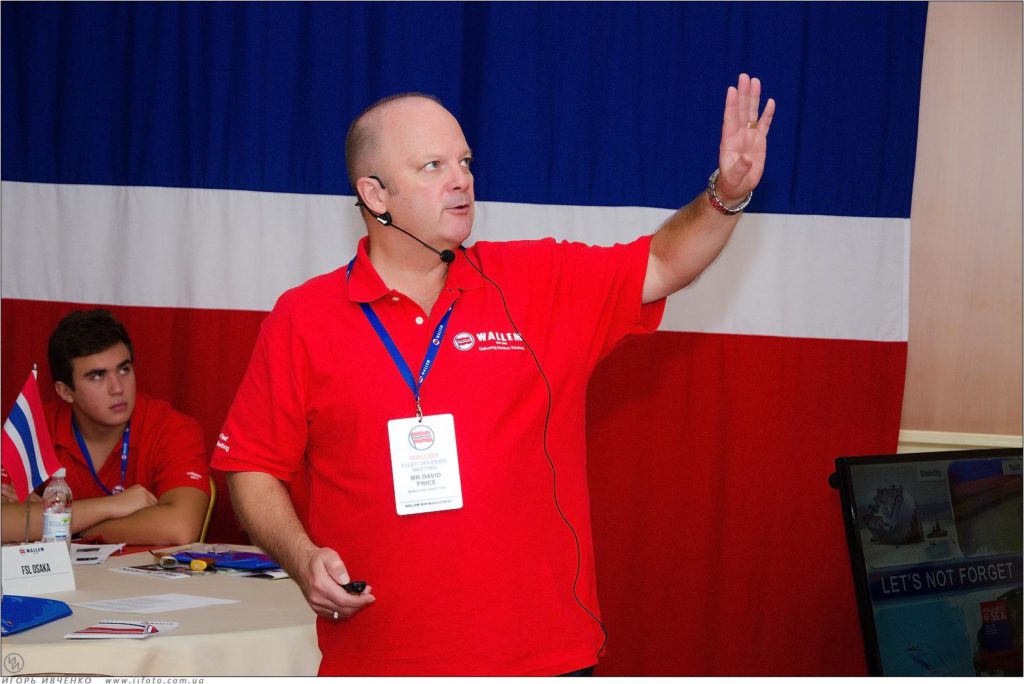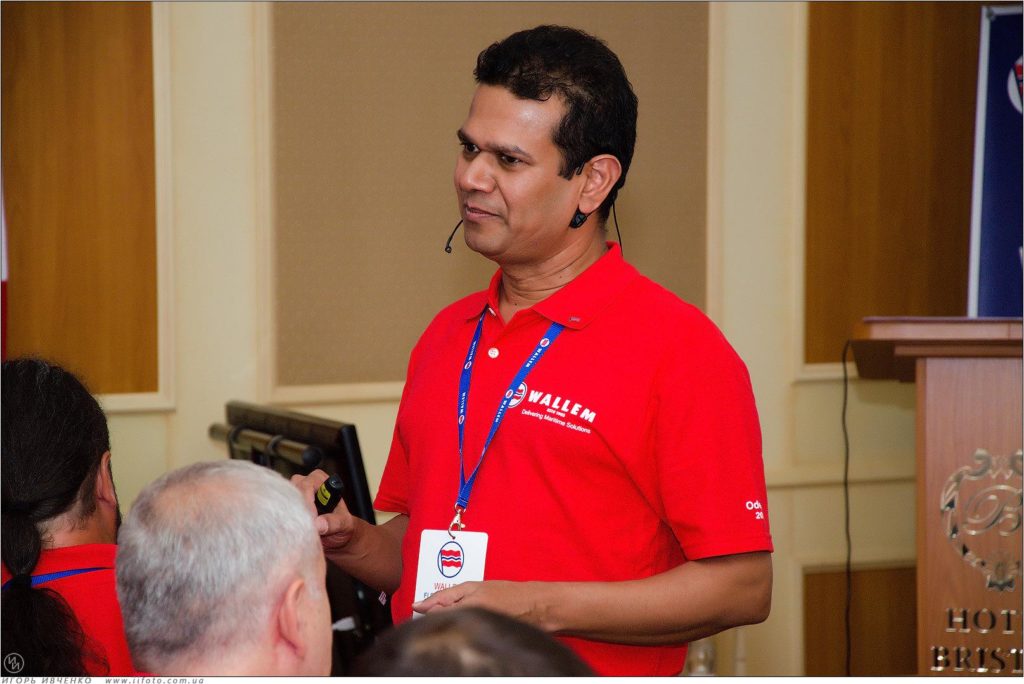 This recent Fleet Officers' Meeting saw around 80 seafarers gathered to discuss critical vital questions with the Company's representatives. Meetings of the minds and hearts like this, when sea and shore staff get together to share experiences, thoughts and current and future plans, are always fruitful.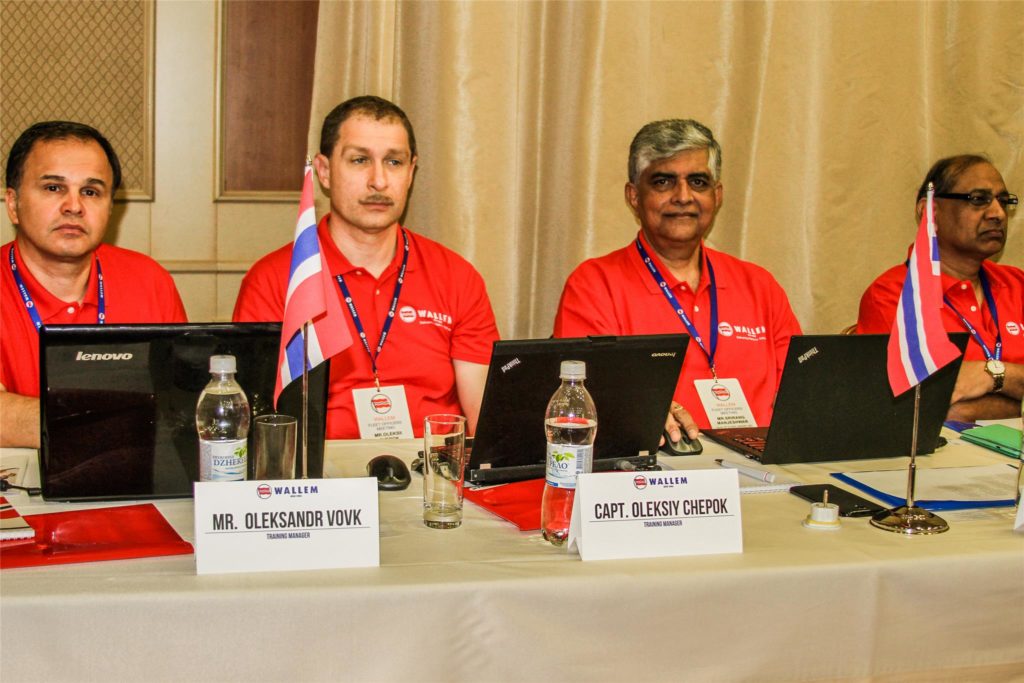 Among the representatives of the Company were: Captain David Price, Managing Director of Wallem Ship Management, Hong Kong; Captain Fared Khan, Marine Director of Wallem Ship Management, Hong Kong; Mrs. Nataliia Shevchuk, Representative, East Europe; Mr. Praveen Shukla, General Manager, Marine HR; Mr. Rajan Gupta, Head of Vehicle Carrier Operations, ; Captain Srirang Manjeshwar, Head of Global Marine Learning and Development, Marine/Director of WMTCI; Capt. Oleksii Chepok, Training Manager and Mr. Oleksandr Vovk, Training Manager.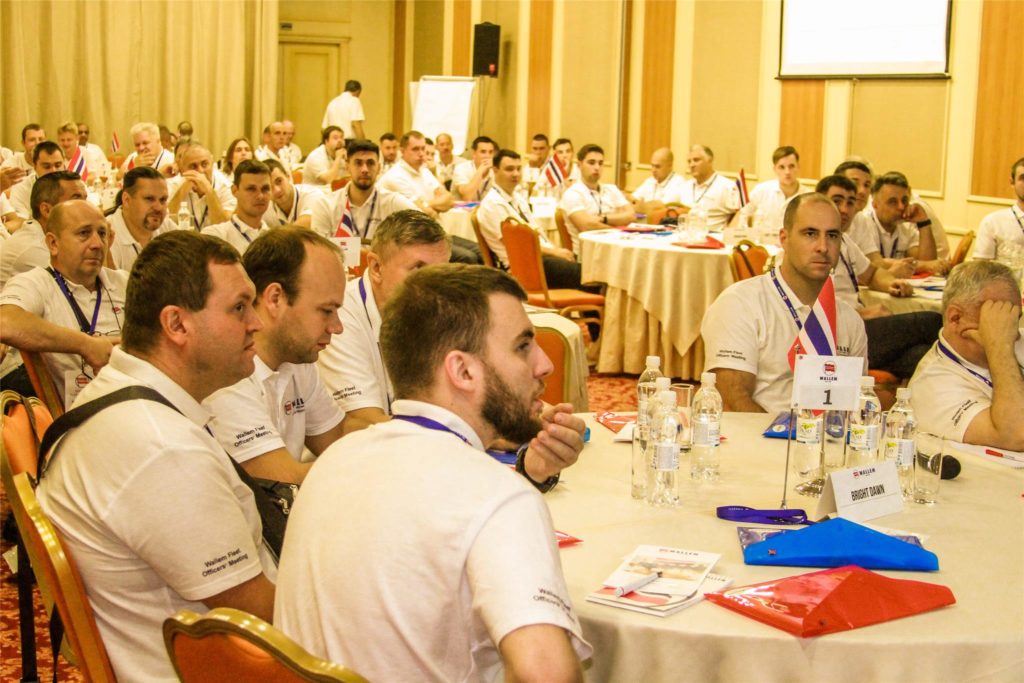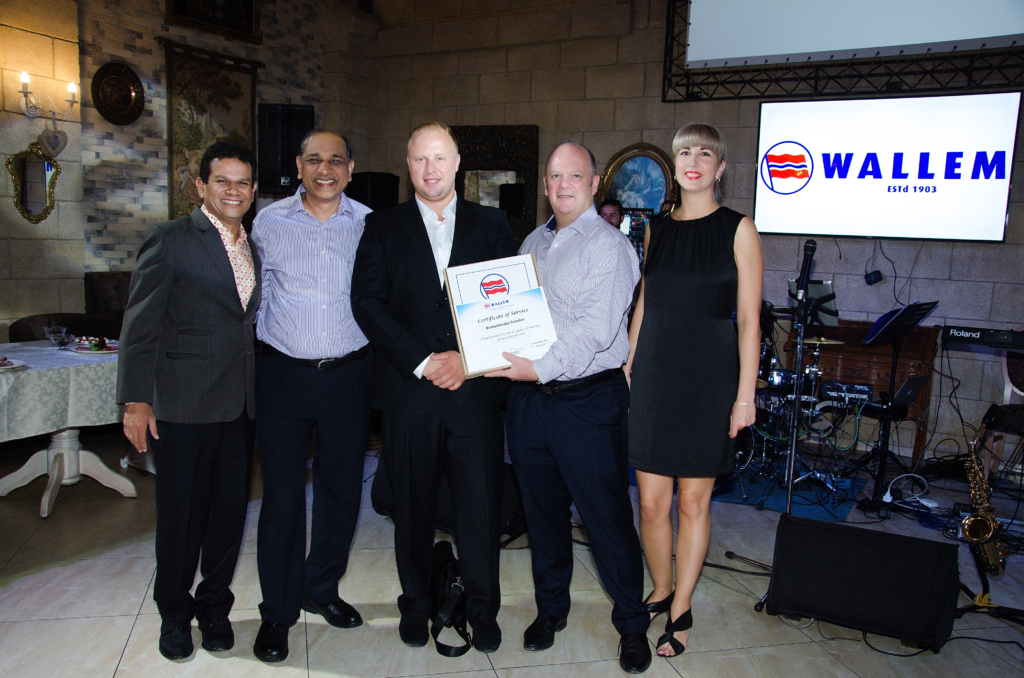 Captain David Price began the meeting with an overview of his, Wallem's and our customers' expectations, namely the delivery of safety and operational excellence. He stressed that Wallem's main focus is on the safety of all its seafarers; ensuring that they return home safe to their families at the end of their voyages. He explained that therefore, one of the objectives of Wallem Fleet Officers' Meetings was to discuss any operational issues or issues surrounding safety.
The next speaker, Captain Fared Khan gave a presentation about the Company's safety vision, which is, "Zero Harm", namely;
Zero injuries;
Zero spills;
Zero accidents.
Capt. Khan talked about how this can be achieved and about Wallem's "Safety and Operational Excellence Roadmap" to operational efficiency and a positive safety culture.
Mr. Praveen Shukla held an interactive session on high performing teams and Mr. Rajan Gupta and Mr. Aleksandr Vovk held a Marpol workshop where industry cases and practical application were discussed with audience participation.
Mr. Alexey Chepok then gave a presentation on "Delivering Results" and the challenges that the Shipping Industry faces and how Wallem as a team can overcome them.
The second day of the meeting began with a presentation of Optimum Maritime Solutions, a company which provides virtual training sessions for seafarers. It highlighted how the use of the latest digital technology for training is the way of the future.
This was followed by a seafarers' workshop on Safety and Operational Excellence, focusing on Safety Rules – Compliance; Communication and Relationships; Navigation Focus; Training – Focus and Results & Reduction of Administrative workload.  This was followed by the Flying the Flag session presented by the seafarers themselves.
At the end of the meeting there was a Q & A Session with the whole shore management team and a closing address by Capt. David Price. This was followed, as is the case for every WFOM, by a family dinner attended by Wallem representatives, seafarers and their family members.
Capt David Price told the Maritime Telegraph that Wallem is focused on growing at a steady and organic pace and that Wallem Ship Management is committed to expanding the number of Ukrainian seafarers working on their vessels. "Ukrainian seafarers are very professional, hardworking and we need more on our vessels," commented Mr. Price.
Several Wallem seafarers spoke to us about their experience in the Company and their impressions of this Fleet Officers' Meeting:
Ivan Prokopenko, Captain:
"I have been working in Wallem since 2012. Everything is good, there are, of course, technical details, which, by the way, can be discussed at such forums. In general, I like the company; it is more reliable than many others. Such forums are useful for sharing experiences. You can clarify some matters for yourself, learn something new."
Leonid Teplyuk, Chief Engineer:
"Such forums are very useful because you have an opportunity to discuss the most pressing problems that exist in the merchant navy. Much time has been given for discussing pollution of the environment. The company pays a great deal of attention to this and tries to ensure that the crews are prepared to meet all the requirements of the maritime organizations. Therefore, we must follow all the trends to remain first in the labor market among seafarers all over the world."
Rais Kiyasov, Second Engineer:
"There is an opportunity to share information. If someone has some problem, you can share with the top management. It's good that the company holds such forums, because this is a communication with colleagues, it is possible to share experience with each other."

Victor Vorontsov, Third Officer:
"This event is very useful for us, as any new information is always useful. When the company tells about some innovations, it is certainly interesting and useful, especially in changing shipping rules, and you should always be aware of everything new, be in a trend. I started to work in this company as a cadet and already work as a third officer. It is my second time at such forums. I always follow the news and trends in the world of shipping. Here, we still have an opportunity to talk with the management, tell them what we like or do not like; you can even bring something new to the company, and they usually listen no matter if it is something very new or different."
Vitaly Tsobenko, Captain:
"The company holds such conferences around the world. The aim of the conference is to improve the standards of the company, because it requires work from two sides – not only people from the office, but also seafarers. To do this, you need to familiarize people with the system more thoroughly and perform it.
I like the Company. Promotion is based on merit for deserving candidates. I have already given promotions to good chief officers who were ready to become Captains. There is also a chance for promotion for young officers, depending on capability and the experience."