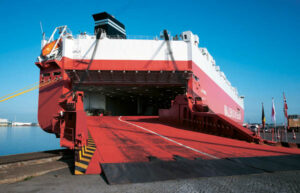 Today ro-ro vessels are widely spread all over the world. But what do we know about them and their history?
Roll-on/roll-off (RORO or ro-ro) ships are used to transport wheeled cargo. With the help of built-up ramps, the ro-ro vessel is loaded and unloaded. It helps the cargo to be rolled on and off the vessel. The cargo is driven into the ship on its wheels or using a platform vehicle. There are different types of ro-ro vessels, such as cargo ships, ferries, cruise ferries and barges. They are commonly used for carrying passengers and cargos.
One of the first ro-ro services was a train ferry. Such kind of vessel was designed in the 19th century. For example, Firth of Forth ferry in 1851 had rails which could be connected to the rails on land which made it possible for trains to be rolled on and off the ship.
The first cargo ships appeared in the early 1960s. They were hired by the German Volkswagen AG to transport vehicles in the U.S. and Canada.  For the following ten years, the amount of ro-ro ships has largely increased because of the high demand for transportation.
Ro-ro vessels are divided into the following types:
ROPAX is a ro-ro cruise ferry ship. It has accommodation and facilities for more than 500 passengers.
The ConRo combines a ro-ro and a container ship. This vessel may store vehicles and stacked containers.
RoLo is a hybrid vessel type which transports vehicles but the other cargo decks are accessible only by crane.
A ro-ro ship has a number of advantages:
The speed. Since cars and lorries can roll onto the ship at one port and then roll off at the other port within a short period of time.
It can also transport different cargos, for example, containers. It allows to cross the border more quickly, using Customs-sealed unit, thus increasing the speed and effectiveness.
Ro-ro vessels have an impact on tourism. A lot of holiday makers and private car owners use ro-ro vessels for voyages. A person can take his car from one country to another or from one continent to another by sea.
But there are also some disadvantages:
The disadvantage of ro-ro vessels is the volume of the cargo. Wheeled cargo can't be stacked, that's why the capacity of the deck is limited. Loading and unloading needs a lot of time. The cars are usually transported on open decks and may be harmed during transit.
MS Color Magic is considered to be one the largest ro-ro passenger ferries. It weighs 75,100 GT (Gross Ton). It was built and launched in September 2007. The vessel is 223.70 m long, 35 m wide and can carry 550 cars.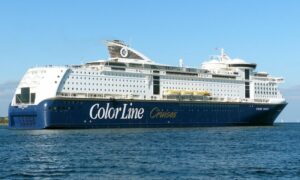 One of the biggest car carrier ships is called MV Tonsberg which is owned by Wilhelmsen shipping company. She is the first in a series of four "Mark V" ships, built in 2010-2011 by Mitsubishi Heavy Industries shipyard in Nagasaki, in Japan. This vessel has nine cargo decks that provide an area of about 50,335 m². It is almost 265 meters long and about 33 meters wide. Gross tonnage is 76,500 gt.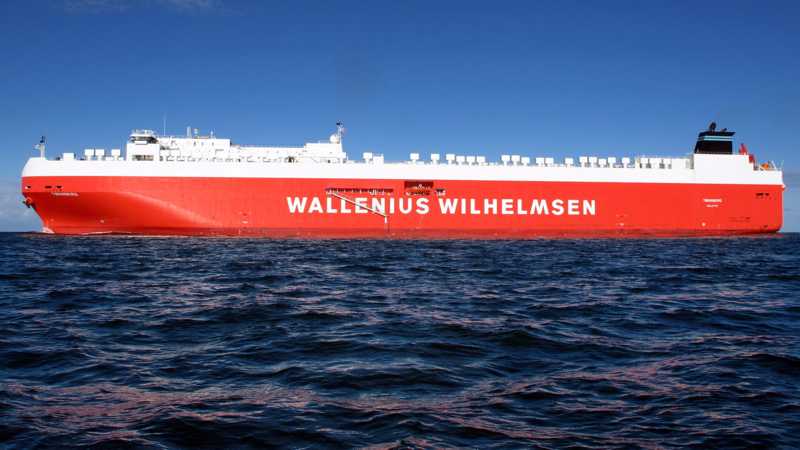 MV Faust is another well-known ro-ro vessel belonging to Wilhelmsen shipping company. It is a vehicles carrier built in 2007. MV Faust is 228 m long and 32m wide. Gross tonnage is 71,500 gt. The vessel has a deck space almost 70,000 m².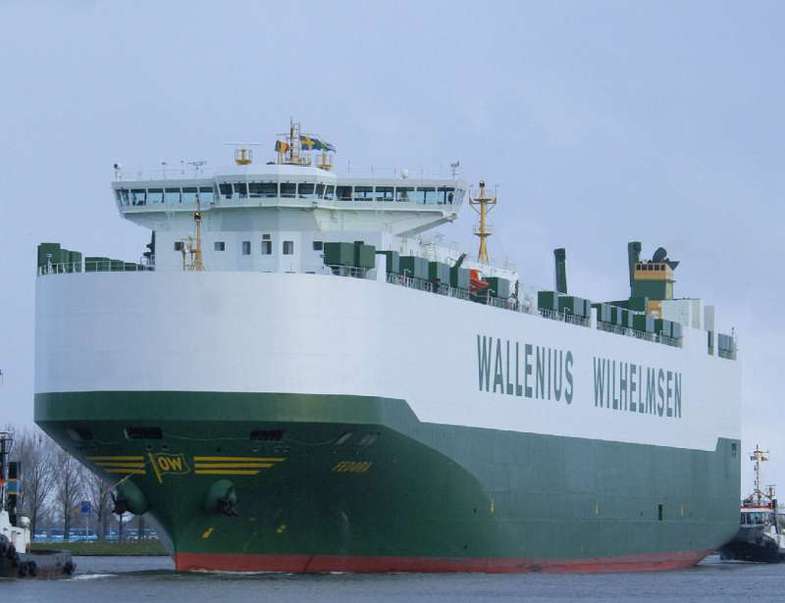 Its capacity is 8,000 cars. MV Faust carries expensive cars. It always delivers them safely. This vessel can often be seen in the ports with the best samples of the car industry on board. Loading and unloading of vehicles in the port takes about 8 hours. Sports cars, trucks, cars of famous brands "Jaguar" and "Rolls-Royce" may be seen onboard.
A modern car carrier Andromeda Leader was designed by the Japanese shipping giant, NYK Line. It was launched in 2004. The vessel meets the requirements of the carmakers. Its cargo capacity 21,443 gt and it is 32 meters wide. For many years, Andromeda Leader has been bringing Toyota, Lexus and Scion vehicles across the Pacific to the United States at any time without incident.