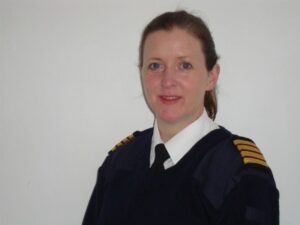 Bridget Gavin worked as a Marine Engineer on VLCC sailing all over the world. Although she was a young mother, she managed to overcome all perils of the sea and become the first woman of the largest car ferry in the world as a Chief Engineer. Trying to keep balance between the role of mother and her personal life she got promotion to the highest rank of a maritime engineer on the Ulysses ferry.
Her decision to study maritime engineering surprised a lot of people, especially her family. They knew that they would miss her a lot while she was away.
Her career started from BP Shipping and during this period she worked on first types of vessels. Graduates from the National Maritime College of Ireland have always been top requested in the industry. Many Cadets are especially interested in working on the vessels of Royal Dutch Shell and BP shipping companies.
She worked on VLCCs sailing between Japan and Australia and the Arabian Gulf and the USA being at sea for four months.
It was great to work for BP as they supported her a lot while she was studying at college. Moreover they provided her with on-ship training. Due to their support she managed to get a position of 2nd Engineer in no time. In 2007 she had already become Chief Engineer. She really enjoyed working with BP and recalls those times with pleasure. However, when Bridget had her own family she continued working with the same schedule. She was lucky to join Irish Ferries as 2nd Engineer on the Normandy and the Oscar Wilde on the Rosslare-France route. After that, she got promotion and very soon became Chief Engineer on the Ulysses. Her schedule changed in favour of her family as she would sail two weeks (not months) in the deep sea and stayed ashore for the same period of time.
There are only two women from Ireland who have Chief Engineer Class 1 Certificate of Competence, and Bridget is one of them. This is how her successful career was founded.
The Maritime Telegraph had a great opportunity to interview Mrs. Gavin to know more how she managed to succeed in the men's world.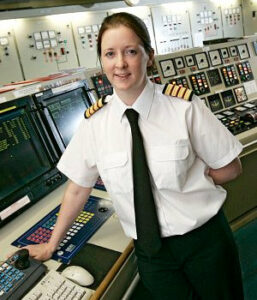 MT: Why did you choose the maritime profession?
BG: I grew up beside the sea in a small village in the west of Ireland. I came from a family of all boys and so in one way I never saw myself as different from them. Anything they could do I could do and this was how were brought up.
MT: How old were you when you became a chief engineer? How long are you working in this position?
BG: I became chief engineer in 2008, when I was 31 years old. I was working for a ferry company called Irish Ferries. They were a great company to work for and my time there was very enjoyable.
MT: Why did you decide to become an engineer but not a navigator?
BG: For me it was more about engineering that being at sea. I was always interested in engineering, how things worked, solving problems, etc. That was how my mind worked.
MT: How did the men's team receive you?
BG: Through out my career I have had massive support from my male counterparts. Some might be a bit concerned at first but once you can prove that you know your topic then they soon accept that you can do the job just the same and it doesn't matter if you are a man or a woman. I have enjoyed my career at sea and have made some amazing friends from my time at sea.
MT: Do you remember your first contract as a cadet? What did impress you most of all?
BG: My first trip away at sea was in 1998. I joined an LNG tanker in Japan. I did my cadetship with BP Shipping.
The size of the vessel was a big shock. It took some time to find my way around and to get used of life at sea. It was a pleasant experience but a steep learning curve.
MT: On what types of the vessel did you sail? Which type of engine did you like the most to work with?
BG: I worked mainly on tankers and ferries.
On the tankers I worked on slow speed diesel engines mainly but also worked on some steam ships which were amazing in terms of engineering.
On the ferries I worked mainly with medium speed diesel engines and also with high speed diesel engines.
MT: Did you face any extreme situations while sailing? Tell us please the most impressive. How did you solve it?
BG: Probably one of the biggest projects I was involved with was when one of the engines was totally destroyed when the crankshaft was damaged. Decision making was huge, sometimes you have to make decisions fast and think on your feet. The rebuild of this engine took many weeks but it was very interesting, stressful and hard work but every experience brings learning.
MT: What are the main advantages and disadvantages of seaman profession for women per your opinion?
BG: Seafaring can be difficult for women. You need to be a strong character, and know your job. I do think that women constantly have to prove they know what they are doing, men do not have to prove themselves in the same way.
Women also have the difficulty putting their personal/family life on hold. Having children is difficult.
Working on vessels which have shorter contracts, such as 2 weeks on 2 weeks of is great as it allows you to have a normal family life (sort of)
The main advantage I feel is that women bring a different element to shipping. They bring a human element. It can make a nicer atmosphere.
Women have a major contribution to make in the work force of the shipping industry. They can do anything their male counterparts can do – there is no difference.
Women can have a good career, can make a good income in this industry – it should be not be disregarded as a career choice. There are loads of opportunities on sea and land.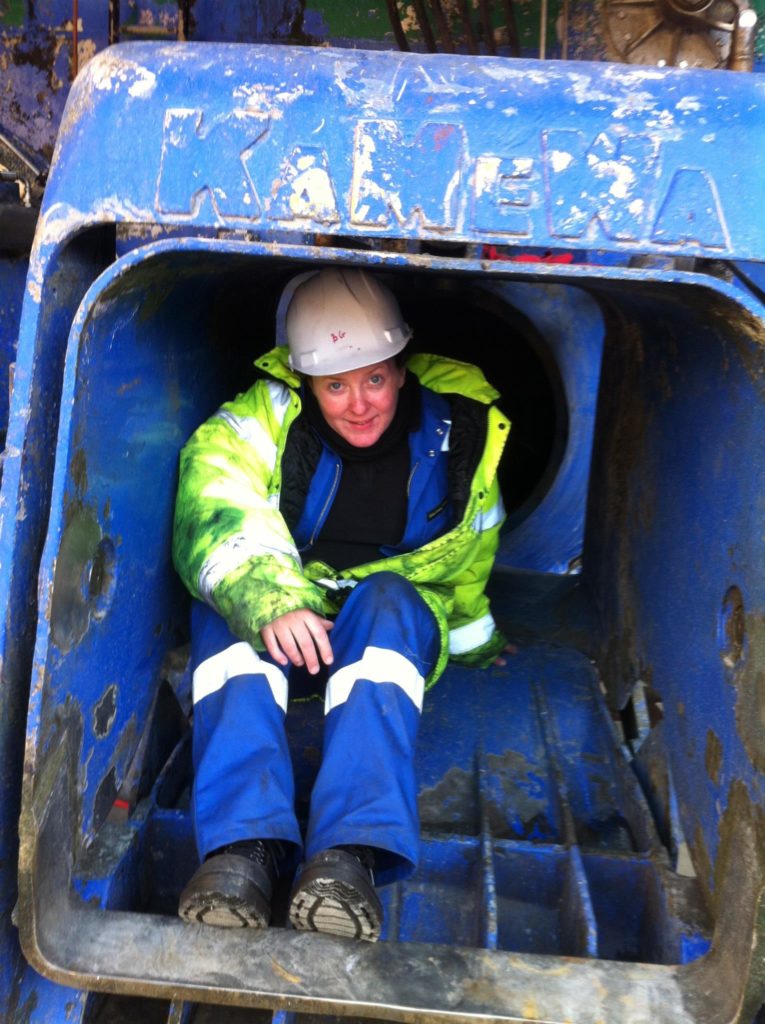 MT: What kind of leadership did you use in your team? Were you a strict and demand leader?
BG: I feel I was a fair leader. I like to lead by example – if you can show that you are prepared to get your hands dirty and be part of the team then you will gain the respect from your team.
I would be strict in certain elements, the job demands this – seafaring and engineering can be dangerous if jobs are not completed to a good standard and as such I would be strict in this detail.
MT: What do you appreciate in people you work with?
BG: I admire hard work and honesty – I think after that it doesn't matter.
MT: Did you ever sail with Ukrainian seafarers? What do you think about the professionalism of Ukrainian seafarers?
BG: I did sail with Ukrainian seafarers in the past. I really enjoyed sharing stories about our different traditions. I think Ukrainian sailors are very professional in general and I enjoyed working with them.
MT: What did you like the most of all in your job and profession?
BG: Though I do not work on ships at the moment what I enjoyed most was meeting people from all over the world and creating teams. I loved problem solving and the satisfaction of getting the job done.
MT: What was the best way of rest for you? How did you spend your free time?
BG: Reading was my favourite way to relax. Also when the opportunity arose it was nice to go ashore and explore new countries.
MT: Do you do household chores that are traditionally considered female?
BG: Of course – I have 2 children and I have to. My husband is very good, he helps with household chores without complaint – but I think I do it better.
MT: Tell us about your family. How do you usually like to spend time together?
BG: Family are very important to me. I am married with 2 children. When I had just 1 child I still continued to go to sea for long trips. It was very difficult to leave you children behind.
I value my time with my family so much. I like to do things together, I like us to eat together and to share stories of our day.
MT: Would you like your children to follow your footsteps?
BG: If my children decided to go to sea I would not stop them – it is a good life and I believe it builds good character.
MT: How do you think is it possible to combine a happy family life and a successful career? And how did you manage to do this?
BG: I have not been at sea for the past 2 years. When my youngest daughter was 2 years old I was offered another job land based, which suits my family life at the moment. My husband was also working at sea and it was difficult to schedule time off together, etc so we had to make that decision – we have a good life.
MT: The way to success is not always easy. What difficulties did you face along the way to your success?
BG: I would feel that women must work harder than men to be appreciated for the work they do. Because there are not many women at sea you can often be focused on which is not easy.
I did have some setbacks along the way but nothing serious – I am a regular girl and like to stay out of the lime light. I tried to keep my business to myself.
MT: Seafarers are generally considered to be very superstitious. What about you? What maritime traditions do you continue?
BG: In Ireland some would say it is unlucky for women to be at sea. In Ireland we have 1 female heroine – Grainne Mhaoil (1530 – 1603) – she was a pirate queen, she broke all the rules for women and an Irish legend.
MT: What are you dreaming about?
BG: Like everyone, a peaceful life, good health and to have enough of that which I need.
MT: What is your recipe for success?
BG: If you want something go after it – there are no invitations, you have to go get it.
Work hard, be honest and believe in yourself.