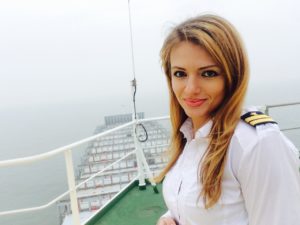 Probably, you've heard a sign: women on board ship – bad luck?
But why? – Because seamen gave a feminine name to their ships.
They did so not for nothing: then the god of the sea was supposed to be more favorable to the vessel and its crew. At the same time, it was thought that a woman didn't fit the ship: the ship is "she" and as any girl "she" would have been jealous of the competitress.
What has changed since then? To answer this question the correspondent of The Maritime Telegraph/Sea Truth came to the second officer Kateryna Voloshyna, working in the E. R. Schiffahrt company.
MT/ST: Why did you choose such male profession?
I am from a family of seafarers: my grandfather, my father, and even my brother – everybody works at sea. When I was 14 my mother told me: "You will go to study law", but I understood that I didn't want to be a lawyer. Then my brother showed photos from his maiden voyage and I liked it very much. So I decided to work at sea too. But nobody took me seriously.
Of course, it was difficult to enter the academy with boys, they didn't take me seriously, especially because of my hair colour (I am blond), but I have a commander voice, and I accustomed and became the first sergeant. It was nonsense for the academy.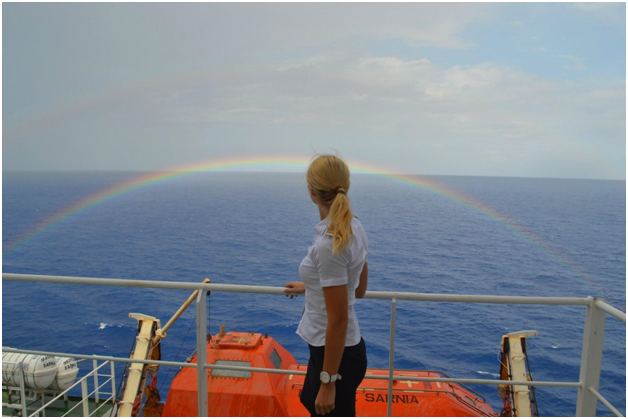 MT/ST: Was it difficult to find a job at sea for the first time?
There were 9 girls entered my course, now only 5 work at sea now. And of course in most of crewing companies when I opened their doors, instead of "hello" they said: "cooks aren't required". Nobody was interested in my knowledge. Once I was lucky to attend a seminar which was held by a German company E. R. Schiffahrt. Then there were many interviews, tests. And, at last, I waited until my first contract. The master treated me in a fatherly way and helped me very much. And I am very grateful for it!
MТ/ST: Describe your maiden voyage? What cadet's work is about? What a cadet differs from a sailor?
In the E.R. Schiffahrt company a cadet is an officer, it doesn't depend on his nationality or gender, he is an officer, and he is not another sailor. He can help sailors in some situations. I don't know about other companies, but it is unacceptable when a cadet is used as an additional sailor in E.R. Schiffahrt.
In my first contract, I kept watch with the second officer, asked questions and wrote down constantly. Because I believed that if I was a cadet, I could ask questions but as an officer, I wouldn't be able to do so.
There is no difference between a cadet and an officer in the company. I was treated as a future officer. The first time I assisted the second officer, then the third. I wanted to know everything: in the engine room and so on. If there were controls, I asked to wake me up even at night. I tried to present there to learn what it was and needed to be shown, what kind of notes did they have and so on.
In the E.R. Schiffahrt company there are a lot of girls who were promoted from cadets and now work in the company. There are Poles, Germans, and Filipinos. Europeans have another attitude towards girls.
Generally, I am very happy and very grateful to the company that I was taken as a cadet.
MT/ST: What kind of ships did you work on? What crew?
I worked on container ships as a cadet for three contracts, and then as the third officer. My third contract started in a week later after the second. I decided that I was lack of experience. It lasted for 9 months on a container ship – it was really difficult. There was port after port – most of seafarers are tired of such schedule after 4-5 months. And after the third contract, I was completely sure I knew everything about the third officer work, but I was afraid of navigation very much.
After all, an officer is a navigator; it is about the first watch, communication with other vessels, attentiveness. During my third contract the master intrusted me moorings and everything was good.
I always worked on container ships with different crews. Once I was afraid to work with a British master because there was a superstition that women on board ship are for bad luck. But everything appeared perfect, everything was very good.
MT/ST: Tell about your first contract as the third officer.  
I remember my first contract as the third officer very well. I passed my state exams and left next day. That voyage was rather quiet, I did my work and everything was good. Of course, it was necessary to prove that in spite of the fact that I was a girl, I could do the work. If boys had problems, they weren't afraid to ask the bosun, but I didn't afford it for myself.
I tried not to ask for help, I just needed more time to do something. If a guy asks for help – it is OK, but if a girl does so there will be much attention.
Work of the third officer is really not for women, you should screw some mechanisms all the time. You should forget about your manicure and hair at all.
And the second contract as the third officer was rather difficult: difficult region, it was very hot. It was Israel, the Persian Gulf. There were 22 ports during a month – it is very tough during a hot season. I was very tired after that voyage. And I needed to organize my wedding. My husband returned a day before the wedding. And the third contract as the third officer gave me a lot of experience. It was a unique contract: 9 nationalities.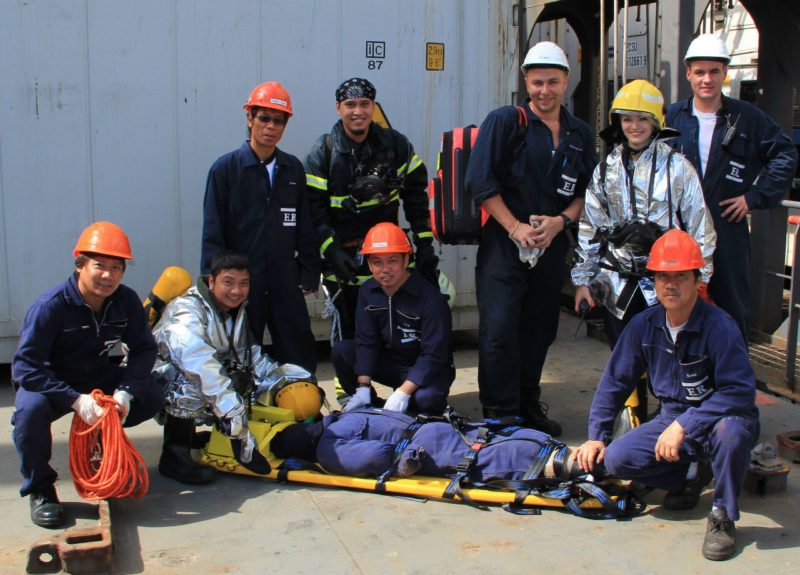 MT/ST: Where did you meet your husband?
We met in my first voyage, but we couldn't meet then because of our job. I was a cadet and he was an engineer. A few years later we got married. Now he works as the second engineer. But I am glad that he is an engineer because it would be difficult for us. I have some difficulties in communication with my brother because he is a navigator too; there are a lot of themes always to dispute about. And there is nothing to argue with an engineer, he doesn't know my work, and I don't know his.
MT/ST: What the second officer work differs from the work of the third officer? What position did you like more?
When I became the second officer I breathed a sigh of relief because my job wasn't about hydrants, paintings and other those things. Everybody looks at the third officer and check him all the time. The second officer is treated more trustingly.
Once I had a one month passage and it seemed to me as a paradise. I kept my watch and there were no ports. The main thing is charts and navigation. These are many reports about the passed distance and fuel left etc. It is more or less quiet position in comparison with the third officer.
I like to keep watch, to look forward, I like passing with other vessels. I love a navigation part of work very much when it is possible to direct the vessel. In general, I like to cope with some extraordinary situations. It won't be compared with any work on shore.
MT/ST: Do you agree that girls can provide competition with men at sea?
Not every girl can compete with men at sea. I am against female engineers. Because it will be a crew member who will constantly need help. It is difficult physical work. To be honest a woman won't be able to lift 80 kilograms physically. Some girls can compete, but not everyone. Sometimes they can't stop a baby talk. Even if you have a headache, there shall be a strict understanding that you aren't in a cruise, you are at work.
MT/ST: Have you ever had some funny situation at sea? 
When I was changing an orange man overboard buoy on a wing, it exploded in my hands and began to smoke. I passed by the bridge with it, and there were the master, the chief officer and the second officer. The buoy didn't stop smoking with bright orange color. I understood that I couldn't throw it over the board, and I just was standing and I holding it in my hands and it was smoking for 15 minutes. It painted me from head to foot. My blond hair was orange color, my face and clothes. Nobody told anything, but I saw they were laughing. It wasn't washed away for a week.
MP/MT: When do you want to have a baby? Do you plan to leave your job?
I am on maternity leave now. I stopped my job for a year and a half, but I don't leave my work at sea, I don't want to do it. I'm planning to be promoted slowly because I like my job.
It would be great to have one contract a year then. I hope there will be 3-4-month contracts, so it will be easier to combine my job with my family. The rest of the time in a year I could focus on my family. I want to realize myself as a good mother and a good wife. It would be great to become a master, but I think, my husband won't approve my desire. But if I work regularly it will be possible to be promoted to the master level. I think that there will be so many girls in this industry soon that I won't have problems.