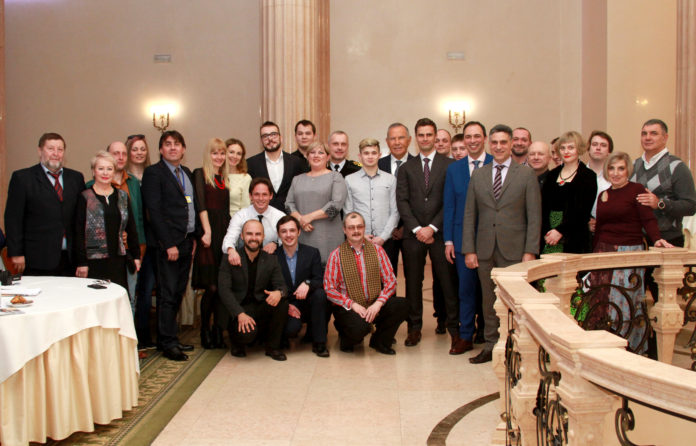 On January 30, Goldenport Group celebrated an exceptional event. The Ukrainian branches of the Greek company – Goldenport Odessa and Oceangold Odessa – have been successfully developing for 20 years.
During this time, Goldenport Odessa has managed to grow from a small two-room office with three employees to a spacious two-storey place, which admits training and computer rooms. Despite all the changes, the main principle has remained eternal – they always take care of seafarers. As Mr. Dimitrios Karamaunas, Director and Owners' Representative, said in his speech, the seamen are the heart of the company. "Goldenport group is not a shipping company, Goldenport Group is a shipping family. And we are very proud to be members of this family," he added.
"Many years ago, one friend of mine told me, Odessa has many seafarers," Cpt. Paris Dragnis, President & Founder of Goldenport Shipmanagement Ltd commented. "When I visited this city for the very first time 35 years ago, I decided to snatch such an opportunity and employ Ukrainian seafarers on the fleet of my company. Now I feel happy of the results. I haven't expected so many good seamen."
About 180 people gathered in the conference hall of the Bristol hotel, as gold as the company's corporate colors. Seafarers, partners, shipping agents, auditors, general directors of banks and representatives of universities and training centers – all of them wanted to shake hands with the founder of Goldenport Management Cpt. Paris Dragnis and congratulate the company on its 20th anniversary.
"After my evaluation, Goldenport Odessa and Oceangold Odessa are the leading maritime companies in this city, providing high quality services," Lyudmila Trachenko, Lead Auditor of Quality Management Systems ISO 9001:2015, Bureau Veritas Certification stated. "It possesses a number of strengths: a top management's interest in the quality of services, an introduction of new methods in the seafarers' recruitment, a high level of personnel training, an absence of complaints and presence of thanks from seamen. According to the results of the certification audits, the companies showed good performances, with almost no comments. Last audit of 2018, reveled only the strengths."
On the occasion of its birthday, companies received a lot of seafarers' heartfelt thanks and partners' congratulations, proving their success. With a great pleasure Tatyana Yurkova, General Director, Aquavita, told about working with Greek partners: "We have been cooperating with Goldenport Odessa since the very first day of its foundation. These are good partners, they have reliable employees and we are pleased to deal with them."
At the event, the seamen got to know the latest company news, a development strategy for the next year, an update on a cadetship program and newbuilds delivering. While many shipping companies are closing their branches and selling fleet, Goldenport Odessa and Oceangold Odessa goes on to make head and employ more Ukrainian seafarers.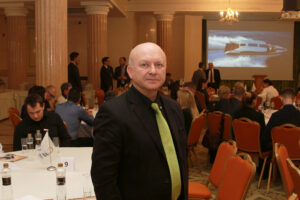 Levani Tugushi
Captain
When I started working for this company, I clearly saw the difference between Goldenport Odessa and Oceangold Odessa and other shipping companies. First, I liked the company concept. I sense a marine approach of leadership. There are a lot of seamen, who understand you and your problems, in the top management. Also, the company finds seafarer job is a practical profession more towards an administrative one. All the papers that I fill out are relevant. In addition, I did not feel any shore support in other shipping companies. Here is an apple off another tree! Regardless of the position, the seamen are treated like dear family members!
Oleksandr Kapustian
2nd Officer
I came to this company Goldenport Odessa as a messboy. I quickly was promoted to higher positions, so you can say my career growth was rapid. And Goldenport Odessa helped me a lot, because the company is interested in its professional staff. Goldenport Odessa provides everything, the seafarers can use to improve their skills, holds trainings, lectures and workshops, gives much attention to safety at sea. I always believe that any knowledge never hurt. Practice makes perfect.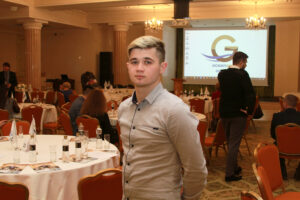 Mykyta Potaturkin
E/С
This event is outstanding – Goldenport Odessa and Oceangold Odessa celebrates 20th anniversary! I wish the company prosperity, more newbuilds and good crew members. I consider, bulkers and tankers – the most promising fleet. It's great that the company started with these vessels.
A while ago, my friend Dmytro, a cadet just like me, advised to me Oceangold Odessa. How I am pleased that I decided on this company. Odessa office really cares about the seafarers. Crew managers always call in advance and warn that my certificate must be renewed. Together we had time to prepare all the documents without haste and mistakes. Without further ado, I can say, I am very pleased with the company.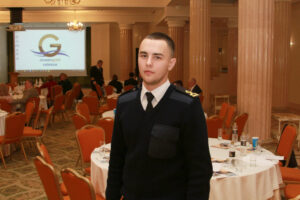 Bogdan Pidgorny
3rd Officer
My professional life began in Oceangold Odessa. I made two voyages on their tankers and now I am promoted to 3rd Officer. Therefore, a good opportunity to be promoted is one of the main advantages, I experienced by myself. I have always been lucky both with my colleagues on ships, in Odessa office crew managers always respect for me. I think good attitude towards seafarers is also part of the top management policy: mr. Dragnis established real family shipping company. By the same, Goldenport Odessa and Oceangold Odessa expects newbuild deliveries, and the seamen should not worry about their further employment here. I am sure, this company will help me to become an excellent, good qualified senior officer.