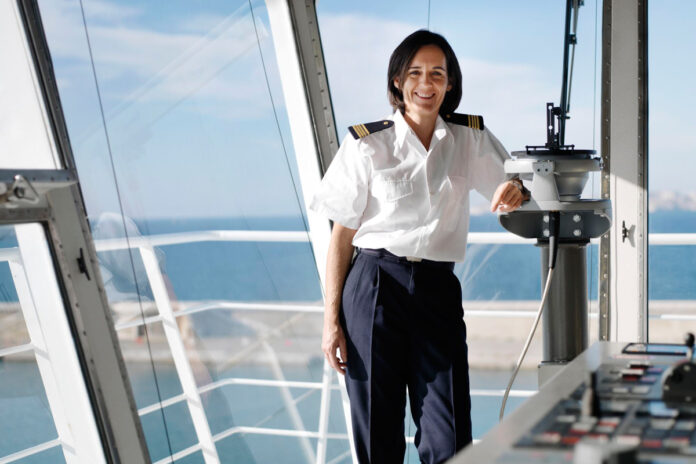 XXI age is known as the century of women and gender equality. Indeed, nowadays many male dominated fields are actively filling by women, and seafaring is no exception. Of course, most of them choose the passenger fleet, nevertheless, a lady captain or lady chief engineer cannot surprise anyone. The Maritime Telegraph spoke with some lady seafarers and found out how they perceive this traditionally male profession today.
Romance of the seas is nothing more than a myth. Such opinion has appeared in merchant shipping. Working on board means working in stressful milieu. A seafarer faces so many physically and psychologically demanding situations, risks losing his health, freedom or even life. Many seamen admit that they chose this profession only because of the high salaries, while the stunning sea scenery played a secondary role. It is interesting to know, what attracts women to the maritime profession?
"I always wanted to work for a profession in which I will get internal satisfaction and a state of happy mind," said Amreen Bano, Electro Technical Officer in the tanker fleet. "For me these meant practical hands on experience, getting to travel and explore a lot, interacting with people of different culture, getting paid handsomely and a field where I can improve my skills. And I would say, I have never regretted my decision."
"Choosing a university, the Maritime Academy seemed to me the only place can give me a real opportunity being employed by profession as well as supporting myself and my family members," сommented Alesya Aftanyuk, 3rd Officer on chemical tankers.
Stepping on board, every lady seafarer knows, she will have hard work equal to men, so, she is psychologically ready for any occasion. But is she prepared for possible harassment? It is no secret, that ship crews consist mostly of men of various nationalities.
Amreen recalls, that sometimes it's bit uneasy for few shipmates to digest the fact of girls making entry into a male dominated industry.
"I am on board to stay professional and do the task for which I have been appointed to. But crew who can't see a girl working on board give me more strength to stay on the track, and I can prove to them that we too, the "lady seafarers" are at par with them. We can also work in all type of environment if given opportunity."
Amreen have worked with many nationalities. She is always interested in learning about other cultures and hence it's been a very good professional relationship with most of the crew members she has sailed till now.
Cultural attitudes who is "allowed" to work on the ship and who is not, unfortunately, really exist. They often discriminate against women's access to a dream job. Even job searching can be difficult. Perhaps in the EU, USA, Canada this problem has become irrelevant. The same cannot be said for other countries.
"Even being the topper of my entire batch, I was rejected employment by many shipping companies," said Amreen. "The shipping companies, who don't want to employ women seafarers, need to accept the fact that once on ship, it's not about a man or woman, everyone is same – a seafarer. Shipping had been a male dominated industry since decades, but now time is changing. I myself have never given my company any chance to complain until now. I have been always giving my full potential."
"We should not forget that work at sea is not for everyone. You will never know before you try. Despite a good salary, this profession has some disadvantages you need to adopt, otherwise, you search another job," added Alesya. She considers, women chose the maritime profession should be prepared not only for watch keeping, but also for the physical efforts and psychological tension. The sea doesn't matter a woman or a man you are.
"Being a woman, doesn't mean she can't do job on ship," Amreen stated. "There are many women's out there like me, who don't like to do sit in front of computers, instead they want to be at sea and explore it. Do give opportunity to everyone based on skill, not based on gender."
​"Empowering Women in the Maritime Community", that is the moto of the World Maritime Day 2019. IMO provides gender equality in the global shipping, pays attention to the contribution of women to the maritime industry. According to IMO data, the world maritime community comprises about 1.2 million seafarers and only two percent of them are women. About 94 percent of female seafarers are working in the cruise industry.
So, IMO aims at attracting as many women as possible to the maritime sphere. There is the most effective way to lift industry, companies, communities and even countries. Report "The Bottom Line: Corporate Performance and Women's Representation on Boards" shows, that companies, countries and agreements with more gender equality perform better.
Alesya considers, that gender equality will help people to be more tolerant and ready for some change.
Global shipping is changing slowly. Lady seafarers should be absolutely clear about the fact that the seafarer's daily duties are extremely difficult. If someone (he / she) fails down on the job and cannot carry out the tasks, he / she will not retain this job for long, regardless of gender. Also, Alesya added, that seafaring allows women not to depend on someone (husband, parents, friends).
"I think, people must understand the women are competent as man can be in the maritime industry," said Elizabeth Zuniga. She has been working as M.D. on vessels for a long time and believes, that, employing more women, the maritime community promotes gender equality and empower women by eliminating workplace sexual discrimination.
According to The New York Times, women have always entered male-dominated fields – usually well-paid – more than men enter female-dominated ones.
"I am sure that if I can stand shoulder to shoulder with my male shipmates, then all the women seafarers can do the same," Amreen said. "Hence, if more women seafarers are added to global shipping industry there won't be any negative impact anywhere, instead it will bring gender equality in a male dominant industry.
I have personally felt that if there are women seafarer onboard the environment on board is very positive and cheerful. Also, there are many women who want to come at sea and work here with complete dedication. Shipping companies should try to tap this vast amount of potential waiting in form of women seafarers."
Working on board, Amreen can confirm, there is a lot of gender discrimination at sea. However, she considers that today is the right time for global shipping to prove that just shore industry, shipping industry also provides everyone a fair chance of opportunity to show their skills.
In earlier times, women were not welcomed aboard a ship. Moreover, if the worst happened, seamen always "looked for the woman" as the cause of all miseries. Today more and more women are leaving the kitchen and office. Modern women are filling the "male" fields as seafaring. In addition, it must be noted, they have already proven themselves perfectly.