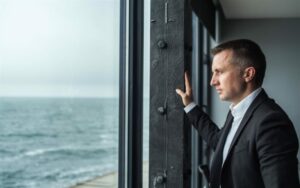 Alexander Varvarenko is the owner and CEO of the shipping company VARAMAR and the founder of the first global online shipping platform, ShipNEXT.
In an interview with The Maritime Telegraph, he talked about his ties to Odessa, the events that led to the launch of VARAMAR and ShipNEXT, and why he decided not to stay in Belgium when he had a chance.  He has told us what Europeans find off-putting about Odessa; talked about his family's business-hobby, Kiss Chocolaterie; and explained how he manages to maintain a fast pace in business while remaining devoted to his large family.
MT: Your first job was at a Belgian shipping company, FLAMAR / CEC Lines, as head of the freight department. How did your career develop before you could call yourself the "Director" and "Owner of the Shipping Company"? Do you remember when it all began?
ALEXANDER: Everything, indeed, began in Belgium where I went to primary school. Later I moved to Odessa to graduate from a high school here and prepare for the Odessa Maritime University. I am still an advocate for receiving higher education in Ukraine – especially in the areas where the Ukrainian universities have traditionally been very strong. In my fourth year at the university I got a job as a trainee at one of the subsidiaries of a Belgian company FLAMAR. A year later, they asked me to move to their head office in Belgium. My job there was to develop a shipping line for transportation of oversized, general and project cargoes along the Black Sea. We succeeded, and after only four months we were able to send off our first ship. As I continued to advance in my career,  I created a shipping line to the Persian Gulf and India. I worked in Belgium for five years, and then was invited back to Ukraine by Kaalbye Shipping, which was at the time one of the largest industrial groups in Odessa and in Ukraine. For them, I created a business line called Kaalbye Projects, which dealt exclusively with transportation of oversized steel cargoes to the Persian Gulf, India, the Far East and back to Europe. The company existed for three and a half years. Then we went our own ways and I launched my own business, getting a bank loan to set up VARAMAR. What started with a team of four people 9 years ago has since developed into a profitable company, which is represented internationally.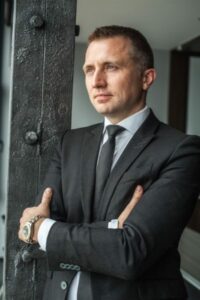 MT: And what were your expectations as a student at the Maritime University?
ALEXANDER: Before going to the university, I was very interested in programming, economics and engineering. In choosing the maritime specialty, my thinking was that I could use my knowledge of languages and economy. I had always wanted to work in international business, and the maritime business is the most international of them all.
 MT: The maritime profession is the continuation of a family tradition for many people. How was it in your case? Did you have an example to follow?
ALEXANDER: My father had worked in the port business in Latvia for most of his life. He was a deputy head of one of the largest ports in the USSR. He also worked in Belgium where he held managerial positions in several companies. Later he was invited to Odessa, but soon afterwards was forced to move to Moscow because of the corruption in the local shipping industry. In Moscow my father was helping with a Russian port development strategy until his retirement. My brother is in the freight forwarding and land logistics business. Maritime business, of course, interested me as well. Moreover, by that time my family had already made the name in this area, which was well-regarded and untarnished by any fraud or corruption allegations.
MT: We know that you also studied in Britain to be a ship broker. Was there a temptation to stay abroad?
ALEXANDER: I studied in Britain remotely, while most of my time abroad was spent in Belgium. You know, foreigners living in Europe never feel truly at home there. I am a purebred Ukrainian. Even with Belgian citizenship, excellent local language skills and European looks, I would always be asked: "where are you from? when do you think you will go back?" After a while you get tired of this and start seeking your people and your comfortable place, and that's when you decide you want to return to your roots. Here, I am perceived as a Ukrainian and – which is the nicest thing – as an Odessa native. When I moved to Odessa, I realized that sooner or later I would have to create a better living environment here, and this motivates me to this day. Because living for money is of no interest to me. I do not enjoy working solely for a financial reward. I do everything possible to develop the city and the country as a whole. And I think that new technology will soon defeat corruption, which has pervaded Ukraine.
MT: By the way, let's talk about the city's development. You regularly participate in the life of Odessa.  At the event "the largest tree" you planted three pine trees; you have also supported the restoration of a protected building's facade on Marazlievskaya Street. Are you worried about the present image of Odessa? What's wrong with Odessa's appearance?
ALEXANDER: We initiate various charitable activities that benefit Odessa, including planting of the trees, restoration of facades and others. But this has to do with a personal motivation to improve the living environment around myself and my family  – I have an office and an apartment on Marazlievskaya St. I do what the city should do. I do not like living in filth and I'm a little surprised that some Odessa residents do nothing to improve their living conditions and create comfort. What is wrong with the appearance of Odessa? First of all, the facades require attention. They need to be tidied up.  I think it is important to create uniform, transparent rules on the appearance of the buildings. This means getting rid of glazed balconies and removing air conditioners. Or imposing fines that would make such things uneconomical for owners to install.
Secondly, the city administration could improve the roads and standardise the appearance of parking spaces. Based on these two things alone – the facades and the roads – an investor can conclude that there is a lack of order in the city and in the country. Regardless of the first impressions at the airport of arrival, any foreigner visiting Ukraine, will first and foremost pay attention to these things.
 MT: And what connects you with Odessa besides the sea?
ALEXANDER: Now it is my family that connects me to Odessa, but initially, of course, it was the sea. I'm not originally from Odessa, I was born in Latvia, and I moved here 22 years ago. But now I have my wife and my four children living here, and, of course, I consider myself an Odessa native. I am trying to make Odessa an international business hub. One of my hobbies is attracting specialists from all over the world to Odessa.
MT: And what other hobbies does the owner of the shipping company Alexander Varvarenko have? And do you have time to spend on them?
ALEXANDER: I like to play golf, but unfortunately, I rarely have an opportunity to do it, because in Odessa there are no suitable golf facilities. I like to play the piano, but there is not enough time. I can draw, but there is no time for that either.
MT: How would you define a chocolate making business, Kiss Chocolaterie, – a family hobby or a business? What is it for you and your family?
ALEXANDER: My wife Anna inspired me, and she could inspire any other investor to invest in this business. Not only was she taken with the idea to start a chocolate business, she also learned herself how to produce chocolate to a world-class standard, traveling and gaining experience in different countries. For her, this is both a hobby and a business, as she puts her soul into it and materialises her creative ideas through it. It also gives her the experience of running a business, which motivates her to develop further.
By the way, it is very important for a family that both partners develop and grow professionally, so they can remain interesting conversationalists and life companions to each other. And I'm glad that we both enjoy our work, which, in turn, benefits our children. After all, they respect us and respect our point of view – not because we said to do something this or that way, or because we have experience of 20 years, but because we are still a valuable source of information for them. We do not sit still; we work on our personal and business development, we develop new business contacts and we move our businesses forward. That's why I view Kiss Chocolaterie as a combination of a hobby, a business, and a reflection of our family philosophy.
MT: Is it possible to combine a successful business with a happy family? And do you, in your opinion, give enough attention to your family?
ALEXANDER: All our time outside of work is spent with the children. This, of course, often conflicts with the time we are able to spend with our friends. We minimize it. Our parents are helping us, especially Anna's mother. I do not see where the children lack attention. Each of them receives the necessary dose of love and respect, starting from the eldest teenage daughter, and ending with a 3-year old daughter. But most importantly, they are motivated by the experience of their parents and have a great choice in terms of their future career. So in general, with a good alignment of priorities, combining a career with a family is possible, and it contributes to the feeling of contentment in life.
MT: "In order to move forward, you need to run." Judging by your comments in social networks, you can relate to this expression. Doesn't this fast pace of life mean more risks? And have you ever slowed down, to assess the length of this "run"?
ALEXANDER: Of course, sometimes you have to stop. You just need to understand that the longer you stand still, the more you lose. Every leader, as I always repeat to our commercial managers, faces the problem of making a critical decision. Of course you must understand the direction in which you are running, know the rules and have the experience. Therefore, I stop only when I do not know something. But even then I do not fully stop; I bring people on board who help us stay on the right course. If everything is well-considered, there will be no risks associated with one's race.
MT: ShipNEXT's catch-phrase  is: "Hard work is no longer the key to success." How much does this actually apply to your life?
ALEXANDER: In my life, I have done many things using a great amount of work and time.  Some of them could have been much easier. When creating ShipNEXT, I have tried to convert all the accumulated experience and professional knowledge into a product that would automate most tasks. My goal was to spare the shipping market players the need to repeat the same routine set of actions over and over again. Now, in the age of automation, it is necessary to use new technologies: after all, they simplify our work.
If you project this phrase onto my personal life, I can say that both my wife and I work a lot; and yes, this can be compared to a running race. Both Anna and I learnt endurance thanks to music, which is our hobby (Alexander Varvarenko's wife is a composer). You need to repeat something many times until you master the skill.
MT: By the way, what kind of music do you like?
ALEXANDER: I like very different music styles. My favorites are Sting and Elton John; I like piano and jazz. I am not a fan of modern electronic music.
MT: What advice would you give to people who are starting their own business?
ALEXANDER: The advice I can give will not be appropriate or right for all.
Everyone has his or her personal conditions for business development. I try to make my business as honest as possible. If I sully my name and my reputation, as a lot of people in Ukraine have managed to do, I can lose everything I have built very quickly. Therefore, my advice is determined by my approach to business, which is based on maximum honesty and decency. It is expensive to conduct business in this way. And it is not my place to tell new entrepreneurs to follow my example. Everyone will eventually decide for themselves – whether they want to focus on immediate financial reward or to commit to the long-term result.