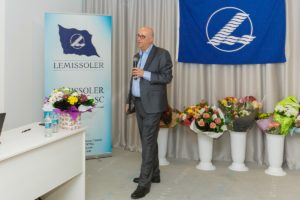 On November 2nd the representatives of Lemissoler Shipmanagement and company Ukrainian seagoing personnel gathered together in Odessa to celebrate the milestone 20th Anniversary of the company.
The forum was opened by Svyatoslav Pavlenko, the Director of Lemissoler Ukraine, who warmly greeted all the attending seafarers and introduced the company's representatives and special guests.
The Lemissoler Shipmanagement Chief Operating Officer Petros Monogios in his opening speech said that the company was established two decades ago and started with operation and management of only two small ships. Since that time it has increased, renewed and modernized its fleet and currently operates vessels of different types and tonnage, staying well in the shipping market business. Today the company manages 9 new large bulk carriers and one Ro-Ro paper carrier vessel and is preparing to take delivery of two more new bulkers in the next months.
The company ships newbuilding activity requires additional resources and constant supervision on construction sites along with the attraction of new investments. The company management always keeps finger on the pulse of the market and looks forward for new projects.
"The company intention is to continue expanding its fleet despite the difficult times the industry experienced now. However, regardless of the market difficulties, people are the most important value for any company and for a small company like Lemissoler in particular. So thank you very much for placing your loyalty, trust and confidence in us and hope that we will continue our successful work together ashore and at sea for many years to come", stated Petros Monogios, addressing his words to the attending seafarers.
 Open, honest and trustworthy cooperation became the fundamental basis for the company in relationship with seafarers. In this context, one of the attending ship captains remarked that "Each and every Lemissoler seafarer feels that he receives a special handling from the company and individual care when it comes to any additional requests or private needs".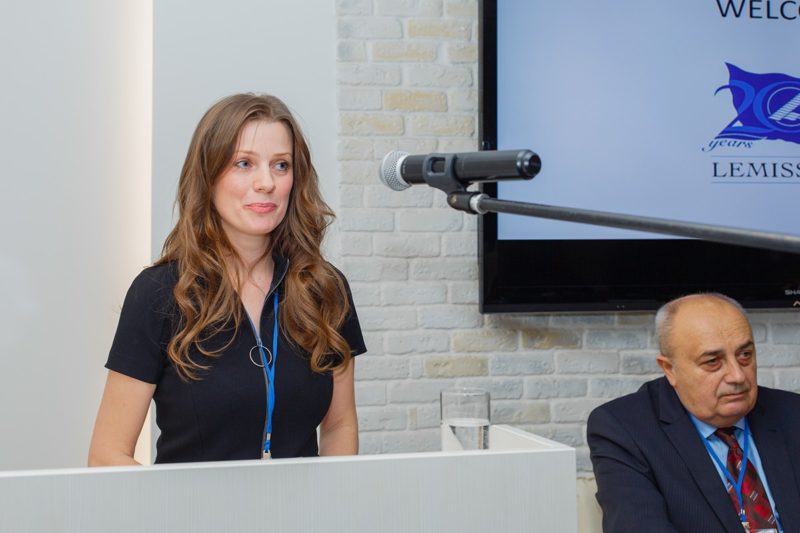 The company Crewing Manager Victoria Orlova is responsible for selection, recruitment and management of seagoing personnel during the last 15 years. Over this long period she has developed her unique approach and strategy to communicating with seafarers Victoria Orlova, first of all, expressed her gratitude and appreciation to those attending seafarers who were very loyal to the company through all these 20 years, including periods of the most difficult times and demanding work conditions.
She then presented a general overview of the current situation in the industry crewing market, underlining the problems and concerns affecting all shipping companies including Lemissoler.
"Today shipping is still suffering from oversupply of tonnage while the freight and hire rates are lower than ever with no considerable improvement to be seen within the foreseeable future. This causes significant concerns to ship owners who see their crewing costs rising higher and higher and as you know everything starts with budgeting for income and expenditure".
 Victoria Orlova stressed that it has to be well understood that the crewing cost is the highest spending item in a ship operating budget (about 60% of the total running cost and sometimes higher). Keeping the crewing costs under control today is not an easy task for any ship owner, especially when trading conditions are so weak and income so historically low. The only right decision is to keep optimizing the crewing expenses and all crew management processes in order to appropriately balance it with the current market conditions. At the same time despite all present challenges, the main objective for Lemissoler remains retention, training and development of loyal seamen – the main component of success of the company for all these years.
From the specific aspects of ship crew management and crew budget the focus of the forum turned next to the commercial and chartering aspects dealing with transportation of cargo and interaction with charterers and brokers. This was presented by Stavros Ioannides, Сhartering Manager of Lemissoler Navigation. It was interesting for seafarers to understand what steps are taken to successfully charter vessels, monitor and analyses voyages, deal with legal and insurance issues, why it is so important to maintain good communication between ship crew and onshore personnel. Today the role of any ship senior officer on board is not only to be suitable for the rank, but also act as manager with the necessary skills and abilities.
An interesting addition to the company managers' speeches was the presentation made by Tim Davis who represented the West of England P&I Club. He highlighted one of the most important topics for ship captains and officers – accurate record keeping and maintaining of correct documentation on board which may play a major post-incident role if used in marine arbitration tribunal.
He emphasized that for any shipping company today it is important that its fleet meets all the required standards and regulations established by the International Maritime Organization (IMO).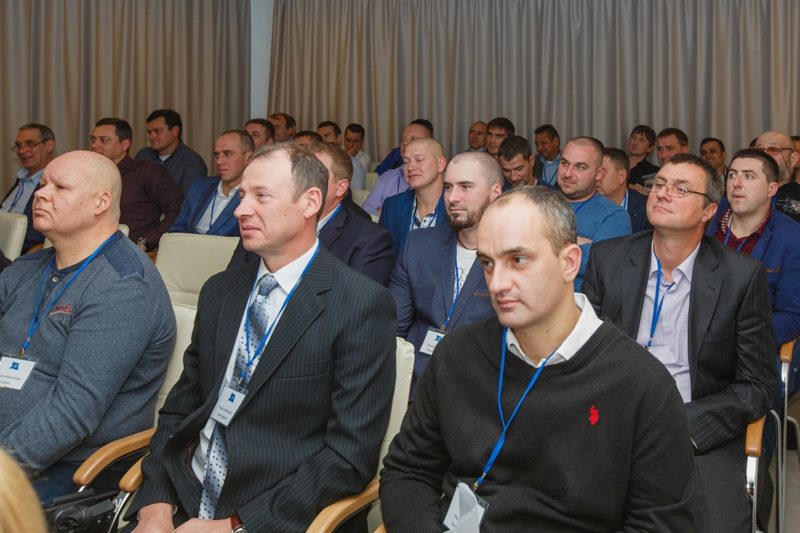 In an interview given to The Maritime Telegraph by Petros Monogios he shared the company strategy of future development:
"Although there is a difficult time in the market, it is also a good opportunity for acquisition of new vessels. The company plans to expand its fleet further. We continue invest a great deal in our onshore and onboard personnel where 90 percent of our crew is from Ukraine. We are satisfied with Ukrainian seafarers and value their proficiency and competence and also aim to employ more Ukrainian cadets even though there are some limitations. We have already generations of seamen in our company, fathers and children. The continuity is very important for us. We are carefully monitoring the current situation in the market and there are no any plans to cut or reduce salaries of our seafarers as it has been practiced by some other shipping companies".
 Crewing Manager Victoria Orlova added: "The company works in Ukraine since 1999 and indeed the most of our seagoing personnel are Ukrainian, but we also employ Filipino, Indian and Indonesian seafarers. At present we are experiencing a small shortage of qualified senior officers due to the rapid fleet expansion and therefore need to recruit some new personnel from the market to cope with it".
The seafarers participating in the conference also have made some comments about their work experience in the company:
Capt Sergey Chernega: "I am working in Lemissoler already about 15 years. I started as Third Officer and made my entire career progression up to the Captain rank. Now I have been working for 6 years as Master on various company ships and very happy. I am sure there is no company with such good attitude toward their seafarers and with such good overall conditions."
Yuriy Kаshyrin, the Fourth Engineer: "I am working in the company for nearly 7 years. I very much appreciate that there have never been any delays with our salary payments while at sea which is an important factor for our families. There are good opportunities for promotion and career progression. I am fully satisfied to work with this company".