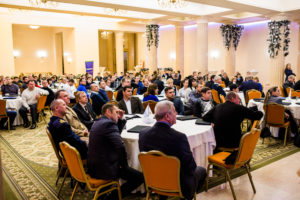 It is always a great pleasure to attend a big crew conference, especially when it coincides with an anniversary of a company. On 30 November 2016  Goldenport Odessa celebrated the 18th anniversary. On the occasion of such event, the Company invited many guests who have cooperated closely with for many years.
Goldenport Odessa is more than a crewing company, it is a crew department of companies included in the group of Goldenport Holdings, Goldenport Shipmanagement Ltd, Goldenport Yachts and Oceangold Tankers Inc.
Today the Company has 50 vessels (tankers, containers, and bulkers, also including mega yachts) and is going to incorporate a new company Oceangold Odessa, a crewing company which facilitates employment of seafarers for the tanker fleet.
About 1200 Ukrainian seafarers are employed on the Company's fleet per year. 92% of all crews are Ukrainians. There are also Russian, Georgian, Ethiopian, Croatian and Bulgarian crew members. In-house manning was always their main objective and vision. 3000 seamen have been promoted at least by one rank.
The participants of the conference were: President and founder of the Group, Cpt. Paris Dragnis, Cpt. Mike Busygin (Director of GOLDENPORT ODESSA), Ms. Natalia Nizharadze (Director of GOLDENPORT MARIUPOL), Cpt. Nikolaos Kotsiras (Manager of GOLDENPORT ODESSA), Mr. Nikolaos Kokkinos (crew manager of GOLDENPORT SHIPMANAGEMENT Ltd.), Cpt.  Vladimir Kuznetsov (crew manager of OCEANGOLD ODESSA), Cpt. Alexandros Papagiannopoulos (DPA manager of GOLDENPORT SHIPMANAGEMENT Ltd.), Professor Mr. Mykhail Miyusov (National University "ODESSA MARITIME ACADEMY" President), Cpt. Yevgeniy Kuznetsov (Marine manager of Bureau Veritas in Ukraine), Mr. Pavel Svertilov (London P&I representative), Cpt. Yuriy Buchkovsky (Training director of AVANT training school), the partner companies representatives and the crew of GOLDENPORT ODESSA.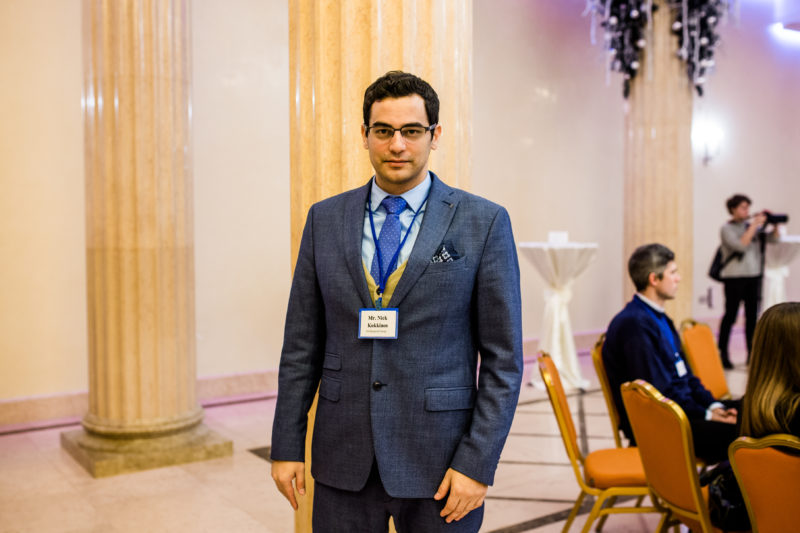 Cpt. Nikolaos Kotsiras greeted the audience and presented the Goldenport Odessa office.
The first speaker Mr. Nikolaos Kokkinos started with a presentation of Goldenport Shipmanagement Ltd. and its activity in the Ukrainian crew market.
"After 18 years we are glad to see all of you. It is very important because it's been our intention from the very beginning to invest in a long-standing cooperation in the Ukrainian market", noted Mr. Kokkinos. He also expressed a pleasure to see young cadets from Odessa Maritime Academy and turned over the President of the Academy Mr. Mykhail Miyusov. "This event is very important for us because we have cooperated with Goldenport for many years. Now the Academy has 11 000 students in Odessa, Mariupol and Izmail and it is very important for us to have places for onboard training and for the future employment", said Mr. Miyusov. He expressed his hope for getting more and more places for his students.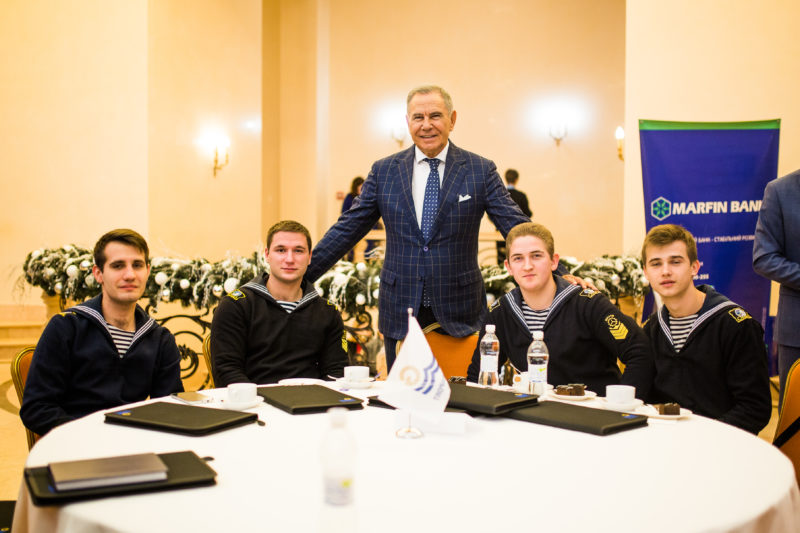 Then Cpt. Paris Dragnis as a founder of the Company greeted the audience and gave a brief presentation of the company's present and future plans. "Unfortunately the life at sea is not the easiest one, but there are a lot of new seamen started to come again to the shipping industry during this tough time, because it is the only way to earn money, especially in this crisis", said Mr. Dragnis. He thanked the partner companies who have worked with the Company for all those years. "I wish you the better and better economic situation", added Cpt. Paris Dragnis.  At the end of his speech he addressed to the cadets from the Academy and asked them to consider the Company as a family.
The next speaker Cpt. Alexandros Papagiannopoulos made a presentation of safety matters and told about an importance of the training in loss and injury prevention. He has worked for the Goldenport Shipmanagement for 20 years, so he was glad to see officers who were promoted from cadets and they are still working in the Company.
Cpt. Vladimir Kuznetsov presented Oceangold Odessa the newly established branch office of the Goldenport group, specialized in the Tanker sector. The Company has 12 tanker vessels now and they intend to expand further in an employment of Ukrainian crew members. The new division has already started its work and welcomes Ukrainian seafarers for a long-term cooperation. In 2017 they are expecting to get the Oceangold Odessa fully equipped and licensed in Odessa. The tanker fleet is going to be increased, so more and more Ukrainian seamen will have an opportunity to join the family.
"It is difficult for us to find good and qualified tanker men here, but we believe that cadets from the Academy are going to serve this sector. If you go to other sectors in a few years it will be very difficult to transfer you to the tanker vessel. A tanker fleet requires specific experience, but gives you an opportunity for the better career", said Cpt. Kuznetsov.
In the short interview with Cpt. Paris Dragnis said that the intention of the meeting was to improve standards of the crew who joining the Company. "20 years ago I was here in Odessa for the first time and I had the chance to start the Company and many companies have appeared and disappeared since that time, but we are a traditional shipping family. We are looking forward making our company bigger and bigger", noted Cpt. Dragnis. He also mentioned that Ukrainian seafarers are very good seamen, "they have the same shipping feeling as the Greeks have".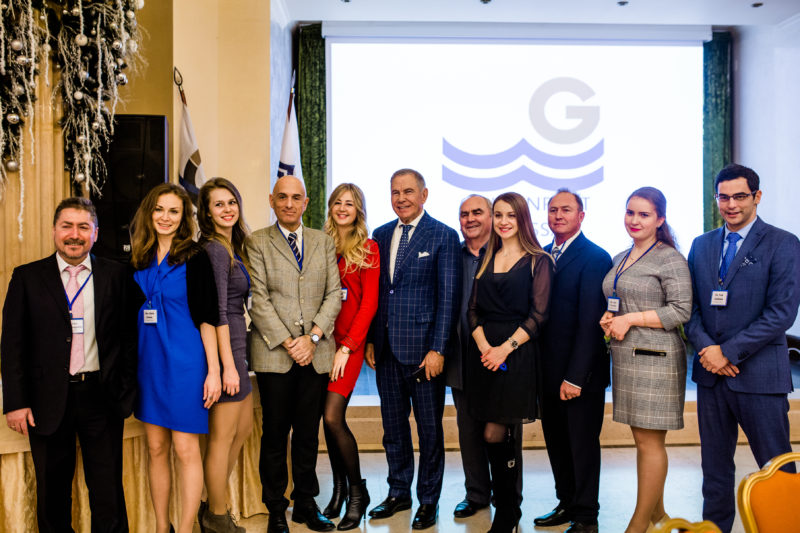 The seafarers who attended the conference shared their impression about the Company.
Alexander Sobko, 3rd officer: "The company is great because it provides a good opportunity for growing, especially there are huge prospects of a career development for cadets who will go there to work. Salaries are good, there have been no delays".
Evgeny Popov, 2nd officer: "I have worked for the company for 10 years on container vessels. I began in a rank of OS. Everything is good, and the fact that there is a possibility of growth makes the company preferable".
Gleb Grinko, 3rd engineer, "I have worked for 3 contracts in the company, began as a wiper. The last contract lasted for 5 months that was much less than rating contract and it was great".
The conference ended with a family dinner and all in attendance were presented memorable gifts.