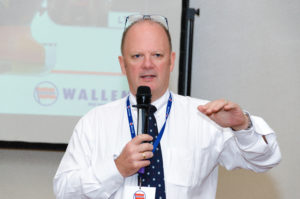 Wallem Ship Management delivers a full range of technical, commercial, procurement, crewing and safety services. The Company manages a large fleet of vessels of all types and employs more than 7000 seafarers worldwide.  
Correspondents of The Maritime Telegraph had a great opportunity to ask David Price, Managing Director of Wallem Ship Management about his story of success. 
MT/ST: Were you a seafarer yourself?
Yes, I was sailing for 17 years and started from a cadet. I left in a rank of captain. I finished my study in Southampton.
MT/ST: Describe your typical working day. 
No day is ever the same. Like everyone nowadays, both on ships and in the office, we get bombarded with e-mails, information and so on. My day starts by reading e-mails. But I also spend much time talking to my team in the office, discussing how things are going and how we can solve any problems being faced on the ships. There is also a lot of time talking with clients.
MT/ST: Where did you work before Wallem?
I was with V.Ships in Cyprus for 15 years.
MT/ST: What is your position in the Company? 
I am the Managing director of Wallem Ship Management, so that means I am responsible for all ship management activities worldwide for Wallem. I am responsible for all ship management offices and all crewing offices as well.
MT/ST: How did you start your career ashore?  
I came ashore in 1994, working as a safety officer for a ship management company in England. I stayed there for about 2 years, but I didn't like that fact that I needed to spend 2 hours getting work and another 2 hours getting home. So then I got a job in Cyprus with a Russian company. It was a good company, but in the end I left after 3 years and went back to England to start with another company, managing passenger vessels. Then I was fed up with English weather and English taxes, so I went back to Cyprus in 2000 with V.Ships as a safety manager. Over time I rose from that position to the role of managing director. Then I left V.Ships in 2015 to join Wallem.
MT/ST: How do you spend your free time? 
There is not a lot of free time. I am a football fan. So I support my English team. I also like to spend some time in the gym and play racquetball. I can say that it is my hobby.
MT/ST: Do you like to travel?  
Not very much, because I do so much travelling for business. I spend lot of time in airplanes and it is not such fun anymore.
MT/ST: Tell about your family. 
I have two sons. They are both in the marine industry. The young one is a cadet, he is finishing his college. My eldest son is a ship worker.  So has gone to the commercial side. So shipping is very much in the family. I didn't force them, they chose, not me.
MT/ST: Is it possible to combine a happy family life and a successful career? 
It's hard, because of working long hours, lots of travel, lots of time away from home. Most seafarers think that it would be really nice to work in an office, to go home at 5 o'clock at night, to see their family every night. But the reality is not like that.
MT/ST: What is your recipe for success? 
I think it is hard work commitment, but also building a team, working with people. I believe it is important because no one is perfect and we have to work together as a team. So I think that is the reason why people are successful. To summarize it is working with people, building a team and keeping focus on what we want to be.
MT/ST: What was your childhood dream?
It was a long time ago (laugh). I think I wanted to go to sea from a very early age. I lived in an English seaside town and I could see the ferries, coming back from France and Belgium. I wanted to work on a ferry and I did.
MT/ST: And of course our favourite question: what tree wishes would you make if you found a bottle with a genie? 
That is an interesting question. We all want to win the lottery, to be a millionaire. If I applied three wishes to my work I would wish we were with no accidents, making our business a safe business. I also would like more understanding from commercial people in our industry to the seafarers. It is a hard life and they are under massive pressure. And one wish would be for me. I'd like to see my football team win the League in England. And of course I want to see my family successful in their careers and nothing would make me prouder than my youngest son sailing as a captain.
MT/ST: Did you face any difficulties in your life?  
It was in the middle of my career. I changed jobs. The last I left after 9 months, because I was really unhappy. It cost me a lot of money and my family faced a lot of problems because my children were at school and I had to move them to a different country.  It was not a good period. But I tried not to let it get me down. Then I always have tried to keep pushing and keep trying to get better.
MT/ST: What music do you prefer?
I've got very wide musical taste, but mostly I prefer female singers. My favourite band is Coldplay, if you look at my selection of music you will find women mostly and Coldplay.
MT/ST: Where do you see yourself in 10 years?
I'd like to be retired, leaving behind a world class safe company. My retirement plans are to go back to Cyprus, to buy a boat and a golf club membership.
MT/ST: What do you think about professionalism of Ukrainian seafarers?
I've worked a lot with Ukrainians and I think they are very professional and very hard working. If I think about some difficult ships I think about Ukrainian seafarers, because they are very hard working and committed.