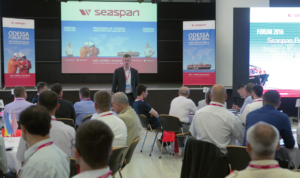 On May 16-17, 2016 took place Seafarers Odessa Forum 2016 «Provider of choice: customer satisfaction in challenging times».
The event was hosted by Seaspan, the world's leading containership lessor.
To make sure how important for Seaspan managers to have "live" dialogue with seamen, just look at the list of Forum participants: Peter Curtis (Chief Operation Officer), Erik Nielsen (Strategic Planning, Vice President), Hemraj Shetty (Fleet Personnel, Director), Manoj Suri (Fleet Management, Vice President), Shirish Palsole (Technical Services, Senior Superintendent),Petar Lolic (Company Security Officer, HSEQ Director), Illia Kudinov (Regional Crewing Representative/Ukraine),Yury Zakharov (Training Superintendent), Bogdan Zelenski (Founder of Alpha Navigation) , Julia Makarova (General Manager of Alpha Navigation), Ellen Makarova (Manager of Alpha Navigation), Vladislav Surkov (Managing Director UNIVIS-office), Helen Bespalova (Director UNIVIS-officе), Julia Fesenko (Crewing manager UNIVIS-office),and seafarer officers of the Company.
Erik Nielsen – Vice President Strategic Planning was telling about the last achievements of Seaspan – Business update. In the conditions of a surplus of capacities, decreasing of freight rates and rates for container transportations, the Company has been able to keep leadership on the market, while a welfare of ship crews doesn't worsen. For comparison: in January 2015 to carry one container it cost 1 200 US dollars. Today it costs 400 dollars – three times cheaper. Last year the freight of the vessel was about $17 000 a day, today – $6 000. What a secret of Seaspan's success, how it is possible to remain the biggest independent lessor in the tough time. The answers are covered in plans of the Company for 2016-2017:
Safer operation, CSSF
Even higher customer focus
NO MARPOL violations
Increasing maturity of Seaspan
Working closer together, ship and shore
More newbuildings
Extension of contracts
Continued growth of number of colleagues
Better crew planning
Better stores and spares management
No fatalities, less injures
No Port State Detentions.
With the fleet of 118 modern vessels (general container capacity is 941 247 TEU), Seaspan heads a rating of shipowners. The capacity of the closest competitor holding the second place, the PeterDohle- is "only" 472 057 TEU. Despite the crisis, Seaspan isn't afraid of building new vessels. The portfolio of orders consists of 17 ships (196 110 TEU), more has only Japanese Shoel Kisen Kaisha – 21 vessels (338 000 TEU).
Seaspan prefers to build 10 000 TEU container ships – according to specialists of the industry they are the most demanded vessels. Analysts of Alphaliner counted that in 2016 the most idle container carriers were from 3 000 to 5 000 TEU (100 vessels), 2 000 – 2 999 TEU (68 vessels). The smallest number of idle vessels was among container carriers over 7 500 TEU – 50 vessels.
"Seaspan has done extremely well; in 2015 we outperformed competitors, again. The shipping market is extremely tough, our customers are struggling and we want to help them. We will continue to grow and improve, we will come out as a winner from the shipping crisis" – summarized Erik Nielsen. Peter Curtis, Chief Operation Officer told the seafarers about the Company's business model and its place in global trade infrastructure. Large modern fleet (average age – years, average size – 6 800 TEU),dedicated crews (over 4 000 crew members/ cadets worldwide), innovations (leading edge ship design and optimized operating procedures), high-quality customer portfolio (COSCO, CSCL, YML, MOL, HapagLloyd, Hanjin, K-Line, Maersk, MSC), good reputation – the basis for success.Manoj Suri – Vice President Fleet Management was telling about the fleet budget – Managing OPEX through Prudent Onboard Maintenance.
Nearly a half of the whole budget is crew expenses – $110 537 436 (47%). The Company spends about $11,5 million for supplies. Trainings cost $4,5 million – Maritime Education Institutions of Ukraine will envy such budget.
LTIF Impacts All – HSEQ Director Company Security Officer, Petar Lolic's theme of the report. Lost Time Injury Frequency (LTIF) is one of Seaspan priorities. An absence of injuries improves a welfare of seamen and reduces insurance premiums of the Company.
"Leadership and team work – foundation of safe operations", think in Seaspan. Hemraj Shetty, Director Fleet Personnel explained how to form team onboard, how the leader differs from the boss, how to create the climate of trust, to improve quality of life.
Illia Kudinov, Regional Crewing Representative told what means: to carry out properly the duties onboard– Duty of Care.
The main goal of trade shipping is safe cargo transportation. Cargo care is the basic duty of all ship crew members.
Main documents directly regulate containerized cargo safe carriage are: SOLAS: chapter II-1, VI and VII; cargo conventions: Hague-Visby Rules/Hamburg Rules/Rotterdam Rules; IMDG Code; Safe container convention (CSC); charter party; company SMS; Cargo Securing Manual; Ship Stability Booklet.
To carry the cargo safely you should be ensured by seaworthiness of a ship(seaworthy, properly manned, equipped, supplied, water and weather tightness, machinery availability), proper control (containers shall be loaded/carried and discharged in sound condition), evidence collection.
The special attention should be paid to reefer containers (as a rule, they contain the most expensive cargo) and containers with dangerous materials.
Proper management of ballast significantly improves the efficiency of the vessel. "To put" the container carrier on the set trim with the minimum ballast is a true art which has to masterfully use good chief officer.
The correspondents of Sea Truth/ Maritime Telegraph asked a few questions to the participants of Seaspan Odessa Forum 2016.
Erik Nielsen, Vice President Strategic Planning
ST/MT: Now we can see changes of a landscape of the container shipping market. What is the reaction of Seaspan to creation of alliances by the large companies?
EN: Now we and our customers understand what is happening at the shipping markets, they also have their clients like Walmart, IKEA, TATA and many others. We are helping them to transport containers from A to B and it is our main role. Things that are happening now in the industry it is a formation of big alliances, so now it looks like it is going to be 3 from April next year. The first alliance is between Maerks and MSC, the second – CMA CGM, Cosco, Evergreen and OOCL and now has just announced apossible alliance between six or eight carriers. We are force and our customers are taking initiative to continue to be successful in this challenging environment. So we continue to deliver ships to customers and there are not so many changes in our perspective. For us, it is still delivering best ships and best service to our customers. We are focused on a lot of investments on making sure that we understand our customers. I have a background from a shipping line and my boss also has such a background, so we understand how our customers are thinking. And now we are the largest ship-owning company and we have been doing really well, so in 15 years Seaspan has been creating from nothing and now it is a number 3 in term of owning container ships. Only Maersk and MCS are larger than us. And what we do today in Odessa it is an investment, we spend about $700 000 on such forums and we do this because we want our people to understand how important it is for our customers that they do their job in a good way. When we are doing fine our customers see it very fast.
ST/MT: Now you have 17 newbuildings. How do you think it helps to go through market crises?
EN: Today we have 101 ships and it will be 118 after delivering our today's newbuildings. We have new ships that are coming this year and the rest – next year. The reason of our continuing growing is to show our customers that we deliver good service and when you able do that then you get awarded more business. We operate under the principles to deliver as much economic value for our customers as we can. We've been growing and growing.
ST/MT: Why do you prefer to build 10000 TEU container ships?
EN: We want to have simple and efficient ships that consume very little fuel and can load a lot of containers. That can deliver low start cost flow for our customers. Whether it is 10000, 13000, 14000 TEU or any other sizes that depend on customers what their need is. Our business more is to deliver good ships and good value and to have long-term contracts with them.
ST/MT: Decreasing of container rates, how do you compensate the difference?
EN: Of course it is a very challenging environment and it is quite good that we are financially strong, so we can continue to invest in our newbuilding. Some years are good some not but we still expect to be able to have a good success 2016.
ST/MT: Better crew planning. What does it mean?
EN: We have been growing for 15 years and we've changed our focus a little bit from just crews, but also included some more matters. And one of the areas on the crewing side where we want to improve is to do better planning. So on a personnel level our seafarers know more in advance when they are going on a ship or when they are coming back home. So they can plan their family life.
We also invest in our seafarers and their future!
Illia Kudinov, Regional Crewing Representative.
ST/MT: Improvement of crew planning and onshore support are Seaspan's priorities for 2016/2017. What does it mean for you as a regional representative of the Company?
IK: Improvement of onshore support is already carried out, in particular, with implementation of my position which hasn't provided earlier. Thereby the influence of the Company stretches for regions. Good planning is a division of people to concrete pools, to assure a seaman get on the same vessels (by size and charter) that he has already worked on. Promotion at work will depend on an existence of vacancies and on person's sense of duty. The salary on rather small container carriers differs slightly in comparison with big ones; approximately for $100 therefore no "discrimination" crews will face. The main incentive – "re-joining" a bonus, is much more than an increase for the tonnage.
ST/MT: You have told participants of the Forum about cargo care. Why have decided to pay it special attention? Were there cases of cargo poor handling?
IK: The year before last there were serious claims caused by negligence of crew members. They didn't pay any attention to "Bilge Alarm" in holds (excess of water alarm in the bilge wells). Containers weren't waterproof – cargo was spoiled. There weren't any incidents last year. It is never redundant to consolidate knowledge of such important subject once again.
ST/MT: How do you consider safe cargo transportation in the training program of Seaspan?
IK: We had a very detailed course on dangerous cargo transportation. We sorted each letter of IMDG Code (International Maritime Dangerous Goods Code). We don't take it now.  The training program is flexible – if there aren't any cases, the course is to be closed. It allows corresponding requirements of the industry.
ST/MT: In the previous issues of the Sea Truth / MaritimeTelegraph we told about the Seaspan cadets' program. How is it?
IK: About two weeks ago, we temporarily stopped the program. Now we have many junior officers who should grow. Promotion to a senior officer is a more serious and long process, not all stand it. To balance "top" and "bottom", the Company has decided to stop the program for half a year, maybe for a year, but it is a maximum. This year we have taken 20 cadets from the Odessa Maritime Academy and 5 people from other maritime education institutions. The closest entry of cadets is planned for November 2016.
ST/MT: At the Forum much attention was paid to navigation safety issues. What problems face crew members during shipping?
IK: Often there is a problem with the declared and actual weight of containers. For example, the farmer wants to sell his goods but to pay less taxes and duties. For this purpose, he underestimates the weight of the cargo. Why should he pay for 10 tons of cargo when it is possible to pay for 5 tons and to bribe an official? And the container comes to the vessel declared as 5 tons, but actually, the weigh is 10 tons. And there are thousands of such containers. On 5 000 TEU the difference can be 15 000 tons. The cargo program considers the declared weight too, but not true. As a result, the vessel is loaded incorrectly. We hope new rules about an obligatory weighing of containers will help to solve the problem, especially in the Asian countries.
ST/MT: Speaking about safe transportation in refrigerator containers. Is there provided any bonuses for it?
IK: Bonuses are fixed by a charter. He pays $5 for turn-on/shutdown of each container. Only ratings get this money.
ST/MT: What do you pay special attention during an interview with the candidate for work at Seaspan?
IK: The main thing for all positions – loyalty and ability to conform the rules. There aren't any difficulties in navigator and engineer work. The biggest problem – the attitude for work. It is difficult to find the person with the correct attitude for work. If the candidate for a position misunderstands something (reasonably), but he is loyal, then he will understand correctly and quickly and will accept working process. Those who come with arrogance, on the vessel it gets worse, they declare "In the last company we did so" and begin to break the system. Such people aren't necessary for Seaspan, and we try to reveal them as soon as possible.
ST/MT: Are there any vacancies in Seaspan now?
IK: Chief engineers are required so far. Last year invited many chief officers. Good experts are always demanded. So – welcome to Seaspan!