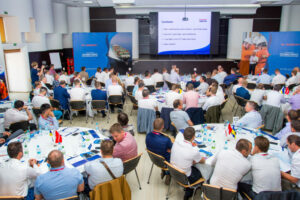 On May 7-8, Seaspan Ship Management carried out once again its annual Forum in Odessa. The Forum was held in the Grand Hall of the Sovinyon Resort. The forum attended the TOP management of Seaspan Ship Management, as well as important quests from different companies, which work closely together with Seaspan, Seafarers and representatives of crewing agencies Alpha Navigation and Univis which are providing seafarers for this company and of course the Seafarers. This was an important meeting for all the sides, in order to meet ones again, share own knowledge and thoughts, as well as ask questions.
The Odessa Forum 2018 was well-organized, brought up very important issues, had interesting discussions and overall was very informative.
The Forum was attended by around 150 Seafarers, which work for Seaspan, all of them showed a big interest in the company and were very pleased for the opportunity to talk to the Management of Seaspan face-to-face.
Seaspan is the worlds leading company in independent containership management and ownership, providing consistently safe, reliable and economical service to its customers.
Though the Forum itself was held on May 7 and 8, all the participants were invited to come a day before to spend together time, Seafarers had the opportunity to meet their colleges and friends, as well as newcomers of the company. An interesting program of the day was organized to just relax and have fun together. All the attendees were welcomed to join Sport Event Competition based on the well-known game "Last Hero".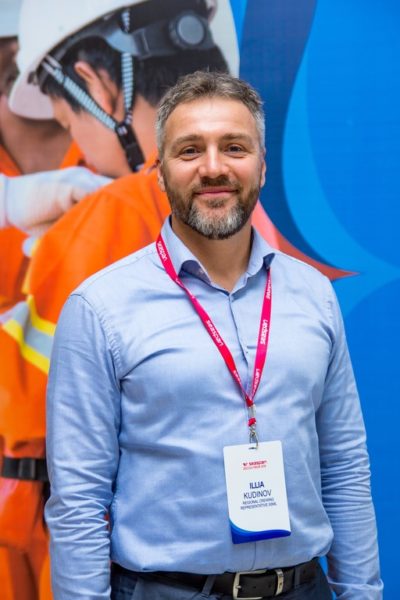 The first day of the Odessa Forum 2018 was opened by Illia Kudinov, Regional Crewing Representative of Seaspan in Ukraine, he welcomed all for coming and gave a speech about open-minded views and always trying to see the whole picture.
Erik Nielsen, Senior Vice President, DPA gave the first speech entitled, "A View from the Bridge" about the Updates of the Industry with graphically demonstrations to show the changes that company is having. A lot was said about the previous year in Seaspan since the company had gone through Organizational changes, one of which was a New Chairman of the Board, David Sokol. Mr. Nielsen also pointed out importantly that 2017 was showed of ZERO fatalities, which is an excellent result, which should stay at the same level in the future. The LTIF has been increasing from 22% in 2016 to 29% in 2017 and is expected to increase by 2018 as well. The work was done to improve Cargo Care, as well as continuous work is continuing by improving vessel reliability and increasing vessel activity. The numbers of transported volumes are continuing to grow. Mr. Nielsen congratulated all the crew for keeping the vessels operated in 2017 in resulting in maximum positive revenue.
There were introduced numbers of corporate goals to be achieved in the future, which everyone in the company needs to work on.
Mr. Nielsen overall pointed out 6 Focus Areas to Achieve Operational Excellence, which is very important to be kept in mind and used in practice:
On Board Vessel Condition
Engineering Practices
Navigational Practices
Customer Relations
Leadership
Culture
Coming to the end of the presentation Erik Nielsen gave an overview of what are the plans for the future. In the Conclusions he said that there is always a place for improvement, Seaspan has been doing very well, but there was still negative side effects, which brings all the members of Seaspan to one goal, to improve, grow and achieve more. Mr. Nielsen underlined, "Operational Excellence is key to achieve. We can only achieve it together".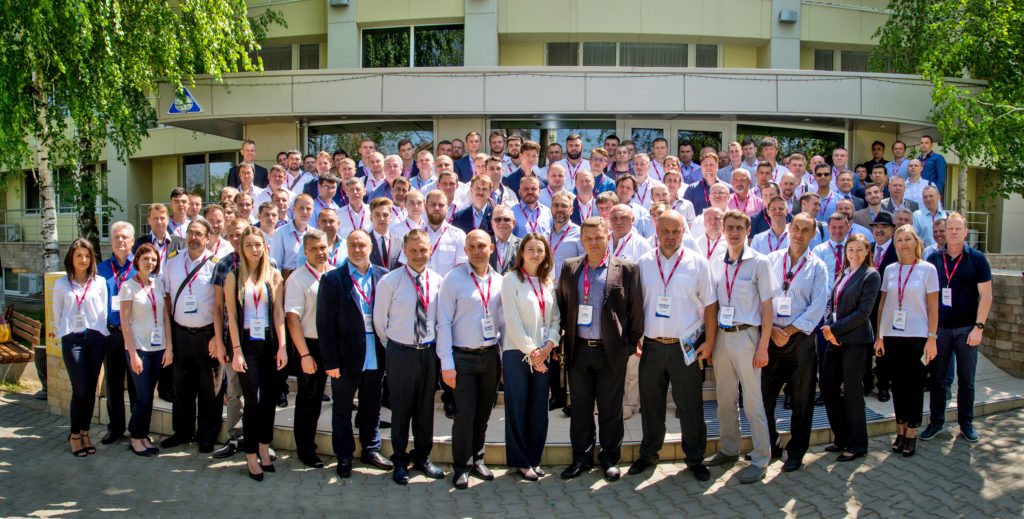 Trevan Rose, Director Commercial, presented his speech on "Why We Fight for Customers Success", pointing out very important factors and analyzing the key steps to improve work to make the client believe that Seaspan is their best choice. In the end, it is all an endless circle. When there is a good crew, good ships, and good maintenance, there is less off-hire; lower LTIF and better performance, which makes the customer, want to work with Seaspan. The goal is to have a happy and lasting customer and it can be achieved only by group work with all the members of Seaspan family.
Arvin D'Souza, Fleet Manager, Operations entered the floor to speak about, "Operational Excellence: Maintenance Strategy". Operation Excellence, mentioned before by Mr. Nielsen, is the optimal goal to be reached. Mr. D'Souza talked about the Training Module Enhancement, discussing the new comings and the original ones. The discussion went on with still failures that are going on, such as Blackouts which is remaining a big issue, as well as Fires and the way to make the number of those accidents decrease. There is the route to improvement and it can be achieved only if everyone will be evolved. Mr. D'Souza concluded by saying, "It all starts with me, here and now".
The second half on the day started with the presentation of the first part of Mind Mapping Presentations, of Andriy Shumilov, Chief Engineer of the company, with the topic of "How can we contribute in improving our vessels' conditions?" Then, Denys Yefimenko, Captain came up to talk on the topic of, "How will we reduce machinery breakdowns".
Petar Lolic, Director, Marine Services, gave presentations about "Managing Inspections & Safety Operations. Talking about the PSC inspections that everybody should be aware of. Pointing out that PSC inspections are increasingly focusing on the risk profile. The Inspectors singling out the performance of the ship manager and the flag state organization. Each ship will be identified with a ship risk profile (SRP). Photos with different breakdowns were shown to give attention to all, the examples that could have been prevented.
Then Tony Baker, Director (Loss Prevention), The North of England P&I Association Limited gave a speech about the mutual partnership with Seaspan, and the areas that are being Insured by the company. Mr. Baker gave an overview of the situation of the past year from the point of view of insurance and claims that were made. Seafarers were able to ask questions concerning their insurance onboard and in other different situations.
The next presentation was given Shirish Palsole, Sr. Superintendent, Technical Services, about "Back to Basic: Good Engineering Practices". Mr. Palsole has talked about the failures, which could be exterminated at all, if only it was not for lack of basic engineering prowess. Though for sure there are more complicated failures. Some of which to brought to very harsh consequence, which was clearly shown.
The Second part of Mind Mapping Presentations was given by Oleksiy Yanbergs, Master, with the topic of "How do we improve PSC performance". Followed by the presentation of Alex Semenov, Chief Engineer, with the topic of "How will we reduce LTIF in 2018 by 10%".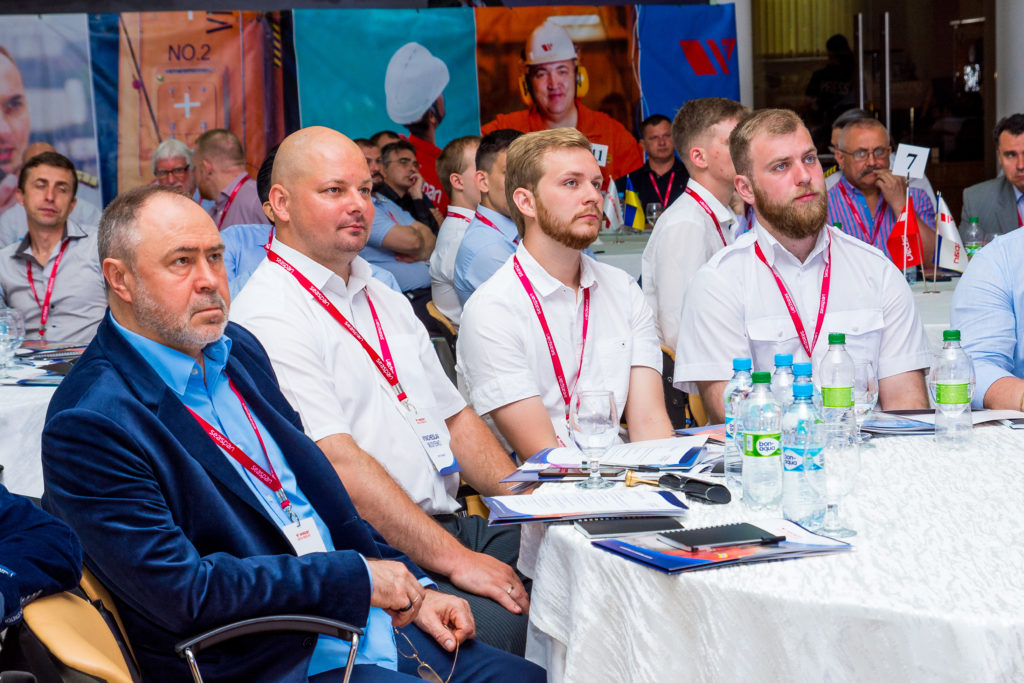 The last presentation was given by Illia Kudinov on the topic of "Knowing Your Role". Mr. Kudinov spoke about the importance of managing people to perform, Acting as a Role Model, Making it Safe for all with emphasizing on the "Drug & Alcohol Policy" of Seaspan and Environmental Open Reporting Hotline.
On the second day of the Forum, the seafarers were divided into "Machinery" and "Nautical", to discuss the main hot topic, issues, problems and, routes for improvement considering their specialty.
Then all the attendees were gathered in the Grand Hall to continue with the Forum.
Helle Mikkelsen, Maritime Consultant & Maria Progoulaki, Regional Representative, Senior Consultant – Green Jakobsen, stepped up to talk about a very important issue, "Cultural Difference". The presenter brought up hot issues considering the topic and the fact that Seaspan is a multicultural company, which is a home to very different nationalities with various cultural differences no matter where the work is done. The difficulties of working with different cultures and leading them at the same time could be a challenge but for sure it can be accomplished and carried out. She highlighted the importance to distinguish between work when there are orders given that must be accomplished and human relations and factors that need to be kept.
Afterwards there was presented a VECP "Voluntary Environmental Compliances Program" Video. Introduction and overviewing the importance of this policy in Seaspan.
After the introduced video, Nishit Kapoor, Sr. Vice President, ECM Maritime Services, talked about, "Seaspan VECP Feedback: Enablers, Critics, and Naysayers – Which One Are You?". Mr. Kapoor has said that this program in Seaspan has been going on for 3 years already, there has been done a lot of work but still, much more need to be done. He pointed out that it is a very serious issue in case of violations for which a person could be taken to court, given out inhibit of entry and it can all end up into a ruined career. Mr. Kapoor has explained that the violations could vary and even be making wrong entries in the logbook creating an inaccurate record is regarded to be a misrepresentation, which is a fraud. Real documentation examples were showed when very rude and unacceptable errors were made. In conclusion, Mr. Kapoor gave advises of how to follow the VECP and the companies policies.
The last speaker of the day was again Helle Mikkelsen with an important and up-to-date issue and problem, "Social Media Awareness". Helle Mikkelsen made her presentation in a form of a workshop where the seafarers could be involved in the discussion of the topic and share their thought. To seafarers was shown a video split up in several parts in order to go though each step and have a small discussion. The main arguments of the speech were the importance to be aware of the Seaspan Media Policy and follow it and understand the consequences of the actions, which could bring a very big harm not only to the company but to other people, especially to the causer of the trouble. The Policy should be regarded and respected always.
Coming to the end of the second day of the Forum, Seafarers were given a chance to speak up and ask or comment on the topic or issues that they wanted. Became a hot discussion. Mr. Nielsen was happy to answer every questions.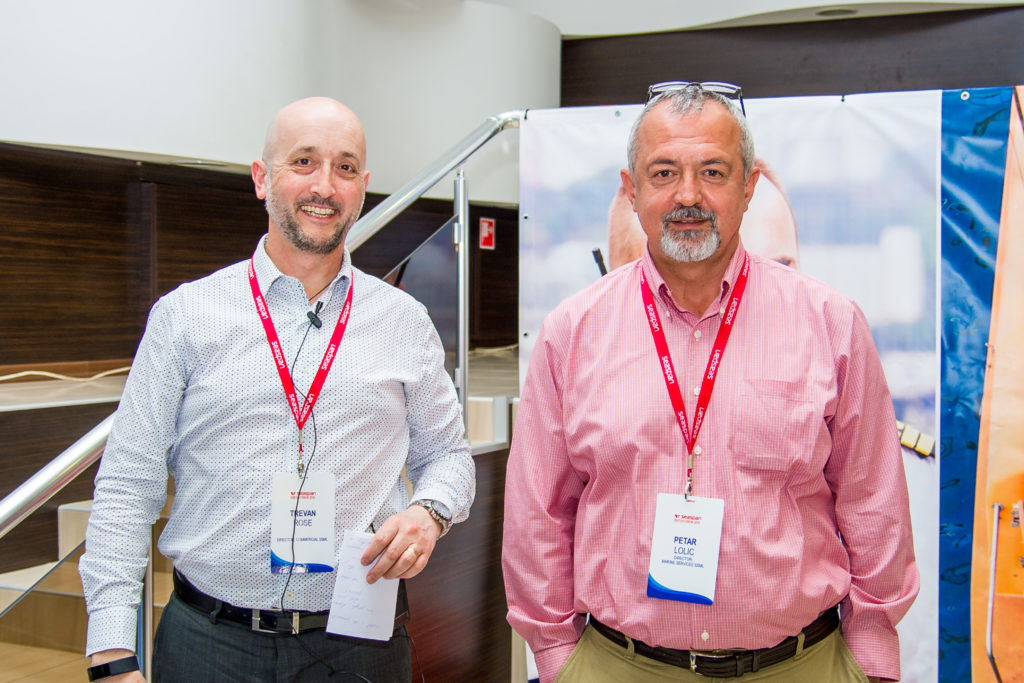 Afterward, Illia Kudinov thanked everyone for coming and joining Odessa Forum 2018. Gave the closing remarks and invited everyone to join the Annual Family Dinner, located at the Zhemchuzhina Restaurant. This an opportunity for everyone to spend ones again time together with family, friends, and colleagues.
For seafarers and their families, Seaspan organized an unforgettable evening in a cozy, family atmosphere with an enchanting show program, fun contests, and varied treats. In the air, there was an atmosphere of celebration and unity. Erik Nielsen and Illia Kudinov presented memorable awards to the seamen who worked for the company for 1,5 and 10 years. Andriy Kovach, who worked for Seaspan for 5 years, shared his opinion about the company:
"Seaspan is reliable and I feel comfortable working for this company. Comparing to other companies, I cannot find so many positive factors as in Seaspan. I am very happy with the salary that Seaspan offers to me. Today, I was celebrating my 5th year working for Seaspan, it was a nice surprise to receive is memorable award and I am very pleased to have it. I am looking forward to continuing working for Seaspan and sharing my knowledge and skills."
Seaspan is a young company but over the years had been consistently growing with big success; it firmly stands on its own feet and always in a search of ideas and ways for improvement. The relations of the company to its employees can be clearly seen by the comments of its workers. They all feel very secure, comfortable and always underline that Seaspan is a family to them.
From our team, we want to thank all the attendees and Seaspan management for carrying out this Forum. It was a pleasure to be invited. It was an amazing and very interesting forum. We wish Seaspan further growth and prosperity. We will happy to see you again.
Keep up the great work, Seaspan!
The Maritime telegraph asked seafarers about why did they choose Seaspan Ship Management? Why do they still stay with his company? What are the benefits with working with it and what differ it from others? Lets learn their answers together:
I love Seaspan because it gives an opportunity to work in a just big company, which is always in constant progress for improving, as well as it gives me an opportunity to show and exercise my professional skills. I happy to work for Seaspan.
Ruslan Miheev
Seaspan is a nice company, which is like a family for me; it looks for a special approach to everyone, in order to make everyone feeling comfortable. It is a multicultural company with a totally fresh look at things.
Victor Hruznov
I joined Seaspan 3 years ago and I can say for sure that it is the best company. I feel in the company as a member of a big family, no matter that there are different nationalities, especially on the ship – be all became a family for the specific time of period, having a great time together. The company also gives great opportunities to everyone.
Artur Khrystovoi
I can express great gratitude to Seaspan, it is pleasure to be in this company. I very appreciate that we have the opportunity to gather together, have Forums and able to discuss any issues. We all love Seaspan for the worthy salaries, enormous support from the company. Seaspan is always working toward improvement and our comfort. The Seaspan is now the worlds leading and biggest company in container fleet, and I am very proud to be a part of it.
Vladyslav Valerenko
Seaspan for me is a good and right opportunity to be promoted, since I am still a cadet, studying at a Maritime Academy, now being a part of Seaspan I have an opportunity to become a Navigational Officer someday because of companies large cadet program. I have done two contracts with Seaspan and I can for sure say, that I like that the company bothers a lot about the safety, which is very important to me. Also, it is the biggest container ship company in the world comparing to others. I am very happy to be a part of Seaspan.
Andriy Skvortzov
Seaspan is proving the choice, either it is for the customers or the seafarers. Seaspan is a young company in the constant process of fast developing. Now it is about 120 ships. It has a nice working and system structure, safety culture which very important, especially for the seafarers. Seaspan was its goals and programs to achieve the goals in the future. Good salary, insurances, and working environment. Working in Seaspan – its permanent, good and stable. That is why I choose Seaspan.
Volodymyr Pryvalov
Over the years I have worked in a lot of companies. My experience in working as a seafarer began back in 2002 so without any exaggeration I have a lot to compare with. The main factor, which attracts seafarers to Seaspan, is the salary, comparing to other companies Seaspan is the most generous one and it brings a big interest of seafarers to the company. The vessels of the company in Seaspan are comparably young and it is much more pleasant to do the work those conditions. Seaspan has clear approach to the work as well as the safety policy, which is very important. From the side of seafarers, the company has the same expectations. So both the Company and the crew have a clear understanding that all are working for the same goal, at the same time being one team.
Ivan Zanenko
Seaspan is my choice number #1, first of all because I came to the company being a cadet and have grow to 3rd Engineer. Seaspan has very good vessels; they are constantly buying and building new vessels. The salary is worthy; at I am happy with that. Recently a lot more of Ukraine crew have been employed. Overall I can say that all the conditions for carrier out our work as seafarers are at the highest level. No wonder Seaspan is one of the world leaders in the container fleet. That's why I made a choice to be a part of Seaspan since 2011.
Dmytro Melnykov
Among Seafarers there are about 3 factors by which they choose the company: Money, Vessels and Duration of Contacts. When all of the factors are satisfying the seafarer – he will stay at the company. Seaspan is able to provide all of the 3 factors, which are all very important. My history with the company has started in 2006 and I am still here.
Serhii Rainov
"Our operation works very well, we have customers that keep our ships sailing. We have an excellent crew on board which does a wonderful job, which brings great value to our customers. We are doing good, but for Seaspan good is not enough. We need to be the best." – said Erik Nielsen.
"Seaspan is a stringent and ambitious Company, which strives to provide service at high level quality standard.  Seaspan started its business in 2001 and now achieved amazing results being Number One in our industry sector in a sense of tonnage and TEU capacity. Thus we simply can not afford to provide a mediocre service to our customers, hence our standards bar is purposely raised high. By all means and all aspects of business our Company demonstrates serious concern and attention. With regards to Crewing standards Seaspan invests a ton, beginning from selection and recruitment process continuing and not limiting to training of seafarers and grooming our Company Cadets. Our Company is taking a great care to impartial approach to all personnel and zero corruption irrespective of rank, nationality and service time in the Company. That is right, the Company's expectations are high and the most professional and competent officers are able to adapt our Policies, and those who are, become well rewarded and become respectable and able seafarers in all respects. I am confident anyone who undergone Seaspan way and successfully adapted the Company Environment can open any door of any Company and prove his/her professional capability in the shipping industry" – Illia Kudinov, Regional Crewing Representative SSML.
Our team was pleased to talk to Erik Nielsen, Senior Vice President, DPA to know how Seaspan Ship Management Ltd. has attained a success from the beginning till now and what benefits seafarers can gain working for it?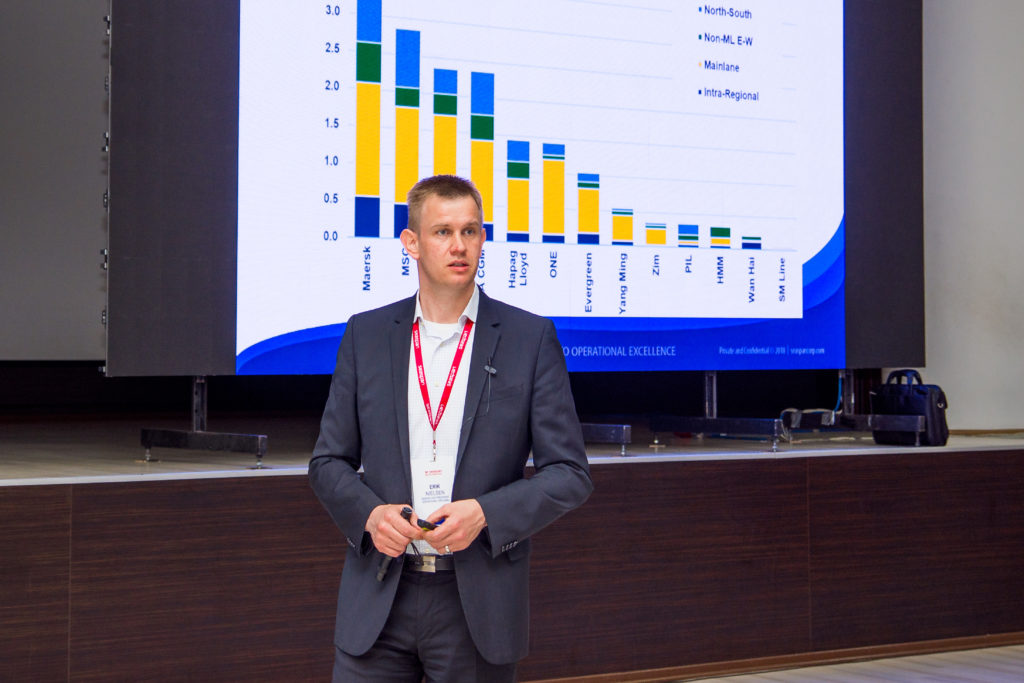 MT: Your good company is actively developing and firmly standing on the ground. How does it manage to do it in spite of not easy situation in the maritime area?  
EN: I think one of the areas that we are doing every finely, is actually communicating openly about what is it we want to achieve with our colleges at sea. We recognize that the work in the office is pretty limited of what we can do and how our customers are assessing us is truly efforts of our Captains, Chief Engineers and the crew on board. Having an open dialogue where is it we want to be and what is it we can do to get there. That is actually a big strength of the company.
MT: Seaspan Ship Management has only container fleet. Maybe you are going to increase its fleet with another vessel's types for example bulkers, tankers, ro-ro.
EN: Correct, we are now only focusing on containers ships and we are doing that very well. We are the biggest in the industry. We are planning to grow our container footprint. I think it is not unlikely that one day we will expand to another area, to have more legs to stand on. But today our main strength is containers and we plan on going that way.
MT: What nationalities do you have onboard of Seaspan vessels?
EN: We have a lot of different nationalities; of course we have Ukrainians, Indian, Sri Lankan, South African, Chinese, Philippines, Bangladeshi, Romanian. We are also planning on going into Croatia. We have a very big range of nationalities. We believe that working together in a diverse culture is a very beneficial way to upgrade from because it brings strings from different areas of the group. Shipping is true and probably one of the most international businesses in the world. So I think it complements its very well.
MT: What is the percentage of Ukrainian seafarers working on your vessels?
EN: On our officer side we have roughly 30% of Ukrainian seafarers working on your vessels, particularly it is the senior ranks: Captains, Chief Engineers, Chief Officers and 2nd Engineers. We are very happy with what they are delivering; their competences, their engagement, and contributions they do to make Seaspan an even better place. We are very happy with that.
MT: What do you think about the professionalism of Ukrainian seafarers?
EN: In my perspective and what I have seen them deliver Ukrainian seafarers, are very professional, hardworking, competent, loyal and fantastic people to work with. But there always areas to be improved, just like any other nationality, like myself being from Denmark. No one is perfect. But we are all working on that. Generally, we are very happy to work with Ukrainians.
MT: Does your company have any maritime family program?
EN: We have several things: one of which is particularly well received, that we can have spouses. Families can come out on board, normally with their husbands but very soon there will be female officers. Seafarers can have the family come on board and join, while they are working at sea, where everything is taking place. Now it is not just, they can hear stories at home, but now they can actually what it is like to be on board.
MT: Do you provide a medical insurance program for seafarers and their families?
EN: We have a Medical Insurance Program that we have been running for years and we always try to make it better. We have a dialogue with our seafarers in terms of what it is they are finding valuable.
MT: Do you have a pension program for seafarers?
EN: We do not have a pension program for seafarers, not because we do not want to support pensions, but because it is pretty difficult being an international company, working in many different countries and setting up pension plans in each country. I would rather pay money to persons and then they can invest themselves, instead of the company deciding where it should be invested.
MT: Seaspan gives an opportunity to work ashore in the company. What is the qualification criterion for seafarers to join your company ashore?
EN: We have a lot of different positions in the office where we take seafarers; some of those positions are on the crewing site, some on the technical side, some of them on the practice side. The criteria from we usually select are amounts of experience, good performance and the ability to relocate, because often those positions are located in other places, like Hong Kong or Vancouver where our main office is located. We actually have several Ukrainian colleagues sitting in both of these offices and there will be more coming in the future.
MT: Seaspan has a cadets' program. Does it cooperate with maritime institutions around the world?
EN: We have a very big cadet program and we do cooperate with various institutions. Though all of it we do ourselves, so the training material, educations, the follow-up, the competence development, as well as the selection. We believe in shaping the cadets into the future role of leaders. We take cadets with the aim of that down the line they will become Captains or Chief Engineers, which a pretty big role. We are quite serious about cadets. We now have roughly 450 cadets in the program.
MT: Does Seaspan provide security for the high-risk area transit?
EN: We have a few ships that are trend sitting, into high-risk areas but I would say compared to when piracy exploded in 2008, it has come down to quite a loss. We are still very serious, monitoring day to day. We also have ships where there are special precautions on board, so have access defense measures. Yes, there are certain areas where we are brewing up the security.
MT: And about 2017 year which has already passed. What were the main achievements of the company?
EN: The main achievement was that the operation works very well, we had customers, which kept our ships sailing. The reason for customers calling and wanting our ships is because or Captains, chiefs and crew on board do a fantastic job. We are delivering more value to our customers than our compotators.
MT: What innovations are you going to provide in the nearest future?
EN: We have a lot of plans and it is actually a key focus which we are having these crew forums with our colleagues at sea. One of the main things we want to improve – Operation Excellence. We are going a lot of things really well, but want ways to improve. Operational Excellence taking us to another level is the key parameter for 2018.
MT: What has the company achieved from its existence?
EN: I do not any other could we can compare with what have Seaspan has done. Starting from just an idea and then in 15 years becoming a biggest in the industry, number one and very respective by line operators in the world. That is historic. No one has ever done that.