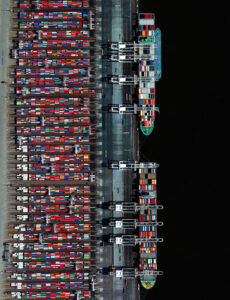 The rates between the USA and China are threatening the perspective of the future container shipping.
While ship operators all over the world are preparing for a harsh summer season, their thoughts are busy with a disturbing rise in tariffs.
Some big carriers, engaged in container shipping of various retail goods, have eased off lately. Officials feel anxiety about failing shipping rates which result in a situation when key economies are hardly balancing and growing tension in trading is so obvious.
It is a very hard period for shipping lines. Some Asian operators say that because of a fall in volumes they have to relocate their vessels somewhere outside the territory of China in order to avoid taxes on cargo.
As a result of Washington's intention to increase tariffs on Chinese goods to the amount of $200 billion, China has imposed export duty on the US products worth of $60 billion.  The administration of Donald Trump has warned that they are going to levy taxes to a total amount of $300 billion on China products and all imported goods from Mexico.
Officials of the shipping companies are concerned that the trade struggle will cover whole Europe and aggravate a dramatic global situation which includes slackening of manufacturing activity and a slowdown of economic growth in key economies.
This may have a negative effect on a demand for carriers who strive for stability while they are recovering after economic recession which have changed industry ratings.
Intensified trade tension is as inappropriate now as never. It started at the beginning of a fruitful summer period which accounts for the major share of annual earnings of the shipping companies. The case is that the retailers store export goods from Asia for the holidays at the end of the year and, thus, freight tariffs often go up.
However, the rates on the container shipping markets, where commodities are traded for immediate delivery, are going down. Suffice it to dwell upon the cost of the transportation of containers to Los Angeles from Shanghai which at the end of spring this year was 4% less than in 2018.
According to Freightos, the shipping rates for transportation from China to the US showed very low figures at the end of May.
At the beginning of 2019 the rates for container transportation on a trans-Pacific territory exceeded the figures of the same period of last year by 60%. It accounts for a huge number of carriers and a great drop in tariffs.
Industry officials are afraid that the trade situation between the US and China will aggravate and they are already preparing for gloomy prospects. 
A.P. Moller-Maersk shipping company, with about 20% share of all container transportations, cut down its overall cargo volume by 4% during the first three months and reduced the number of voyages across the Pacific Ocean.
One of the major world's liner companies from China had reduced capacity of its container cargo by 10% last year, and now their trade route is 13% lower than it was in 2016 (45% against 58%).
The tariffs scenario is being closely monitored. Transportations are still carried out but to a lesser extent from China. The things are heating up and if the situation turns into "quid pro quo", it can badly affect the shipping of key commodities.
The Chief Executive of Maersk said that an acute issue with tariffs across the Pacific may lead to a reduction in demand for containers by a third in 2019 and such tension in trading may reach Europe after all.
However, there is no doubt that the shipping industry has become stronger over the last years and the carriers are capable of dealing with such problems now. The number of huge liners has decreased from 2015 due to consolidation process, and now just 7 out of 20 liners have a control of ¾ of all container capacity.
The carriers have also joined their efforts and have grouped into three alliances with common vessels and costs. All in all they have reduced their capacity from Asia to Europe by almost 1.5% and from Asia to the US West Coast by more than 6.5% as opposed to summer of 2018.
According to a container shipping expert at Braemar ACM, the perspective of a settlement of the trade dispute between the US and China has proved false.
He also said that if manufacturing in China was reduced, it could slash demand for the trade inside Asia. Last year Braemar ACM staked at 4.5% rise in container demand. This year their most optimistic forecast has hardly reached 2%.
The trade in the US is less than good. Bimco figured out that import through container transportation into the West Coast of the US decreased by 0.5% during January-March this year as against the same period in 2018. Export from the same ports to the Pacific region shows 18% drop within the same period.
The only flash of hope is that the biggest container vessels will not take so many orders. However, excessive capacity is expected anyway both this and next year.