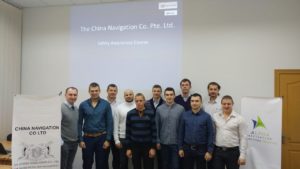 On October 19-21 a Safety Awareness Course was held in Odessa presented by the China Navigation company for the purpose of strengthening the health and safety culture.
A correspondent from The Maritime Telegraph\Sea Truth interviewed the representatives of the company and seafarers who attended the course.
MT/ST: Was this course useful to you?
We have raised our level of awareness of personal safety on the vessel. We want to transfer this culture of safety-awareness on board the vessel, both to the ratings and the officers.
MT/ST: Have you learned anything new?
We face all these situations daily.  We work with excellent captains who explain all these safety tips to us as well as the policy of the company and the procedures. Therefore, this course has served to strengthen our knowledge. The important thing is the seafarers had an opportunity to meet their colleagues and share experiences.
MT/ST: How often do such training sessions take place on the vessels and ashore?
There are various alarms on the vessels so meetings and training sessions are held constantly in one form or another, at least once a week or even more, but this is the first time ashore.
There have been several incidents since the beginning of this year. Generally, it is about ratings and neglect of knowledge already acquired. Now, this course is held in order to re-affirm our knowledge and transfer it to the crew, i.e., that we watch subordinates and explain their mistakes while on the job.
MT/ST: Do you have any suggestions for improving this course?
We could use materials that are more specific. The company could provide detailed videos based on the incidents that have actually occurred on the vessels, i.e. not just videos which concern other areas but have connection to the company's vessels. It is also very important to show how to fill-out of various company forms.
MT/ST: How well does the company care for the seafarers on the vessel?
Generally we have everything. We are supplied with all required materials.
MT/ST: Why did you choose to work for China Navigation?
This company has a big and modern fleet, also salary is reliable and work is steady (always offering several options).  The company has good on-board conditions and a positive attitude toward the seafarers.