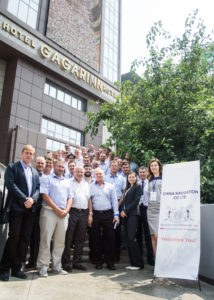 This summer, seafarers from different countries had a great opportunity to visit Odessa and to meet with the representatives of the China Navigation Company (CNCo). The company, with its head office in Singapore, operates a fleet of multipurpose vessels and bulk/log carriers. In total, 23 multipurpose vessels (22,000 DWT – 31,000 DWT) and 22 bulk carriers (37,800 DWT – 39,500 DWT) by year end.
About 40 seafarers attended the Safety Forum at Gagarinn Hotel on 26 July.
Сorrespondents of The Maritime Telegraph visited the meeting and are ready to share the experience.
The first speaker was Chua Kim Yong – General Manager, SPSM. He greeted the audience and was very happy to see familiar faces. First of all he recapped the company's values: teamwork, humility, excellence, integrity, continuity, endevour. These values reinforce and help the officers to control and manage the discipline on board.
Safety is paramount to CNCo. Some new changes have already implemented and some of them are under way. The company expects its senior officers to be agents of these changes.
Fleet improvement program includes shipboard mentorship & assessment scheme for masters & chief engineers, office induction and SAC training for masters & chief engineers and for chief officers & second engineers.
Also, Mr. Chua explained the importance of positive thinking, especially in such tough time for shipping industry. Positive thinking means that you approach unpleasantness in a more positive and productive way. Positive thinking also improves one's well being and mental health.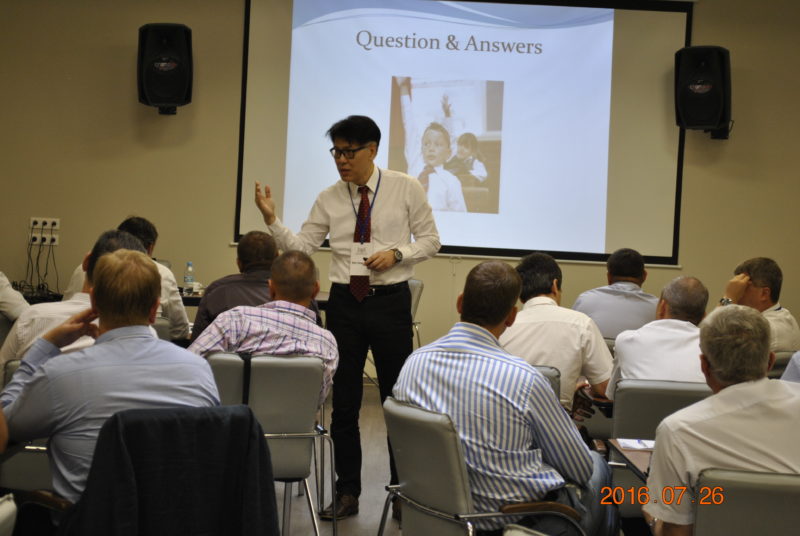 Further to the speech Mr. Chua also presented Swire Seastaff Retirement Scheme. The Scheme structure consists of HSBC (Trustee, Administrator & Custodian), MPFA (Regulator), Swire Pacific Ship Management Ltd. (Employer) and Fidelity (Investment Manager). The Commencement Date of the Scheme for CNCO seafarers was 2008. Employer's contribution rate is 5% of seaferers' onboard salary. This long term saving & investment plan would help our seafarers to retire comfortably after age 60.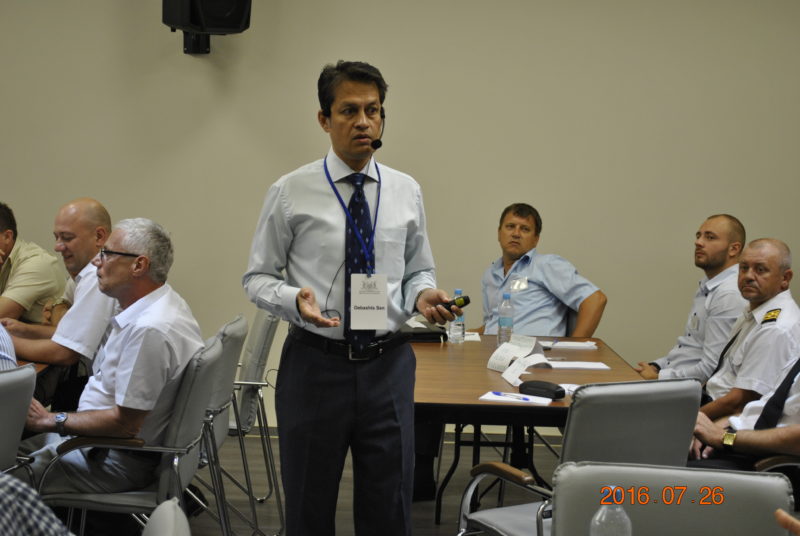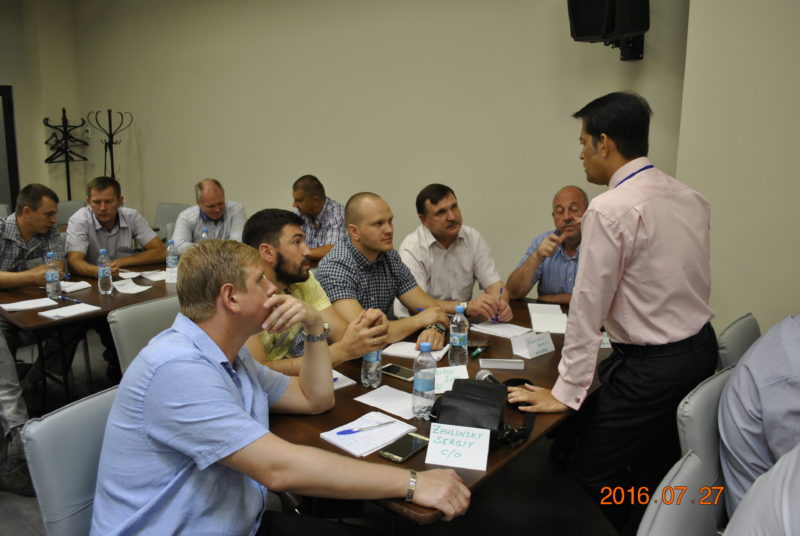 The next speaker capt. Debashis Sen, QA Manager CNCo, was talking about how important to create strong safety culture. "Safety is the condition of being protected from harm; safety is a state of mind", said Debashis Sen. Then he asked the audience what safety culture is and what culture is at all.
"Culture binds people together as members of group and influences values, beliefs and behaviors", added Debashis.
But what is safety culture? CNCo understands that safety culture refers to the ways that safety issues are addressed is a workplace. It often reflects the attitudes, beliefs, perceptions and values that employees share in relation to safety. In other words, it is "the way we do safety around here".
"Safety culture has been shown to be a key predictor of safety performance. Strong safety culture is the difference between a safe work place and an accident waiting to happen", commented Debashis Sen.
Debashis emphasized 6 things to build a strong safety culture: commitment, behavior, just culture, information, awareness, adaptability. But there are also ways to destroy it. The first is "unjust punitive action": if seafarer reports mistakes or errors and the management team on board responds with punitive action in the form of public ridicule or embarrassment or hazard report is quickly dismissed rather than taking responsibility for poor system design, procedural content, or employee training. The second is "no action": seafarers stop reporting hazardous situation and safety issues if the on-board management team does not show interest in improving things. Also seafarers lose faith in the system if management team takes no action to address their concerns on safety. The third is "no feedback": seafarers lose confidence and interest in the safety management system when they receive no feedback to their reports. "Safety culture is an outcome, not a process, it is a vital condition to a well functioning SMS, because it is not possible to have an effective SMS without a good Safety Culture", concluded Debashis Sen.
Stuart Jones, General Fleet Manager CNCo, was telling about fleet status, KPIs and corrective actions. He presented the list of CNCo owned vessels. Also he spoke about top management approved changes and immediate actions which have to be done. The company's long term actions are: complete overhaul of the SMS; review of TRIP form; review of the Amos platform; robust Performance Evaluation Reporting system. Bonus closely linked to performance; SAC every 3 years for senior officers.
Two following days the audience was being told about safety. Captain Debashis Sen was telling about hazard identification and risk assessment. To identify it correctly the speaker presented key definitions (frequency, severity, hazard, event, risk). But why do accidents occur? There are some barriers: elimination, substitution, isolation, engineering controls, administration, PPE. So how to complete a job safely? Mr. Debashis Sen gave some points:
do not follow precedence blindly;
make a proper assessment every time;
ensure all hazards are identified before starting job;
ensure all controls measures for identified hazard are implemented throughout duration of work;
if a new hazard is identified during the work put controls in place.
"Hazard identification, risk assessment and implementation of controls are most important aspects of doing a job safely", said Debashis Sen.
Seafarers were involved in the discussion and took part in some practice work with great pleasure.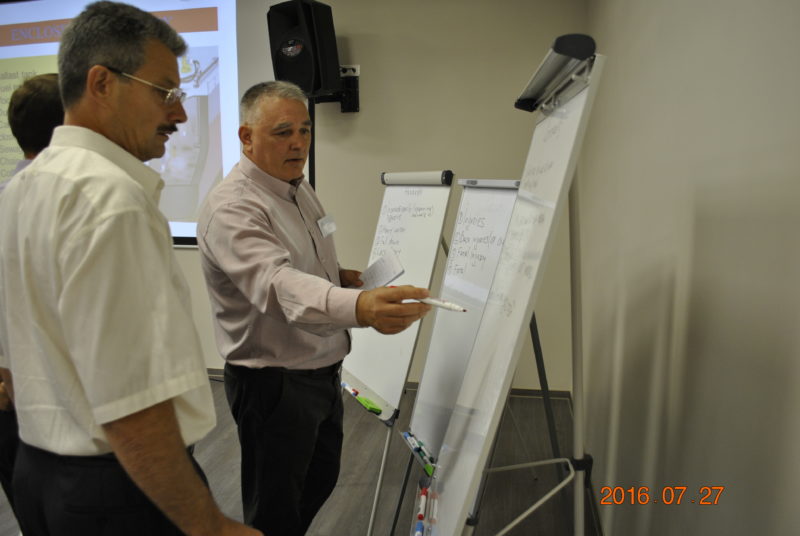 As all attendees said it was very useful meeting, because they had an opportunity to ask their questions and share their experience. Even more, the speakers noted some points asked by seafarers and promised to solve them.
Great speakers, great audience and the place where the meeting was held. Everything was on top-level, and after this three-day forum everyone was full of enthusiasm to do their best to satisfy high level of the company.