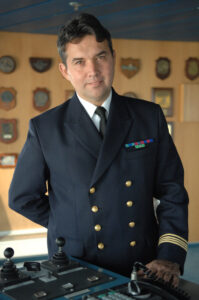 Have you ever had a feeling of something impressing you so much that you decided to dedicate your life to it? Perhaps more than once. But how many people fulfilled their childhood dream, even when they grew up?
Captain Parage Herve decided to work on board when he was 12 years old. Little Parage was standing by the seaside of Marseille and watching vessels, disappearing beyond the horizon. He was wondering, what was going to happen next. Since that time his wish to become a seaman has never changed. Moreover, 40 years after he is still sailing.
This winter Parage Herve came to Odesa with such a mission: he needs to pass an exam of Advanced Training Ice Navigation to work as a captain on an expedition fleet in Polar waters. A French captain has visited the city for the second time. Last September he passed the same exam, but at the basic level. The Maritime Telegraph was lucky to meet Parage Herve and talk about the advantages of a passenger fleet, expedition ships, particularly; the beauty of the North and South Poles and to find out what problem on board Captain Herve considers as the most urgent.
Captain Herve stated that almost all his sea career is closely linked to a passenger fleet. He started as a young watch officer on a ferry. His dream to sail far away came true when his ferry had a voyage from South France to North Africa.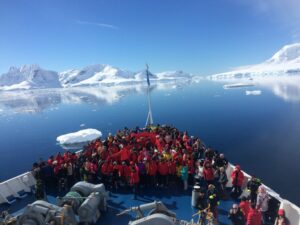 Ferries became the main place of employment for Mr. Herve. These vessels witnessed his climbing career ladder up to the captaincy. After many years Captain Herve got a chance to change something in his work life and he decided to try himself in offshore shipping. Offshore activity was anything but simple, but replete with new experience. As the captain said, it was a good opportunity to prove his knowledge. Before long he changed the fleet one more time. As fate would have it, Mr. Herve turned out to be a captain of an expedition vessel of CMI Ship Management.
"Last summer, within my holiday, a friend of mine got sick and asked me if I was able to replace him just in 48 hours aboard of an expedition vessel. I thought: why not? After a few weeks I got an offer from CMI to pass exams and continue working there. I agreed and have never regretted", Captain Parage Herve narrated.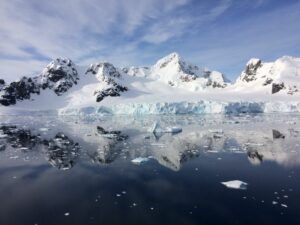 To obtain employment on an expedition ship a seafarer from OS to captain must complete Ice Navigation Training. Ice sailing must never be underestimated because the vessel is very far away from shore assistance and the crew cannot expect any quick respond from maritime rescue centers. There are scientist stations and the only one rescue station on Antarctica. And of course, there are many expedition vessels. Captain Herve counted about thirty vessels which sailed there last November-December.
It must be said, it is no wonder. Antarctica nature is something wonderful. Parage Herve was really amazed when his vessel sailed there. "Beauty at low temperatures is beauty", wrote a poet and essayist Joseph Brodsky. There are no life activities, only animals. Everyone feels like they are discovering this place for the very first time. A lot of people are coming there now because pristine wilderness becomes more and more on trend. Talking to The Maritime Telegraph, Captain Herve showed many pictures of wild life, wales and landscape on his phone.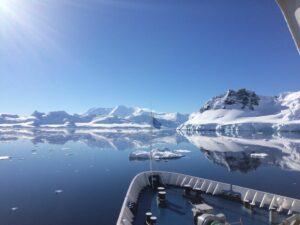 During their voyage passengers of an expedition vessel can connect with polar nature. If water area and weather are suitable, a crew tries to make a landing on Polar ice. From time to time every member of a crew joins passengers and makes a Zodiac landing.
Beauty of Arctic and Antarctica nature is not the only reason for choosing an expedition vessel as a place of job, as Captain admits. While The Maritime Telegraph was interested in other reasons, Parage Herve answered, "Passengers on board."
"As for me, people you can meet on board you will never meet anywhere else. An expedition ship is a small place with many open-minded people. Sometimes you can meet a university teacher, a singer or even a president of a country. Last time the Danish team of biologists, ornithologists and other scientists were taken aboard. They were amazing! These people crossed the South Pole skiing for 56 days with only two assistants!
By the way, contacting with passengers is the part of a captain's work and public image of the cruise. Occasionally, we organize bridge visits; many times people come to me, ask something or take pictures with me, when I am in a restaurant."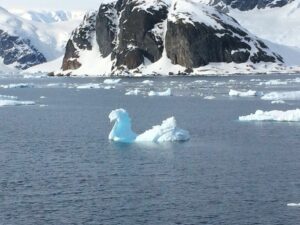 Of course, work at sea and on an expedition vessel, particularly, does not consist of advantages only. As a captain with 15 years of experience, Parage Herve has faced a lot of risks and problems of shipping. He considers unskilled crew as the most urgent one of them. From his experience, it is quite difficult to check crew members' qualification and knowledge while you are working in a multinational crew. Every seaman must have a pack of certifications to work on board. But some countries just copy-paste such certificates, as Captain Herve could inspect in Angola. According to his story, formally, the local crew were full qualified, but, in fact, their documents were fake. Unfortunately, he discovered it only onboard when they had no idea about their referral tasks.
"Besides, I used to work with two Ukrainians – an officer and an AB. They were good people and experienced seafarers. I can give only good remarks. I remember that the AB was very clever, so I think he will try to get a license to become an officer very soon."
Frankness is another problem on board. Captain Herve said that he likes people telling the truth, even negative. "I always try to give the crew members to understand that I will blame nobody if they put their problem on a table. We will fix it", he added. "Otherwise, crew members try to look over a problem and cope with it by themselves. And it's nothing short of a catastrophe! It is the most difficult thing to deal with at sea. Unfortunately, crew members are afraid of a captain. So, I try to keep team spirit and to be closer to my subordinates."
While sailing in polar water, you cannot but catch an expedition spirit and be ill with local nature. No wonder, unexplored wilderness travel becomes more and more popular. That means the polar tourism is on track of further development.