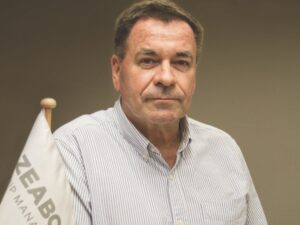 Zeaborn Ship Management Ukrainian Crew Forum 2019 was held in the office of Alpha Navigation Crew Management. The meeting brought together many seafarers of Zeaborn Ship Management, top management of Alpha Navigation with the media support of The Maritime Telegraph. The following topics were discussed at the forum: "Leadership", "MARPOL", "Zeaborn today and tomorrow" etc. Special guest of the forum – Mr Rob Grool, CEO Zeaborn Ship Management.
Mr Grool has been taking over the leadership of Zeaborn about six months. He has an excellent industry experience, knowledge and skills in all spheres of ship management and operations.
With seafarer's experience Mr Grool is familiar with all the intricacies of ship handling and communicating with an ashore office. His maritime career spans nearly 40 years, starting as a marine engineer and eventually holding executive positions as Managing Director of such well-known shipping companies as Vroon, Seaspan Ship Management, Wallem Group.
Now Mr Grool holds the CEO position in Zeaborn Ship Management. He arrived at the forum with a welcoming visit and agreed to talk to The Maritime Telegraph about the challenges and prospects of Zeaborn Ship Management and the Ukrainian seafarers' niche there.
"Zeaborn is new, Zeaborn is young, Zeaborn is ambitious. Zeaborn brought together three known ship management companies, and our job today is making them into one," he said.
The company holds container ships, bulk carriers, MPP and tankers – 146 vessels in all. That is a very wide range of ships, it must be noted. Moreover, there is an extremely extensive network of partners all over the world to make this huge system work properly. The seamen take training in Hamburg, Singapore, Riga, Manila and so on. Also, the company goes to well-known partners for crewing like Alpha Navigation in Odessa. As Mr Grool added, Zeaborn has a generally solid base to work from. And more importantly, the company is willing to invest in the Ship Management System they need – that is what attracted Mr Grool most of all.
Growing shipping business, according to him, can't be stronger without smooth Ship Management System. Information provided by ship managers to ship owners once in a window of time quickly becomes outdated. While ship owners' expectations and wishes are also changing very rapidly. They need up-to-date real time information on financial position of the ships, to be more exact, performance information, on a daily basis, when entering port or everywhen they call it.
"We simply need to present it in much more clever way," Rob Grool explained. "For example, now we operate a performance program, accounting program etc. We need the way of letting these programs talk to each other, extract all necessary information, and present it in such way they all want to see it."
He highlighted the need to focus on people. So, Mr Grool initiated implementation of the Maritime Resource Management – human factors training program. He noted, it showed good results in his previous companies as well as can show fantastic results in Zeaborn.
Don't forget that any company is first of all the people working there. The human resource is perhaps the most significant. Growing such a huge company as Zeaborn, it is important to take care of each person, whether a seaman or an office employee.
Starting as a seafarer, Rob Grool knows firsthand how big this barrier can be. He wants to get rid of this ship-shore divide and bring them together as one team.
"Whole world becomes more and more complicated, specialists are required for making it work. But if you just gather these specialists – it won't work! The people have to work together as a team. None of us have all the skills that we have collectively. The crew members need to know the ones in the office, who support them from far, far away."
Building one team is also the main goal of Rob Grool's visit to Odessa. He was talking with the seafarers and crew managers, sharing news and taking feedback all evening.
Zeaborn's managing partners Jan-Hendrik Tobbe and Ove Meyer in a joint statement mentioned that together with Mr Grool, they want to work towards a strategic goal of expanding their managed fleet to more than 250 vessels. So, the company is going to increase the number of its vessels, that's why Zeaborn needs more Ukrainian officers. As Mr Grool noted, the combination of Ukrainian officers and, for instance, Filipino ratings works very well. It helps both nationalities to communicate in English as well work in a multicultural environment.
"I think Ukrainian seafarers are very high educated, and – what I especially like – they know what to do in bad, dangerous situations," he said. "That is to say, they can improvise. If you need people, who can only fill in forms and do paper work – probably the Ukrainians are not the best. But instead, they speak their minds. For example, Dutch people are known for saying like it is. The Ukrainians are the same. They say what they think. I really like it."
Another key aspect of any developing shipping business is seafarers, who don't migrate from a company to a company, but are firmly assigned to one place, familiar with the company's policy and meet all its requirements. In other words, a cadet program. For years Zeaborn employs both Ukrainian, European cadets and Filipino ones. But the single big problem – Mr Grool noted, they have a limited number of cabins on the modern ships. So, a lack of free space is that trouble they faced.
"We want to grow our own officers and employing cadets seems to me the single best investment we can make for it. I never look at cadets as junior people who have a long way to go. I look at them as future masters and chief engineers. Some people can say not all cadets will work within the same company. Not all of them will build their careers at sea all their lives. It's fine. If these officers – highly trained professionals – go ashore, we can meet them again in our office."
Based on his previous experience, The Maritime Telegraph asked Rob Grool to list three key aspects of a successful shipping/ship management company. According to him, a company must be interested in safety of people and environment; delivering reliable service, because that is ship owner needs. And last but not least – customer focus. The customers need to get the best possible service, it would benefit every one. All of the above seems simple, but in fact this is incredibly difficult to achieve. Drawing on these three important aspects, Zeaborn Ship Management grows and becomes stronger.